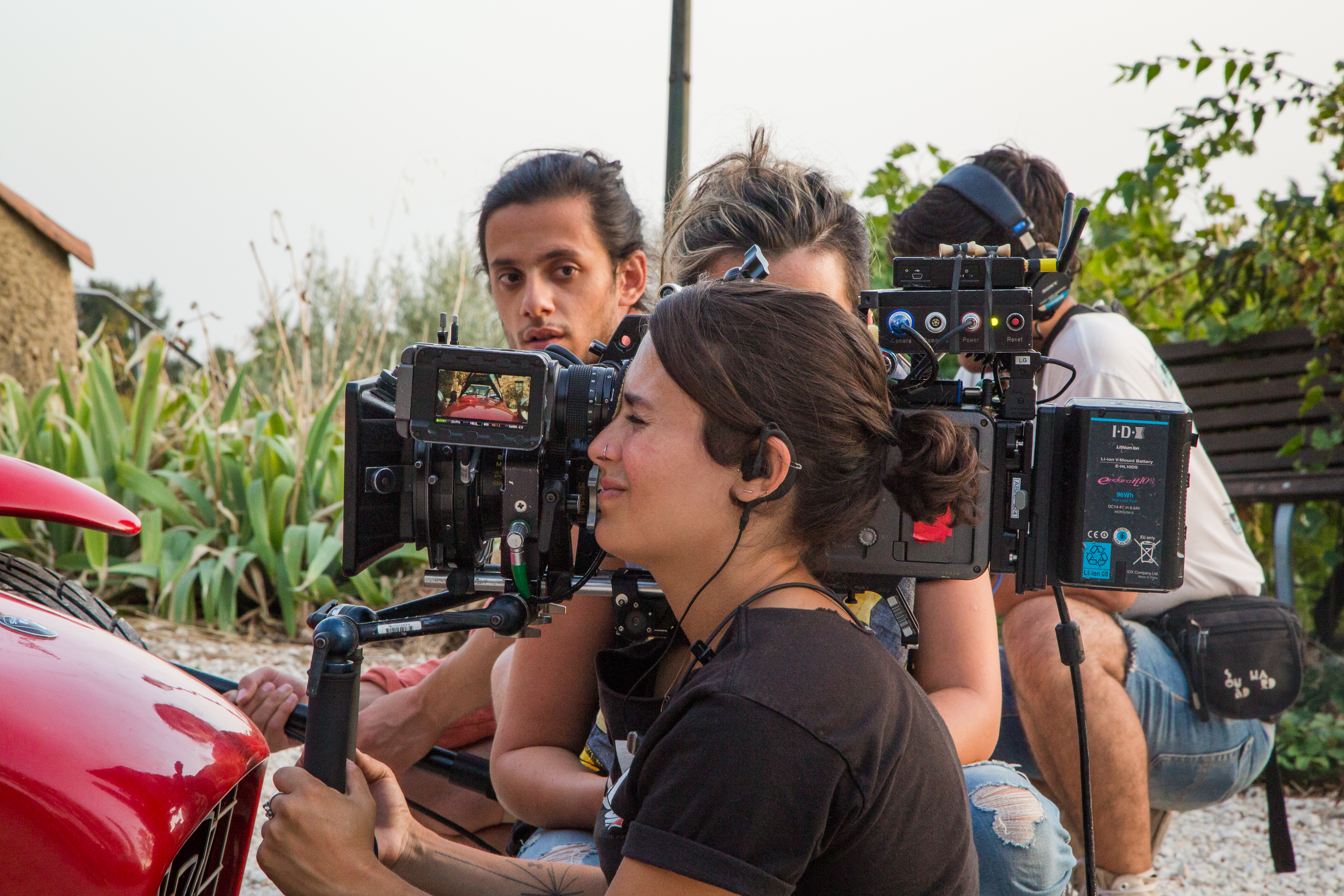 September 2021 Opportunities
AFI BACKLOT
We are excited to invite you to join AFI Backlot – the new, exclusive networking platform for AFI Alumni! There's also exclusive career opportunities that are only listed in Backlot! You can register in under two minutes by following the simple steps below:
Visit backlot.afi.com
On first visit, click 'Get Started'
Fill out the information requested, including name and email
Choose your own unique password
Verify your email address when prompted
Upon approval, start using the site!
Looking forward to seeing you there! Don't know how to navigate Backlot very well?   Here's a couple of step-by-step tutorials: Directory https://vimeo.com/329074511/e50b834df3   | Update profile  https://vimeo.com/335661218/170d7d987b
How to post or find jobs on platform                  
---
INCLUSION FELLOWSHIP
LALIFF's Inclusion Fellowship Series, sponsored by NETFLIX, is an ongoing program focused on building a more inclusive and equitable industry for all members of the Latino community. This year we are doubling the number of fellows and the Fellowship will be awarded to five visionary directors that identify as Indigenous Latino and five visionary directors that identify as Afro Latino.
Submissions are open for the LALIFF Inclusion Fellowship until October 14, 2021.

https://laliff.org/fellowship/
_________________________________________________________________________________________________
Looking for producers for an Independent feature film that is already funded. Shooting in September/October. This is a murder-mystery horror film.
Currently in the process of casting and location scouting. Crew is set.
The film deals with four friends who experience a robbery and the aftermath it has on each one of them. When the friends and the robbers who committed the crime begin to be murdered one-by-one, they try to figure out who is responsible and avoid the same fate.
Location: LA County/surrounding areas.
Phone Number: 909 693-1030
Dates will be in September. Still working out schedules.
Pay negotiable
Thank you.
_________________________________________________________________________________________________
Assistant Editor – PACIFIC MEDIA INC.
Job Title: Assistant Editor
Location: Burbank, CA (You work from home)
Terms: Part-time 20hrs/week
About Us: Pacific Media Inc. is a Los Angeles based production company that creates high-converting media to help companies make sales and build their brands. We do everything from start to finish including writing, pre-production, production and post-production for our clients so they don't have to worry about their content. Our clients are usually large brands like Quest Nutrition, Adidas, Atkins Nutrition, Insomniac etc. We value hard-work, creativity and a "problem-solving" attitude. Our website, work and clients can be found at www.pacificmediacreative.com.
Role: Hire would work in Adobe Premiere sorting through footage, categorizing it, transferring it, create proxies, edit videos and prepare videos for color grading and finishing. This will help the editors work more efficiently and allow for more creativity and better videos for our clients and allow delivery to clients at a more rapid pace.
REQUIREMENTS:
• 20hrs/week of time required (Will pay more if more is required)
• Must have a good laptop/desktop computer to work from with Premiere
• Must have basic knowledge of Adobe Premiere
• Basic knowledge of DaVinci Resolve (Ideal but not required)
• Be able to meet deadlines and work in a timely manner
• Some video production/post-production education/experience
• Must understand basic post-production terminology
CONTACT US TO APPLY: If working in the film industry, gaining experience in the field, and building a network while getting paid for it sounds good to you, email contact@pacificmediacreative.com and put "Assistant Editor" in the subject line. Introduce yourself and send any work you've already done in the past. Thank you!
_________________________________________________________________________________________________
Position #1: Director of Photography
Position #2: Production Designer
The Project: 
Logline – A micro budget neo-western that chronicles the story of Whitney, a mid-twenties urbanite, who, after her mom passes, inherits a 15,000 acre cattle ranch and all the problems that come along with trying to sell it.  
100% of financing secured
Transportation and Accommodation 100% covered / Daily Rates – TBD
Shooting Schedule – 10-14 days
_________________________________________________________________________________________________
PAID – Comedy Video Editor Needed (Adobe Premiere Pro) 
Indie Comedy/Horror Film Short 
Hi, All!
-8min short, MOS w/VO & musical score 
-Close to final pass edited by me (the director) but I need help getting it to the finish line to tweak some edits
-I MIGHT want to add some SFX 
-Someone who loves humor or horror is a plus to 
-Need help to output the final product 
-We have an amazing colorist
-The DP shot it beautifully 
-Please be easy going and patient. 
-Estimate work taking less than 10hrs (Happy to share link to see if that feels reasonable)
-Deadline: Sept 10 
Please Email (eshowjoy@gmail.com)
Include "COMEDY EDITOR" in the subject!
Please add your:
1.) Reel / Portfolio or Website:
2.) Indie Film – Hourly Rate 
3.) Location ( Los Angeles or Remote)
Thank you in advance! I looking forward to hearing from you! – Joy Gohring
___________________________________________________________________________________________________  
I'm a narrative director transitioning into commercials. I plan to shoot two short art-house shorts that will be submitted to festivals and cut into 30-sec spec commercials. Both videos will be shot outside (Utah Pink Lake or Death Valley) with a limited crew and one main character. It's a two-day shoot with one or two travel days. Traveling, housing, meals, equipment, and an assistant rate will be covered. However, the budget is tight, so I am looking for a cinematographer who needs to add to their reel/commercial reel and collaborate with me. You can see my work here:
www.oliaoparina.com
Video 1: This is the epic story about the landmark space journey of Apollo the cat. In under three minutes, we get to travel with Apollo to a mysterious planet of Salt Flats, in the Utah Galaxy where he explores the terrain and enjoys solitude until he starts missing the hugs and kisses of his human friends back on Earth. 
Video 2: A young ethnically ambiguous woman Selena graciously walks through the desert, getting covered in a layer of clothing each step she makes: legs, hair, the lower part of her face until we can only see her eyes. Her beauty gets hidden from us; however, she still shines from inside. Her inner freedom is revealed through her surreal dance with fabric unwrapping in a swirling motion. 
___________________________________________________________________________________________________  
Looking for a Screen Script Writer
My name is Chris Boys. My background is editing books, and also writing books in the legal field. I also write screen scripts. I have a well-developed idea for a screen script. I have had it appraised by a professional who works in the industry (on some major films and with important directors). She assessed it as "a dead-bang winner," not just commercially but also as an artistic effort. The genre of the film is not unusual; however, the subject matter is unique. I am careful to write where I have a good deal of personal experience. I am particularly allergic to "inventing" things. This script involves cultural, artistic, and psychological themes heretofore not attempted in a film (though again, the genre is not unusual – in fact it is one where a well-done film is always successful).
For the next two years, however, my time and attention will be completely taken up with a massive legal project I am involved in. Thus, I had the idea to look for a writer to take a crack at putting the idea into a formal script. I have the script written out in story form. If you are interested in becoming a collaborator in this script, I can send it to you via email.
Final note: I have communicated this script in story form to a good number of my friends, all highly educated professionals in different fields, and big-time film buffs. Just recounting it to them as a raconteur would. Without exception, they have been mesmerized by it.
This is a serious offer. If you are interested, contact me at casboys@gmail.com.
___________________________________________________________________________________________________  
Position: Lead Facilitator, Intro to Film Arts Class 
Work Schedule: Part-Time 5 hrs/wk, 12 week program session (3 hr instruction + 2 hrs prep)
Session Dates: October 4, 2021- December 17, 2021; (start 9/27)
Supervisor: Reports to Executive Director  & Film Arts Advisor
Salary: $22-25/hr DOE; (Independent Contractor position)
Summary
Art Division seeks a part-time Lead Facilitator to teach our intensive twelve week "Intro to Film Arts" film class. The Lead Facilitator will train and work closely with up to eight participants ages 18-26 years old throughout the digital film production process, from story development to production, editing and delivery, culminating in short films for community screenings, festivals and online distribution.  This position is responsible for carrying out the core training with some assistance from other program staff, guest artists, and volunteer mentors.
The ideal candidate should have a solid background in film and video production,  proven storytelling experience and hands-on knowledge of the technical aspects of digital film/video production using DSLR cameras and audio gear, as well as editing software Adobe Premiere + daVInci Resolve on Mac computers. This person must be able to multi-task, prioritize, and work independently, as well as communicate and work well with young adults.
Overview of Organization
Art Division is a non-profit organization dedicated to training and supporting youth who are committed to studying the visual arts. Art Division distinguishes itself by providing in-depth services to young adults ages 18-26 yrs in the Rampart District, an at-risk population within one of Los Angeles' most densely populated and underserved communities. We believe that focused instruction, individualized tutoring and personal support give students the tools they need to pursue higher education, achieve self-sufficiency and obtain careers in the arts and related fields.  Art Division is also dedicated to community engagement and building a thriving arts community in the Rampart District.
FIlm Arts:
Art Division offers an introductory course to filmmaking as well as an incubator space for graduates and advanced young filmmakers to work on independent projects.  Participants attend a 12 week intensive, culminating in the production of short films ranging in style from scripted drama to narrative poetry and documentary.  Final projects are screened at film festivals, online, and at other community events. Our training curriculum emphasizes storytelling, perspective, freedom of expression and creativity.
Responsibilities/Duties of Position
Lead Facilitator in all workshops for story writing, technology, video production training, and editing as well as discussions related to storytelling, voice, perspective, conflict and social themes in film

Manage and supervise the participation of 8 students, and ensure completion of final projects

Work in groups and one-on-one with students as both creative and technical tutor on productions

Work with Film Arts Advisor & Executive Director to evaluate progress and address any program issues

Maintain and support program and facility expectations upheld by Art Division, referring any issues to appropriate staff  

Responsible for overall maintenance and supervision of equipment, both camera gear and computers used by students

Lead on all technical aspects of production, including exports of final projects and uploading online
Candidate qualifications 
Background in film, visual arts and digital media; strong storytelling skills 

Previous teaching experience strongly recommended

Solid hands-on knowledge and skills related to camera technology & editing software (Adobe Creative Suite + Premiere)

Experience in and strong commitment to working with young people in a young adult development and community setting

Demonstrated leadership skills and self-initiative; ability to multi-task and work efficiently in a high- energy environment and meet tight deadlines with composure and a smile
Please email resume and cover letter or questions to:  Debra Koffler, Film Arts Advisor at cymc415@gmail.com
___________________________________________________________________________________________________  
Seeking a Producer excited to jump into to co-producing with the Writer/Lead Actress on a 15-minute sweet SAG/AFTRA compliant short film for the festival circuit with the intention of shooting in the desert 60 miles east of Barstow and one other location in Nov/Dec 2021. Small cast: 2 leads, 2-day players plus extras. Budget goal of $8-10K. Please note the project is not funded and no other cast/crew attached yet. I am open to Producers who wish to Direct or DP as well. Fundraising will be involved. This will be a paid position. Pay rate TBD. Contact Glory for more info at: glorydsimon@me.com ____________________________________________________________________________________________________
DOCUMENTARY SERIES EDITOR WANTED PROJECT TITLE: "THE LAST ONES"
EDITING FORMAT: HD AVID 1920X1080 /MEDIA COMPOSER 6.5.2
SHOT ON: Super 16mm Film
WHAT'S IT ABOUT? Chronicles international people, places, technologies, and wildlife that are almost gone from our midst. The show places each subject in an historical context, delves into how they've survived, what value they hold in today's society, their future, and why they're important to preserve.
HOW DO I APPLY? Please e-mail your resume and reel to: coshproductions@yahoo.com. If you have any questions, you can reach Greg @ 818-414-3943. _________________________________________________________________________________________________________
We are currently looking for the right fit to direct our short movie! Raduga is an intimate story of two teenage girls trying to discover their place in the world by pushing the limits of morality and their own innocence. -Shooting dates are planned to be in September, we are looking at a roughly 10-day shoot. -Compensation is planned and negotiable based upon experience. -The pre-production process has started and we need an LA based director with immediate availability to complete the team. If you are interested in this project, please send us an email with your director's reel, experiences and any additional material you would like to share. Feel free to reach out to this email if you have any questions: raduga.casting@gmail.com We are looking forward to hearing from you!  
Alisa and Léa – Producers
___________________________________________________________________________________________________________
WRITEGIRL IS SEEKING VOLUNTEERS!
Support the voices of teens in Los Angeles! Volunteer as a writing mentor or help behind the scenes in supporting the work that WriteGirl and Bold Ink Writers are doing to inspire teens to develop their creativity and writing skills!
WriteGirl 
(
www.writegirl.org
) is a creative writing and mentoring organization that empowers underserved teen girls in Los Angeles through mentoring relationships with women writers, hosting large-scale writing workshops at such places as the Huntington Gardens, The Autry and LACMA. Since 2001, WriteGirl has maintained a 100% success rate in guiding girls to not only graduate from high school, but also enroll in college.
WriteGirl
 is seeking women writers in all genres including novelists, poets, journalists, songwriters, copywriters, legal writers and more to help mentor teen girls, lead workshops and inspire girls to express their creative ideas. Weekly and monthly mentoring opportunities available.
WriteGirl
 is also seeking women professionals to volunteer behind-the-scenes with events, public relations, fundraising and partnerships. (Strong communication skills required.)
WriteGirl's Bold Ink Writers Program 
is seeking men with creative writing skills to lead writing workshops for teen boys and co-ed groups during the school day. Workshops will take place throughout Los Angeles, from alternative schools to detention camps, for teens of diverse backgrounds. Daytime/weekday availability required. 
Apply here: 
www.writegirl.org/join-us
.
For more information, sign up for the WriteGirl newsletter at 
http://bit.ly/2tK9WUr
For questions, contact WriteGirl at
membership@writegirl.org
 or call 213-253-2655.
_______________________________________________________________
HIP Sound Stages located near Downtown Los Angeles and Dodger Stadium is offering a 15% discount to any AFI alumni or current fellows. Please contact
info@HipstudiosLa.com
or (323) 833-5920 for further information
---
A new co-writing space in the heart of the Culver City Arts District, Writers Blok provides structure, support and community for writers. Modeled after a gym or a yoga studio, this dedicated writing space is available for writing sessions seven days a week.  If you're looking for a place to get work done where you'll also find a great community of writers, you're in luck. Writers Blok is offering a free session to AFI alumni.  
---
Need to find film-friendly locations in the Los Angeles area? Visit Giggster.com to search and book diverse commercial, residential and studio locations.
---
Kitsplit is a community of tens of thousands of vetted filmmakers and production companies renting gear to and from each other. It has been called "the AirBNB for creative equipment" by Forbes and Fast Company. Kitsplit invites AFI alumni to join as LA Founding Members and list gear with exclusive benefits. Those who reach out in August will receive free concierge service — email your gear list to contact@kitsplit.com and mention AFI. To receive 20% off your first rental, sign up for KitSplit and use exclusive code AFI15 at checkout.
---
Looking for studio space and equipment rentals? Loyal Studios in Burbank offers 10% discounts to the AFI community. Contact Sadie Dean (AFI Class of 2011) at sadie@loyalstudios.tv.
---
Sundance Creative Distribution Fellowship — open until full Bertha BRITDOC Documentary Journalism Fund — ongoing Big Vision Empty Wallet Kickstart Diversity Program — ongoing Catapult Film Fund — ongoing Cinereach Grants — ongoing Digital Bolex Grant for Women Cinematographers — rolling Film Independent Labs & Programs – ongoing Film Independent AbelCine Camera Grant — rolling Film Independent Camera Grant – ongoing Film Independent Fiscal Sponsorship — rolling Film Independent Sloan Distribution Grant — rolling Firelight Media Producers' Lab — rolling The Fledgling Fund — ongoing Ford Foundation: JustFilms — ongoing Hot Docs Ted Rogers Fund — rolling ITVS Open Call — ongoing Jerome Foundation Grant Programs — ongoing Kaleidoscope — rolling Merge AR VR Developer Fund — rolling NewFilmmakers Los Angeles — ongoing nextPix/firstPix Crowd Funding Grants — ongoing OSVR Developer Fund — rolling Panavision New Filmmaker Program — ongoing Roadmap Writers Diversity Initiative Program — ongoing San Francisco Film Society's Narrative Grants & Programs — ongoing Scottish Documentary Institute Consultancies — ongoing Screen Australia: Feature Film Production Program — ongoing Screen Australia: Documentary Producer Equity Program — ongoing Sundance Documentary Fund — ongoing Visions Sud Est Fund — ongoing World Cinema Fund: Distribution — ongoing YouPix Competition (Directors and Writers) — ongoing
---
UTA ENTERTAINMENT JOB LIST
The UTA Job List is refreshed weekly. Simply bookmark the link below or reference the newsletter and use it whenever you wish to view the updated list. CLICK HERE FOR JOB LIST   NOTE: The UTA Job List is intended for the personal use of its recipients. Posting of this list or any information derived from the list on any website or message board in its entirety or in part without the express written permission of the list administrator is neither permitted nor within the spirit of the efforts put into its creation. All rights are reserved. ©2020
---
OTHER JOB RESOURCES