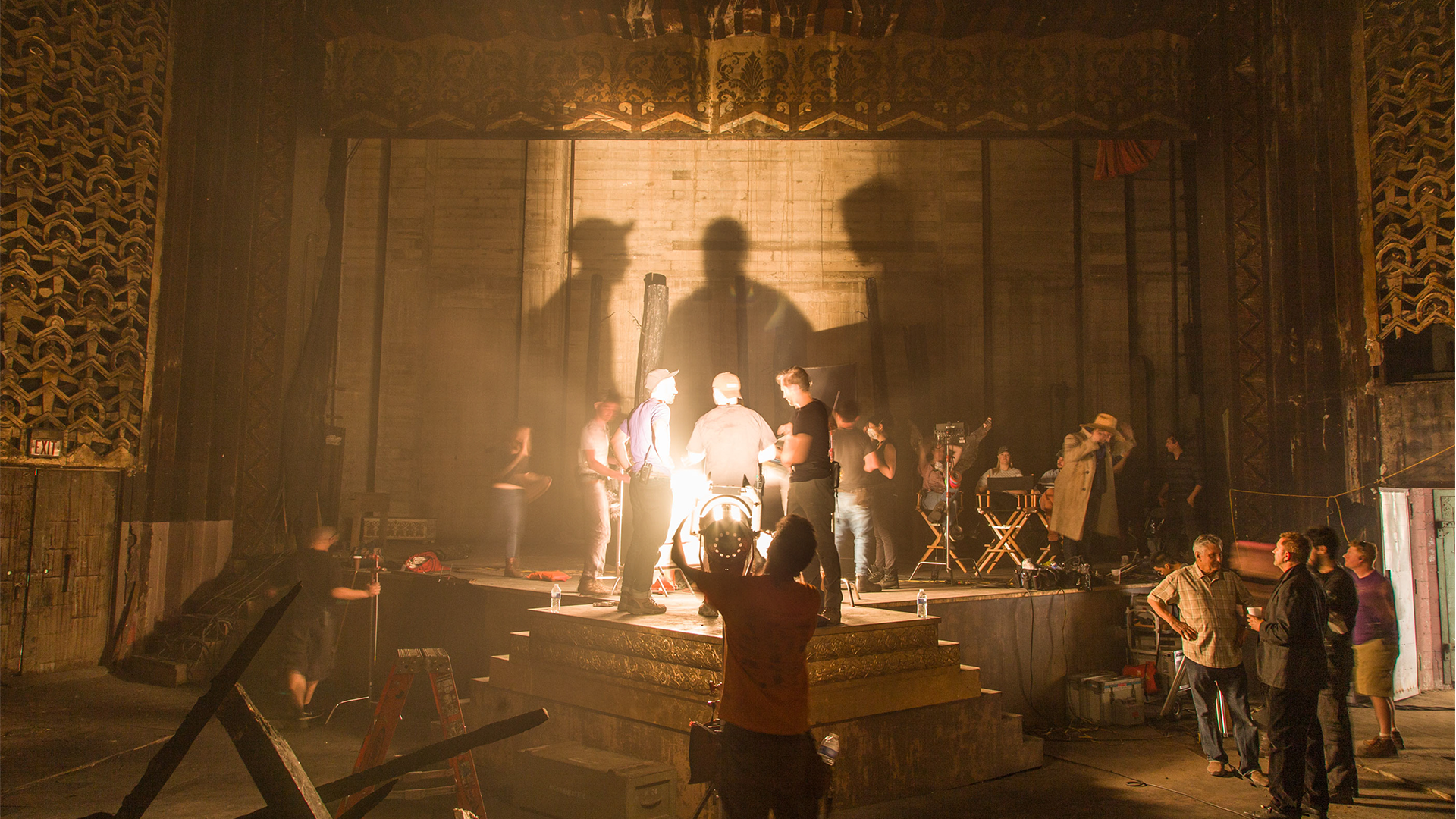 AFI BACKLOT
We are excited to invite you to join AFI Backlot – the new, exclusive networking platform for AFI Alumni! There's also exclusive career opportunities that are only listed in Backlot! You can register in under two minutes by following the simple steps below:
Visit backlot.afi.com
On first visit, click 'Get Started'
Fill out the information requested, including name and email
Choose your own unique password
Verify your email address when prompted
Upon approval, start using the site!
Looking forward to seeing you there! Don't know how to navigate Backlot very well? Here's a couple of step-by-step tutorials: Directory https://vimeo.com/329074511/e50b834df3 Update profile  https://vimeo.com/335661218/170d7d987b
How to post or find jobs on platform                  
---
ALUMNI BENEFITS
Did you know that, as an alumnus, you receive lifetime borrowing privileges from the Louis B. Mayer Library? Library accounts for AFI Conservatory Alumni and DWW Alumnae are complimentary and include the following services based on availability:
Facility access to the Louis B. Mayer Library and the Computer Lab
Borrowing of circulating material, up to three (3) items at a time regardless of format
Use of non-circulating Library materials
On-site access to Thesis, Cycle, and DWW films
Remote access to the Library online catalog, LibraryWorld
Use of Library and Computer Lab hardware and software

Access can be requested from Library or Computer Lab Staff
Priority will be given to current Fellows

In-person reference assistance
Access to electronic resources (only available on Library computers)
Important note: Photo identification must be presented when borrowing Library materials. Use of printers in the Library and the Computer Lab is prohibited.   Alumni also receive discounted rental rates for screening rooms on the AFI Campus. Learn more about all of the exclusive benefits and special discounts that come with being an AFI alumnus.
---
OPPORTUNITIES  
Looking to hire a staff assistant editor at Goode Films, founded in 2015 by director/producer Eric Goode (Tiger King).  We operate in an Avid workflow, and the job will be based at our offices in Ojai, CA. Please send a resume to carissa@goodefilms.com if interested.
---
Looking for a female producer – a creative producer.
The qualifying writer or writer-director must be in attendance throughout the entirety of the three-day workshop either virtually or in-person ( NY)  (as determined by Tribeca and Chanel), October 13th-15th – 2020. If the project is selected they cover the airfare and hotel from LA to NY.
They will select 5 projects – one with 80k max budget and 4 more will receive 5k in order to move on with the project. The winners will be announced in September 2020. The project must be completed in one year after the workshop.
If the project is selected – there will be compensation. This is a great opportunity to get in touch with mentors, teachers and master classes. High profile industry members such as  Sarah Jessica Parker, Catherine Keener, Dede Gardner.
For more information please email:
Paula du Gelly ( writer/director)
---
Backstage.com offers AFI alumni a promo code for FREE use of their casting services. Visit Backstage.com, click "Post a Job" to add a casting notice, then use the promo code AFIALUM during checkout.
---
LOOKING FOR EDITORS: We're an LA/London based production company looking for an editor to work with us on cutting together a pop star's concert/tour documentary. This is a paid position that is short term, but we have a lot of projects slated, so this has potential to turn into a longer-term position. You'd be working remote, and ideally would have your own editing set-up. If you're interested, please email patrick@babyfoot.net with any reels or relevant information. This is an ideal position if you have a background in music and narrative!
---
The Department of Communications at Santa Clara University invites applications for a tenure-track Assistant Professor position in Digital Filmmaking to begin in the fall of 2020. The ideal candidate will be an experienced teacher and filmmaker in narrative fiction filmmaking with demonstrable knowledge about a vast range of forms, approaches and sensibilities in all phases of the production process from screenwriting to post-production. Click here for the full post and application!
---
R&D is a consultancy agency in the advertising industry. We focus on high-end commercial directors — whether they are at the beginning of their career or are very established — and serve as consultants for commercial production companies, recruiting EPs and representation. I'm currently looking for someone that is interested in this corner of the industry. Someone that has a positive attitude and who is organized, takes strong initiative and has a keen eye for talent. The part time position involves:
Keeping R&Ds social media up to date
Researching up-and-coming talent through festivals: AFI, SXSW, Vimeo, Music Videos
Researching alternative markets as well; France, London, etc.
Organizing google docs and database
Click
here
for more info and to apply!
---
We are seeking an outstanding and versatile individual who is savvy in social media, Youtube uploading and programming, and editing and shooting rather sophisticated and high-end digital cameras (Sony). Our location is at 994 S. La Brea, Inglewood, CA 90301. This is a paid position with an outstanding opportunity for growth. Please respond to George at
Georgesaunders59@aol.com
. We would like to schedule applicants as soon as possible. You will be meeting America's Healing Dancing Doctor – Dr. Tabassian. Please respond ASAP with a resumé and brief background on yourself in the body of the email, detailing why you would be ideal for this position. I am also in ongoing production (IMDB link: 
https://www.imdb.com/name/nm0006438/?ref_=fn_al_nm_2
)
---
WRITEGIRL IS SEEKING VOLUNTEERS!
Support the voices of teens in Los Angeles! Volunteer as a writing mentor or help behind the scenes in supporting the work that WriteGirl and Bold Ink Writers are doing to inspire teens to develop their creativity and writing skills!
WriteGirl 
(
www.writegirl.org
) is a creative writing and mentoring organization that empowers underserved teen girls in Los Angeles through mentoring relationships with women writers, hosting large-scale writing workshops at such places as the Huntington Gardens, The Autry and LACMA. Since 2001, WriteGirl has maintained a 100% success rate in guiding girls to not only graduate from high school, but also enroll in college.
WriteGirl
 is seeking women writers in all genres including novelists, poets, journalists, songwriters, copywriters, legal writers and more to help mentor teen girls, lead workshops and inspire girls to express their creative ideas. Weekly and monthly mentoring opportunities available.
WriteGirl
 is also seeking women professionals to volunteer behind-the-scenes with events, public relations, fundraising and partnerships. (Strong communication skills required.)
WriteGirl's Bold Ink Writers Program 
is seeking men with creative writing skills to lead writing workshops for teen boys and co-ed groups during the school day. Workshops will take place throughout Los Angeles, from alternative schools to detention camps, for teens of diverse backgrounds. Daytime/weekday availability required. 
Apply here: 
www.writegirl.org/join-us
.
For more information, sign up for the WriteGirl newsletter at 
http://bit.ly/2tK9WUr
For questions, contact WriteGirl at
membership@writegirl.org
 or call 213-253-2655.
_______________________________________________________________
HIP Sound Stages located near Downtown Los Angeles and Dodger Stadium is offering a 15% discount to any AFI alumni or current fellows. Please contact
info@HipstudiosLa.com
or (323) 833-5920 for further information
---
A new co-writing space in the heart of the Culver City Arts District, Writers Blok provides structure, support and community for writers. Modeled after a gym or a yoga studio, this dedicated writing space is available for writing sessions seven days a week.  If you're looking for a place to get work done where you'll also find a great community of writers, you're in luck. Writers Blok is offering a free session to AFI alumni.  
---
Need to find film-friendly locations in the Los Angeles area? Visit Giggster.com to search and book diverse commercial, residential and studio locations.
---
Kitsplit is a community of tens of thousands of vetted filmmakers and production companies renting gear to and from each other. It has been called "the AirBNB for creative equipment" by Forbes and Fast Company. Kitsplit invites AFI alumni to join as LA Founding Members and list gear with exclusive benefits. Those who reach out in August will receive free concierge service — email your gear list to contact@kitsplit.com and mention AFI. To receive 20% off your first rental, sign up for KitSplit and use exclusive code AFI15 at checkout.
---
Looking for studio space and equipment rentals? Loyal Studios in Burbank offers 10% discounts to the AFI community. Contact Sadie Dean (AFI Class of 2011) at sadie@loyalstudios.tv.
---
Sundance Creative Distribution Fellowship — open until full Bertha BRITDOC Documentary Journalism Fund — ongoing Big Vision Empty Wallet Kickstart Diversity Program — ongoing Catapult Film Fund — ongoing Cinereach Grants — ongoing Digital Bolex Grant for Women Cinematographers — rolling Film Independent Labs & Programs – ongoing Film Independent AbelCine Camera Grant — rolling Film Independent Camera Grant – ongoing Film Independent Fiscal Sponsorship — rolling Film Independent Sloan Distribution Grant — rolling Firelight Media Producers' Lab — rolling The Fledgling Fund — ongoing Ford Foundation: JustFilms — ongoing Hot Docs Ted Rogers Fund — rolling ITVS Open Call — ongoing Jerome Foundation Grant Programs — ongoing Kaleidoscope — rolling Merge AR VR Developer Fund — rolling NewFilmmakers Los Angeles — ongoing nextPix/firstPix Crowd Funding Grants — ongoing OSVR Developer Fund — rolling Panavision New Filmmaker Program — ongoing Roadmap Writers Diversity Initiative Program — ongoing San Francisco Film Society's Narrative Grants & Programs — ongoing Scottish Documentary Institute Consultancies — ongoing Screen Australia: Feature Film Production Program — ongoing Screen Australia: Documentary Producer Equity Program — ongoing Sundance Documentary Fund — ongoing Visions Sud Est Fund — ongoing World Cinema Fund: Distribution — ongoing YouPix Competition (Directors and Writers) — ongoing
---
UTA ENTERTAINMENT JOB LIST
The UTA Job List is refreshed weekly. Simply bookmark the link below or reference the newsletter and use it whenever you wish to view the updated list. CLICK HERE FOR JOB LIST   NOTE: The UTA Job List is intended for the personal use of its recipients. Posting of this list or any information derived from the list on any website or message board in its entirety or in part without the express written permission of the list administrator is neither permitted nor within the spirit of the efforts put into its creation. All rights are reserved. ©2020
---
OTHER JOB RESOURCES
---