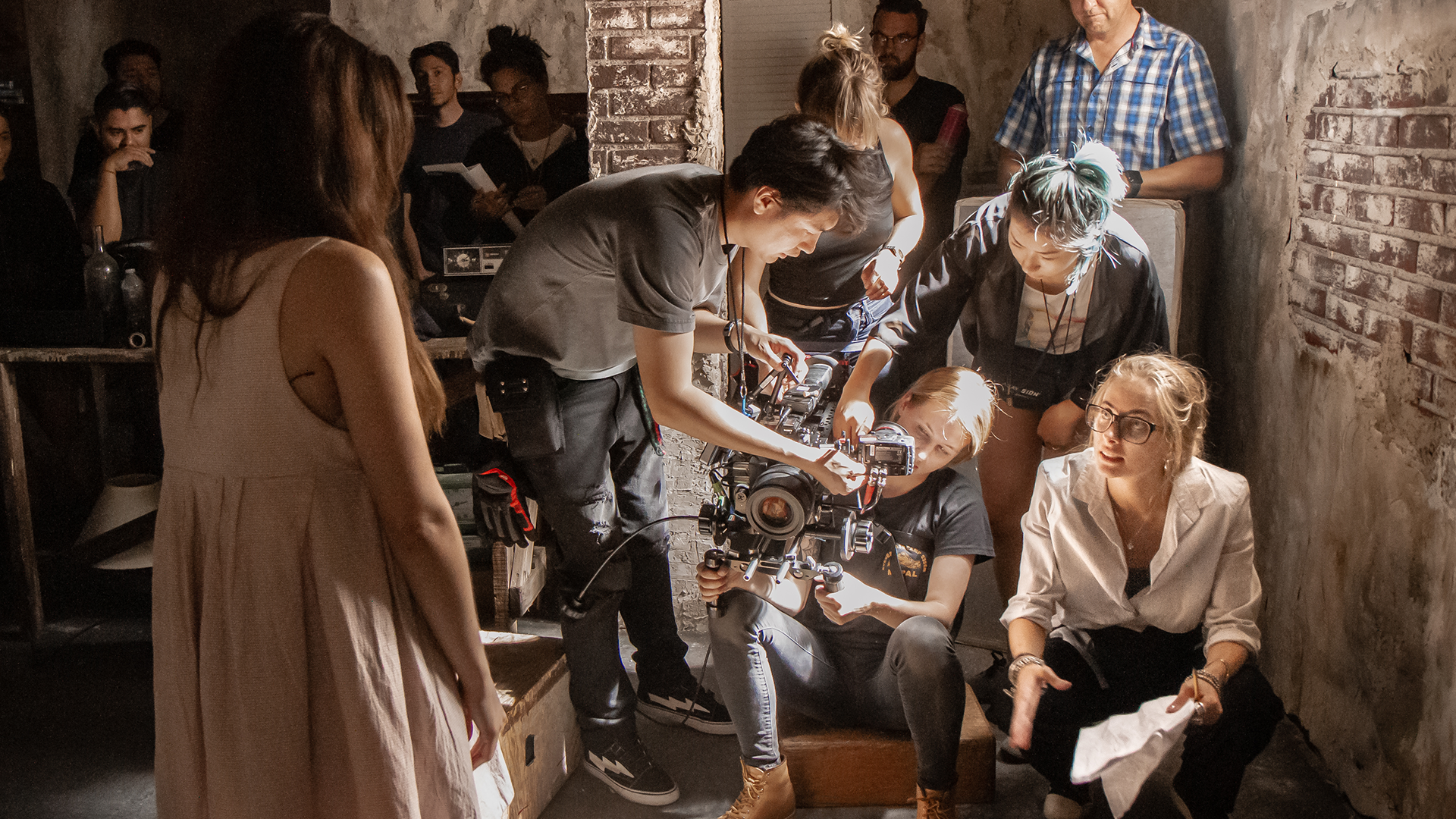 AFI BACKLOT
We are excited to invite you to join AFI Backlot – the new, exclusive networking platform for AFI Alumni! There's also exclusive career opportunities that are only listed in Backlot! You can register in under two minutes by following the simple steps below:
Visit backlot.afi.com
On first visit, click 'Get Started'
Fill out the information requested, including name and email
Choose your own unique password
Verify your email address when prompted
Upon approval, start using the site!
Looking forward to seeing you there! Don't know how to navigate Backlot very well? Here's a couple of step-by-step tutorials:
Directory: https://vimeo.com/329074511/e50b834df3
Update profile: https://vimeo.com/335661218/170d7d987b
How to post or find jobs on platform: https://vimeo.com/347532238/edf245bc5f
---
COMPETITIONS AND FELLOWSHIPS
There are many different paths writers can follow to get their first foothold in being hired in television. As part of its ongoing commitment to create additional access for writers of diverse backgrounds Paramount's Office of Global Inclusion has launched a different kind of writers program which highlights one of those paths. The focus of this eight month program is on opening doors: providing opportunities to build relationships with network and studio executives and show runners; to support new and emerging writers in their efforts to improve their craft; and to develop the interpersonal skills necessary to break in and succeed.
Opens: April 1, 2022 
_______________________________________________________________________________________________
The Black List and Warby Parker have partnered to create the Writer's Vision Grant, which will award $20,000 each to three aspiring writers in film, television, and theater. Each writer will receive $20,000 to either film a short proof of concept based on their feature screenplay, develop a new theatrical work for the stage, or develop and write an original television pilot script.
The Writer's Vision Grant will foster and celebrate scripts that harness and explore creativity, diversity, inclusion, empathy, and innovation in their storytelling.
Writers are invited to submit their work for consideration by uploading it directly to the Black List website. Writers can opt-in to the opportunity until midnight on August 15, 2022. Though writers can submit work of any genre, the scripts should avoid violence, illegal activity, drugs/alcohol use, and overly explicit content.
Evaluation Deadline: July 15, 2022
_______________________________________________________________________________________________
FILM INDEPENDENT'S PRODUCING LAB 2022
The Producing Lab helps further the careers of its Fellows by introducing them to film professionals who can advise them on both the craft and business of independent producing. In addition to attending lab sessions with legal, financial and production experts, each Producing Lab Fellow will be paired with an experienced Creative Advisor with whom they'll work to develop their project over the course of the program. Taking place during the course of two weeks in October, the Lab culminates with a pitch session with established executives, offering participants valuable practical experience and the chance to introduce their projects to a larger cross-section of the industry.
Producers may apply with feature length narrative projects that are in active development or post-production. Through the Lab, Fellows develop strategies and action plans to bring their projects to fruition.
Non-Member Deadline: May 6 at 11:59 p.m. PST
_______________________________________________________________________________________________
THE LATINO LENS™: NARRATIVE SHORT FILM INCUBATOR
The Latino Lens™: Narrative Short Film Incubator Women of Color commits to seek up-and-coming women of color filmmakers and will also provide resources and knowledge in necessary areas. The incubator will work in conjunction with partners to empower the creators with resources, intensive mentorship, and empowerment through the successful completion of the intended project.
This incubator is an open call to content creators to submit their profile as well as an original short narrative concept to be considered for this signature incubator program.
Deadline: April 29, 2022 at 11:59 p.m. PST
_______________________________________________________________________________________________
WESCREENPLAY'S DIVERSE VOICES SCREENWRITING LAB Diverse Voices is a dynamic screenwriting lab with a proven track record of helping move the needle for stories that are told from perspectives that are often underrepresented in Hollywood today. This includes writers of color, women writers, writers with disabilities, writers over 40, writers in the LGBTQ+ community, and any other voices that have historically been ignored by Hollywood. A minimum of 4 winners will be selected to participate in this career-changing lab! Writers chosen for the lab have a long weekend PACKED with workshops to hone their craft, mentorship calls with working writers, and general meetings with studio execs, literary reps, and more. 
Final Deadline: April 15, 2022 https://bit.ly/3cF5f3c 
HUMANITAS NEW VOICES FELLOWSHIP
New Voices Fellowship is a four-month mentorship program for emerging television and screenwriters. The program is committed to identifying and empowering five writers each year who are unrepresented and are currently working on a 30- or 60-minute pilot or feature film screenplay that upholds the mission of Humanitas. Through mentorship, workshops, conversations on professional development, and networking opportunities, New Voices equips writers with the tools needed to advance their careers. Since 2010, 50 fellows have completed the New Voices program and advanced to become showrunners, producers, directors, and staff writers.
Deadline: April 30, 2022
_________________________________________________________________________________________________
JOB OPPORTUNITIES
Producer for a Narrative Feature Emerging filmmaker based in NYC, is working on her debut narrative feature film.    KID C follows Lee, a rambunctious 10-year-old, during her first year as a Chinese immigrant in Texas during the late 1990s. Cracking under the pressures of volatile parents, Lee attempts to reclaim a sense of childhood with her best friend John, an African American boy. But when she reveals a secret that he shared, their friendship is threatened and life begins to collapse.    NYC, LA, and Texas producers are preferred. Anyone who can speak Mandarin is an extra bonus.    The project is being supported by grants from Sundance, the Jerome Foundation, and NYSCA.   If interested, please contact Jingjing Tian: jtian1167@gmail.com. Here is the filmmaker's website. _________________________________________________________________________________________________
DOCUMENTARY SERIES EDITOR WANTED
PROJECT TITLE: "THE LAST ONES"
EDITING FORMAT: HD AVID 1920X1080 / MEDIA COMPOSER 6.5.2
SHOT ON: Super 16mm Film
WHAT'S IT ABOUT?
Chronicles people, places, technologies, and wildlife internationally that are almost gone from our midst. The show places each subject in an historical context, delves into how they've survived, what value they hold in today's society, their future, and why they're important to preserve.   Some of our previous segments include the last crank phone system in the United States, the last supply line pack station in the United States, the last orange grove in Orange County, the last traditional kite maker in Malaysia, and one of last surviving members of the WASP- Women's Air Service Pilots of World War 2.
Here's a link to our PILOT EPISODE: VIMEO LINK: https://vimeo.com/445666835
PASSWORD IS: cosh
WHAT'S THE GOAL?
To have 3 completed episodes to shop around as a regular series with a full budget. PBS has already shown interest.
WHOSE PROJECT IS THIS?
Husband and wife team, Greg and Nora Cosh.   Nora is a broadcast journalist from Malaysia, and Greg a director, member of the Cinema Audio Society, and union sound mixer, currently working on his 5th season of Young Sheldon for CBS. He has also worked with many AFI film makers over the years.
IMBD LINK: https://m.imdb.com/name/nm0181849/
WHAT'S THE JOB ENTAIL?:
Sync footage, organize footage, complete Rough Cuts and Final Cuts based on script provided by Greg. There are 3-4 segments in each episode, each segment roughly 5-15 minutes in length.
HOW MANY SEGMENTS ARE THERE TO COMPLETE?
6 segments to make up 2 new episodes.
HOW MUCH FOOTAGE IS THERE TO DEAL WITH?
We shoot entirely on film, not only to give our visuals a unique, beautiful look, but also because of its unmatched archival qualities and the economy it affords us in post. There aren't hours and hours of footage to sift through for each segment. We own our own Super 16 camera and sound package, so it made it financially viable for our small budget.
WHAT'S THE PAY?
This is a self-financed project, and as such, isn't at scale. We can pay $2250-$3250 (no 1099 required) per completed segment, depending on its length.
WHEN WOULD IT BEGIN? ASAP.
HOW DO I APPLY? Please e-mail your resume and reel to: coshproductions@yahoo.com
_________________________________________________________________________________________________
Full Time Lecturer position in Film Production at ODU
The Department of Communication & Theatre Arts at Old Dominion University, seeks a full-time Lecturer (non-tenure track) for its Cinema and Television (CTV) production program. ODU's CTV Program emphasizes students gaining hands-on experiences; the program delves deep into production in an experiential learning environment. We are seeking candidates who possess Film/TV production experience and the ability to teach either producing, directing, cinematography or animation. Norfolk is a top-50 media market. Old Dominion University is a minority-serving institution that offers a BA/BS in Communication with a Major in Cinema & TV Production and a BA in Theatre/Dance with a Major in Cinema Production. Minimum Qualifications – knowledge, skills, and abilities Experience in narrative/documentary Film/TV production, animation, broadcast journalism or TV News and the ability to teach related subjects to a diverse student population that includes numerous first-generation students and veterans. Ability to teach hands-on production style courses in at least one of the following areas:
Animation (3D and/or traditional)
Cinematography
Directing
Producing
Minimum Qualifications – Education or training
Master's degree in Film, Television, Media Arts, Animation, Mass Communication or a related discipline.
Knowledge of current industry tools relating to your areas of specialty in production craft.
Preferred Qualifications
MFA in Film, Television, Media Arts, Animation, Mass Communication or a related discipline.
One or more of the following:
Experience Producing.
Desire to participate in departmentally produced film productions.
Ability to take on Producer role for departmental film productions, which will include social-impact productions.
Prior experience teaching at a university level.
Ability to teach additional courses from this list:
Commercials Production
Documentary Production
Lighting
Production Design
Sound Recording and Mixing
TV News Production
Editing & Color Correction
How to Apply / Contact Candidates should submit all applications to https://jobs.odu.edu/postings/14150 Submit a letter of application that addresses experience in production and previous creative endeavors. Also submit a curriculum vitae, a statement of teaching philosophy and approaches, a statement describing how you would facilitate the storytelling of a diverse student body and ensure equity and inclusion through your teaching, 3-5 work sample links with descriptions that clearly detail your contributions, unofficial graduate transcripts, and the names and contact information of three professional references. The search committee may ask for more materials as needed. Review of applications will begin on November 1, 2021 and will continue until the position is filled.
_________________________________________________________________________________________________
Assistant Editor – PACIFIC MEDIA INC.
Job Title: Assistant Editor
Location: Burbank, CA (You work from home)
Terms: Part-time 20hrs/week
About Us: Pacific Media Inc. is a Los Angeles based production company that creates high-converting media to help companies make sales and build their brands. We do everything from start to finish including writing, pre-production, production and post-production for our clients so they don't have to worry about their content. Our clients are usually large brands like Quest Nutrition, Adidas, Atkins Nutrition, Insomniac etc. We value hard-work, creativity and a "problem-solving" attitude. Our website, work and clients can be found at www.pacificmediacreative.com.
Role: Hire would work in Adobe Premiere sorting through footage, categorizing it, transferring it, create proxies, edit videos and prepare videos for color grading and finishing. This will help the editors work more efficiently and allow for more creativity and better videos for our clients and allow delivery to clients at a more rapid pace.
REQUIREMENTS:
• 20hrs/week of time required (Will pay more if more is required)
• Must have a good laptop/desktop computer to work from with Premiere
• Must have basic knowledge of Adobe Premiere
• Basic knowledge of DaVinci Resolve (Ideal but not required)
• Be able to meet deadlines and work in a timely manner
• Some video production/post-production education/experience
• Must understand basic post-production terminology
CONTACT US TO APPLY: If working in the film industry, gaining experience in the field, and building a network while getting paid for it sounds good to you, email contact@pacificmediacreative.com and put "Assistant Editor" in the subject line. Introduce yourself and send any work you've already done in the past. Thank you!
__________________________________________________________________________________________________________
OTHER OPPORTUNITIES
Applications are now open for Wscripted's Second Cannes Screenplay List presented by MUBI. Wscripted's inaugural list was unveiled in Variety and highlighted a selection of 25 diverse screenplays written by women during the 2021 Cannes Film Festival.
Women and non-binary screenwriters or writer-directors from AFI with a screenplay in English or French, are encouraged to apply by April 15th here! Read the Press Release in Deadline.
_________________________________________________________________________________________________
Backstage Casting Services
AFI Alumni can access 
 Backstage's casting services
 with the promo code: 
AFIALUM
Student Filmmaker/Emerging Filmmaker Office Hours are also available for additional help or have casting questions.
11:00-11:45am PST every Tuesday
 at: 
https://backstage.zoom.us/j/86842171638
. _________________________________________________________________________________________________
For producers:
Discover Wscripted, the first marketplace sourcing content written by women and non-binary storytellers, which published its Inaugural Cannes Screenplay List with Variety. Wscripted is pleased to introduce "Pitch a Decision-Maker", a monthly series featuring a producer or development executive looking to discover female or non-binary talents and 4 storytellers pitching their project available for option or financing. Producers interested in participating can contact Ellie at ejamen@wscripted.com
For directors and screenwriters:
Discover 
Wscripted
, the first marketplace sourcing content written by women and non-binary storytellers, which published its Inaugural Cannes Screenplay List with 
Variety
. Wscripted is pleased to introduce "Pitch a Decision-Maker", a monthly series featuring a producer or development executive looking to discover female-led projects and 4 female or non-binary storytellers pitching their project available for option or financing. To apply or rsvp, you can create an account at 
wscripted.com
_________________________________________________________________________________________________
THE BLACK LIST/AFI ALUMNI NETWORK PARTNERSHIP
The alumni-led AFI Alumni Network has created a partnership with Franklin Leonard of The Black List in order to connect AFI writers with AFI producers, showrunners, and directors. We are currently in beta testing on a new search function on The Black List to allow AFI writers to identify their alumni status and for buyers to search for material from other AFI Alumni. Not only that, Franklin has agreed to extend to AFI Alumni the same privileges that WGA members get on The Black List – free listing of your scripts' loglines, plus your contact information, so you will show up in searches even when you are not paying to host scripts on the website. If you are already on The Blacklist website, you just go to your profile and add your AFI Alumni status. If you are not already on there, set up your profile and select Alumni status. Give it a try! 
https://blcklst.com/
_________________________________________________________________________________________________
X4Y is a new type of content marketplace, to help you turn your spec content into sold content.
With X4Y, you can sell your spec commercials to brands around the world, giving your work instant credibility and earning you a profit. You can even repurpose your existing short films and other content into 30- and 60-second, brand-agnostic spots that could work for multiple companies. (Just remove any logos or other brand references.) You'll also be able to create a personal profile that showcases your skills and work to the world.
Sign up for an exclusive, free X4Y early membership and start sharing now! x4y.com/creators
X4Y is built by Sugar23, the team behind 13 REASONS WHY, THE KNICK, MANIAC, DICKINSON, SPOTLIGHT and other award-winning projects.
__________________________________________________________________________________________________________
WRITEGIRL IS SEEKING VOLUNTEERS!
Support the voices of teens in Los Angeles! Volunteer as a writing mentor or help behind the scenes in supporting the work that WriteGirl and Bold Ink Writers are doing to inspire teens to develop their creativity and writing skills!
WriteGirl 
(
www.writegirl.org
) is a creative writing and mentoring organization that empowers underserved teen girls in Los Angeles through mentoring relationships with women writers, hosting large-scale writing workshops at such places as the Huntington Gardens, The Autry and LACMA. Since 2001, WriteGirl has maintained a 100% success rate in guiding girls to not only graduate from high school, but also enroll in college.
WriteGirl
 is seeking women writers in all genres including novelists, poets, journalists, songwriters, copywriters, legal writers and more to help mentor teen girls, lead workshops and inspire girls to express their creative ideas. Weekly and monthly mentoring opportunities available.
WriteGirl
 is also seeking women professionals to volunteer behind-the-scenes with events, public relations, fundraising and partnerships. (Strong communication skills required.)
WriteGirl's Bold Ink Writers Program 
is seeking men with creative writing skills to lead writing workshops for teen boys and co-ed groups during the school day. Workshops will take place throughout Los Angeles, from alternative schools to detention camps, for teens of diverse backgrounds. Daytime/weekday availability required. 
Apply here: 
www.writegirl.org/join-us
.
For more information, sign up for the WriteGirl newsletter at 
http://bit.ly/2tK9WUr
For questions, contact WriteGirl at
membership@writegirl.org
 or call 213-253-2655.
_______________________________________________________________
HIP Sound Stages located near Downtown Los Angeles and Dodger Stadium is offering a 15% discount to any AFI alumni or current fellows. Please contact
info@HipstudiosLa.com
or (323) 833-5920 for further information
---
A new co-writing space in the heart of the Culver City Arts District, Writers Blok provides structure, support and community for writers. Modeled after a gym or a yoga studio, this dedicated writing space is available for writing sessions seven days a week.  If you're looking for a place to get work done where you'll also find a great community of writers, you're in luck. Writers Blok is offering a free session to AFI alumni.  
---
Need to find film-friendly locations in the Los Angeles area? Visit Giggster.com to search and book diverse commercial, residential and studio locations.
---
Kitsplit is a community of tens of thousands of vetted filmmakers and production companies renting gear to and from each other. It has been called "the AirBNB for creative equipment" by Forbes and Fast Company. Kitsplit invites AFI alumni to join as LA Founding Members and list gear with exclusive benefits. Those who reach out in August will receive free concierge service — email your gear list to contact@kitsplit.com and mention AFI. To receive 20% off your first rental, sign up for KitSplit and use exclusive code AFI15 at checkout.
---
Looking for studio space and equipment rentals? Loyal Studios in Burbank offers 10% discounts to the AFI community. Contact Sadie Dean (AFI Class of 2011) at sadie@loyalstudios.tv.
---
Sundance Creative Distribution Fellowship — open until full Bertha BRITDOC Documentary Journalism Fund — ongoing Big Vision Empty Wallet Kickstart Diversity Program — ongoing Catapult Film Fund — ongoing Cinereach Grants — ongoing Digital Bolex Grant for Women Cinematographers — rolling Film Independent Labs & Programs – ongoing Film Independent AbelCine Camera Grant — rolling Film Independent Camera Grant – ongoing Film Independent Fiscal Sponsorship — rolling Film Independent Sloan Distribution Grant — rolling Firelight Media Producers' Lab — rolling The Fledgling Fund — ongoing Ford Foundation: JustFilms — ongoing Hot Docs Ted Rogers Fund — rolling ITVS Open Call — ongoing Jerome Foundation Grant Programs — ongoing Kaleidoscope — rolling Merge AR VR Developer Fund — rolling NewFilmmakers Los Angeles — ongoing nextPix/firstPix Crowd Funding Grants — ongoing OSVR Developer Fund — rolling Panavision New Filmmaker Program — ongoing Roadmap Writers Diversity Initiative Program — ongoing San Francisco Film Society's Narrative Grants & Programs — ongoing Scottish Documentary Institute Consultancies — ongoing Screen Australia: Feature Film Production Program — ongoing Screen Australia: Documentary Producer Equity Program — ongoing Sundance Documentary Fund — ongoing Visions Sud Est Fund — ongoing World Cinema Fund: Distribution — ongoing YouPix Competition (Directors and Writers) — ongoing
---
UTA ENTERTAINMENT JOB LIST
The UTA Job List is refreshed weekly. Simply bookmark the link below or reference the newsletter and use it whenever you wish to view the updated list. CLICK HERE FOR JOB LIST   NOTE: The UTA Job List is intended for the personal use of its recipients. Posting of this list or any information derived from the list on any website or message board in its entirety or in part without the express written permission of the list administrator is neither permitted nor within the spirit of the efforts put into its creation. All rights are reserved. ©2020
---
OTHER JOB RESOURCES