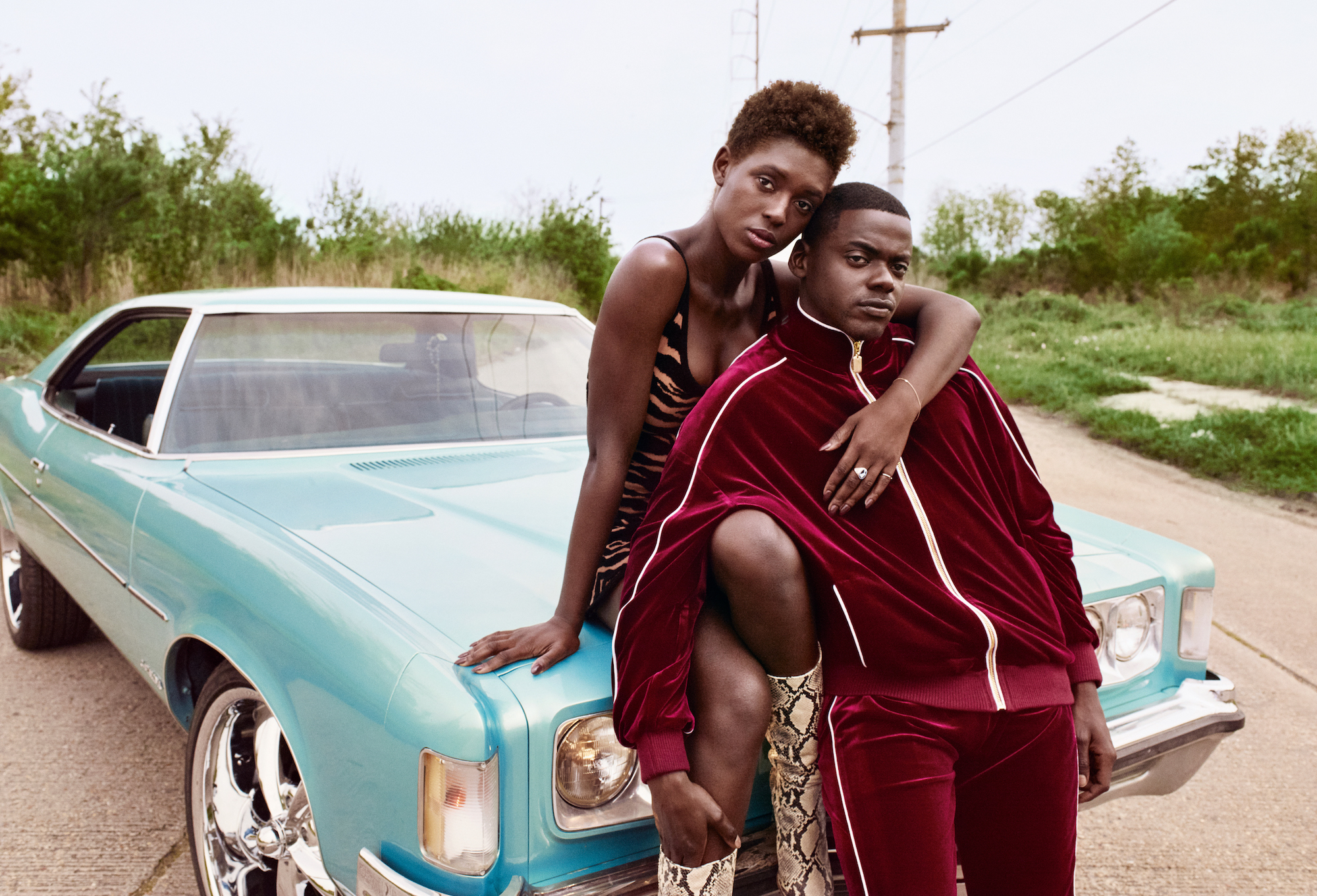 QUEEN & SLIM World Premiere To Open AFI FEST 2019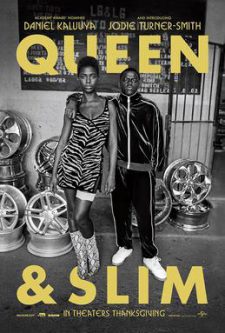 AFI alumna Melina Matsoukas's (Class of 2005) feature directorial debut, QUEEN & SLIM will open the 33rd edition of AFI FEST on Thursday, November 14.
For Matsoukas, the AFI world premiere represents a homecoming. "My mission as an artist is to create change in the world. My time at AFI further instilled the power of film as a tool for change, and I hope that QUEEN & SLIM sparks dialogue, leaving viewers thinking about themselves and the world long after leaving their seats."
Director of AFI Festivals Michael Lumpkin said: "The film is an outstanding debut — a fearless, gorgeous and powerful cinematic achievement that speaks, better than any film this year, to the effects of racism and violence in our country today."
QUEEN & SLIM will be released by Universal Pictures on November 27, 2019.
AFI Alumni Dominate the Narrative Category at the Student Academy Awards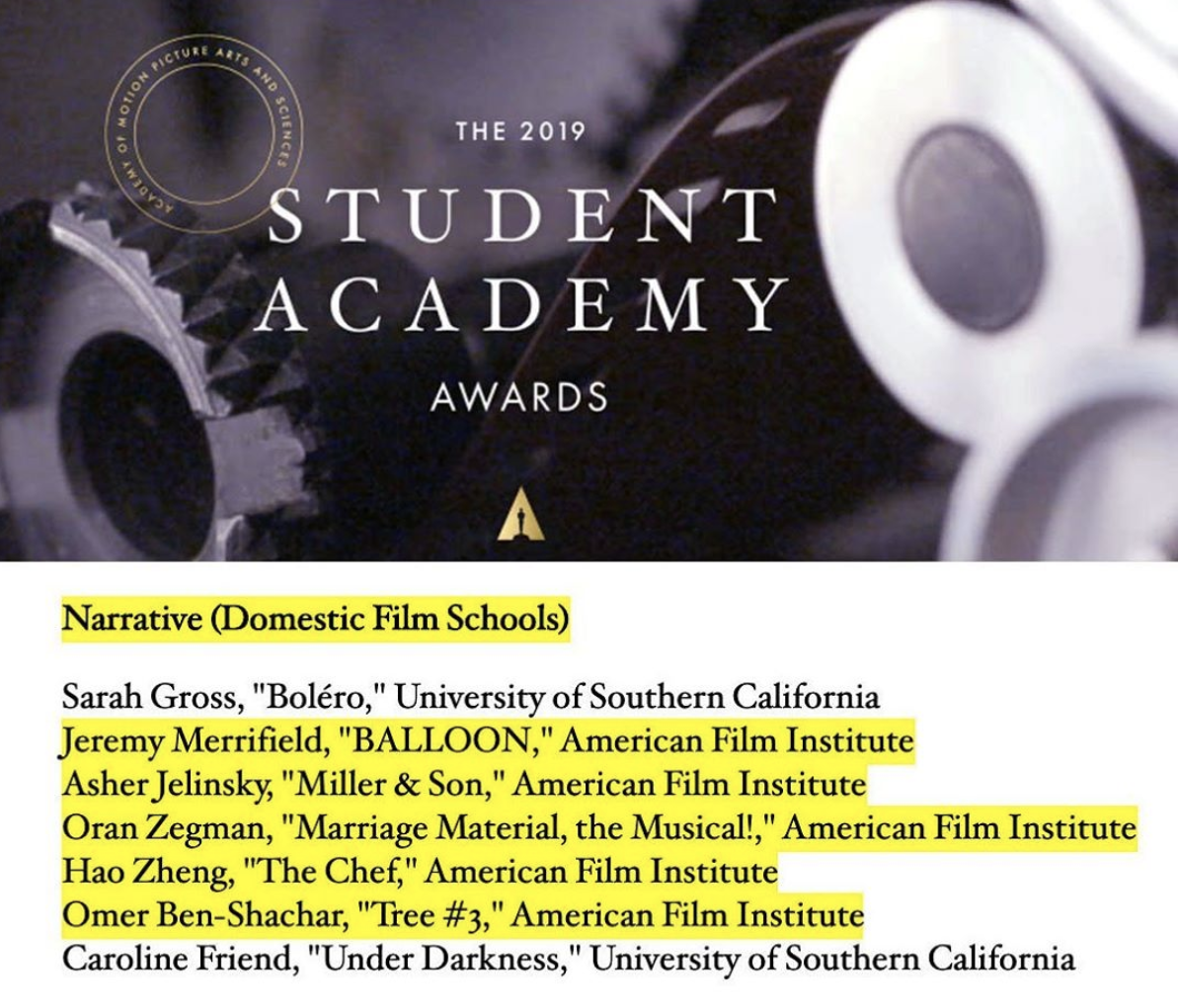 The Academy announced the finalists for the 46th Student Academy Awards, recognizing emerging filmmakers who demonstrate excellence in cinematic achievement. Of the seven finalists in the Narrative (Domestic Film Schools) category, five are AFI thesis films.
This year's finalists from the Class of 2018 are AFI alumni Jeremy Merrifield who wrote/directed BALLOON, Asher Jelinsky who wrote/directed MILLER & SON, Oran Zegman who wrote/directed MARRIAGE MATERIAL, THE MUSICAL!, Hao Zheng who directed THE CHIEF and Omer Ben-Shachar who wrote/directed TREE #3.
The awards ceremony announcing the winners will be held at the Academy's Samuel Goldwyn Theater in Beverly Hills on October 17.
AFI Welcomes Fellows to Campus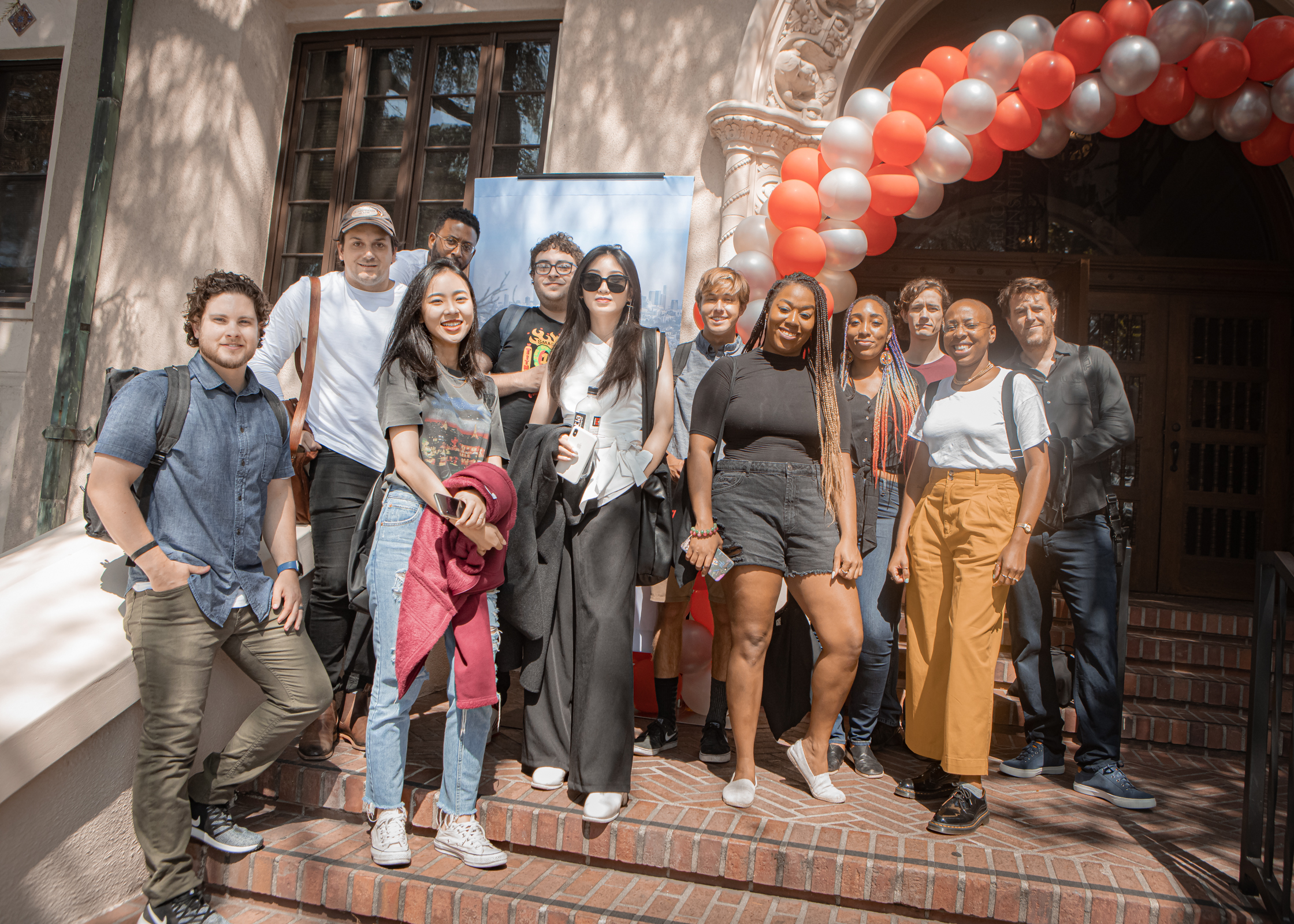 Opening Day took place on August 19. AFI CEO & President Bob Gazzale and Dean Susan Ruskin welcomed 137 first year Fellows to start their two-year filmmaker training at the AFI Conservatory, which is commemorating its 50th anniversary. Dean Ruskin, who recently stepped into the post of AFI Conservatory Dean, greeted the first year Fellows with words of inspiration and encouragement. "On the Conservatory's 50th anniversary, it is an honor to be a part of the impassioned AFI community," said Ruskin. There is no more important time than right now to attend to diverse voices and dynamic visions as they will shape the future of storytelling in an ever-evolving industry."
52% of all first and second year AFI Fellows this year are female filmmakers, continuing AFI's mission of championing inclusivity in film and television.
AFI Once Again Ranks As One of the Top Film Schools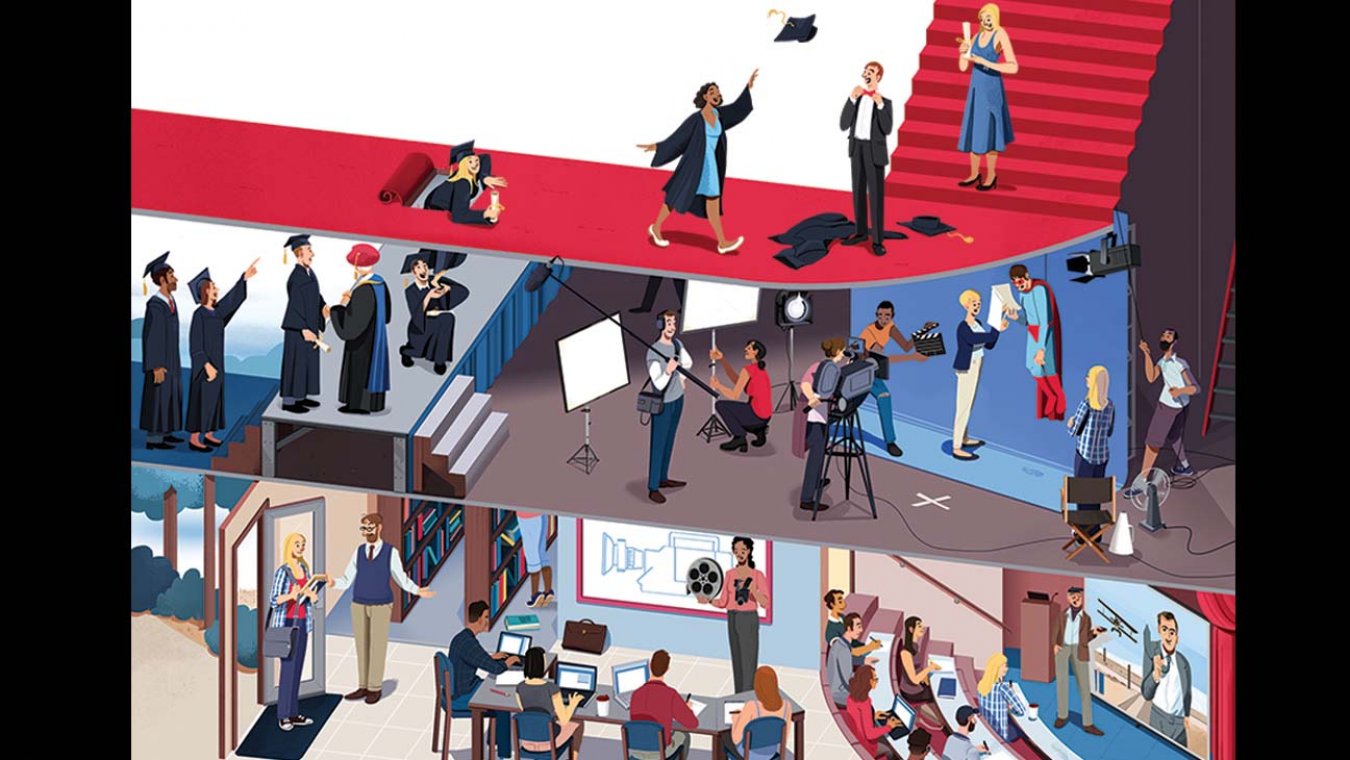 In August, the Hollywood Reporter announced its Top 25 American Film Schools. It recognized the AFI Conservatory as a "first-rate program with a stellar faculty and a hands-on approach to filmmaking." The article praised the appointment of Kathleen Kennedy as the newly elected Chair of the AFI Board of Trustees, and also featured an interview with Dean Susan Ruskin.
New AFI.com Launches!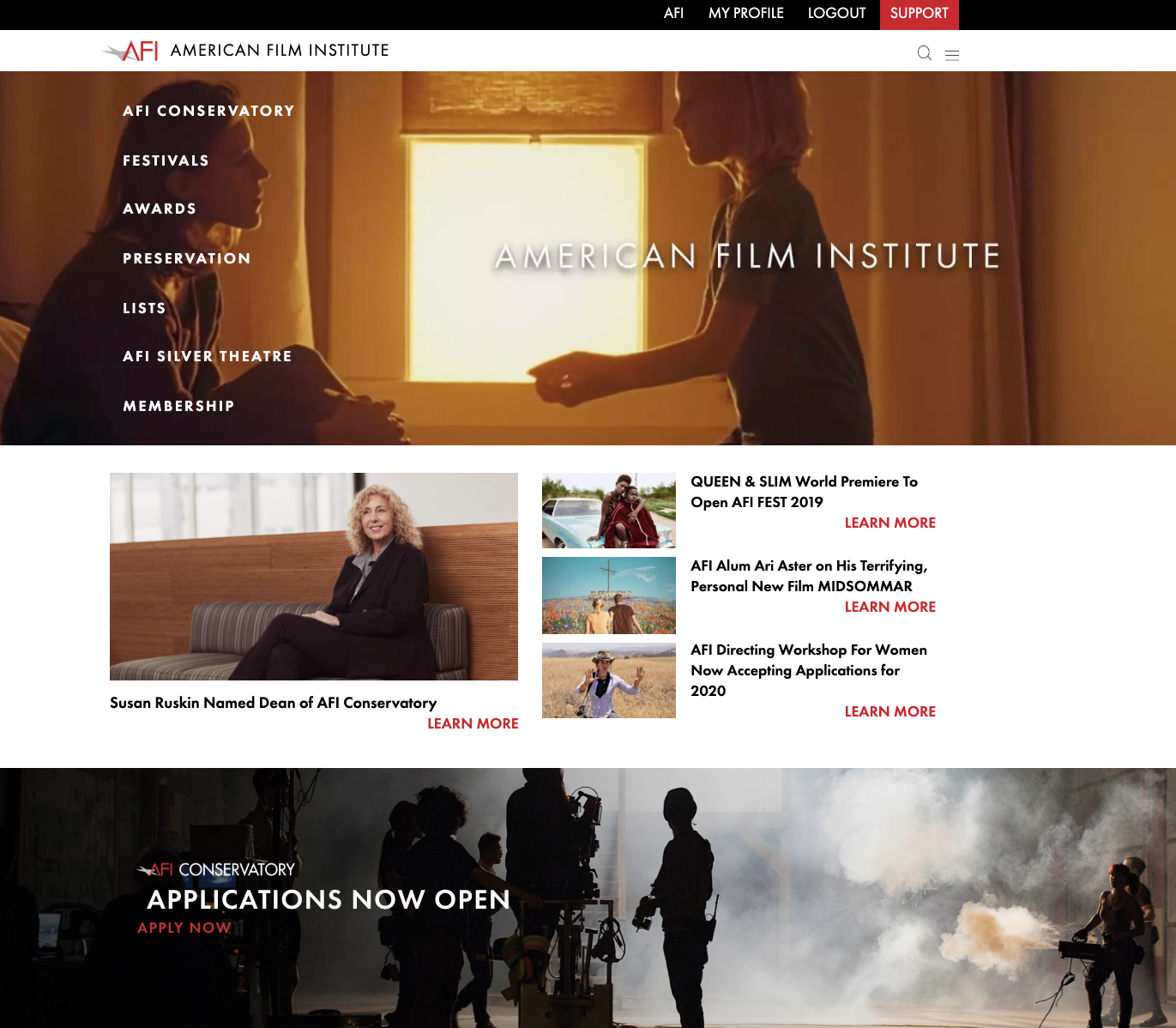 Jacob Estes and Sharone Meir return to campus with their new film DON'T LET GO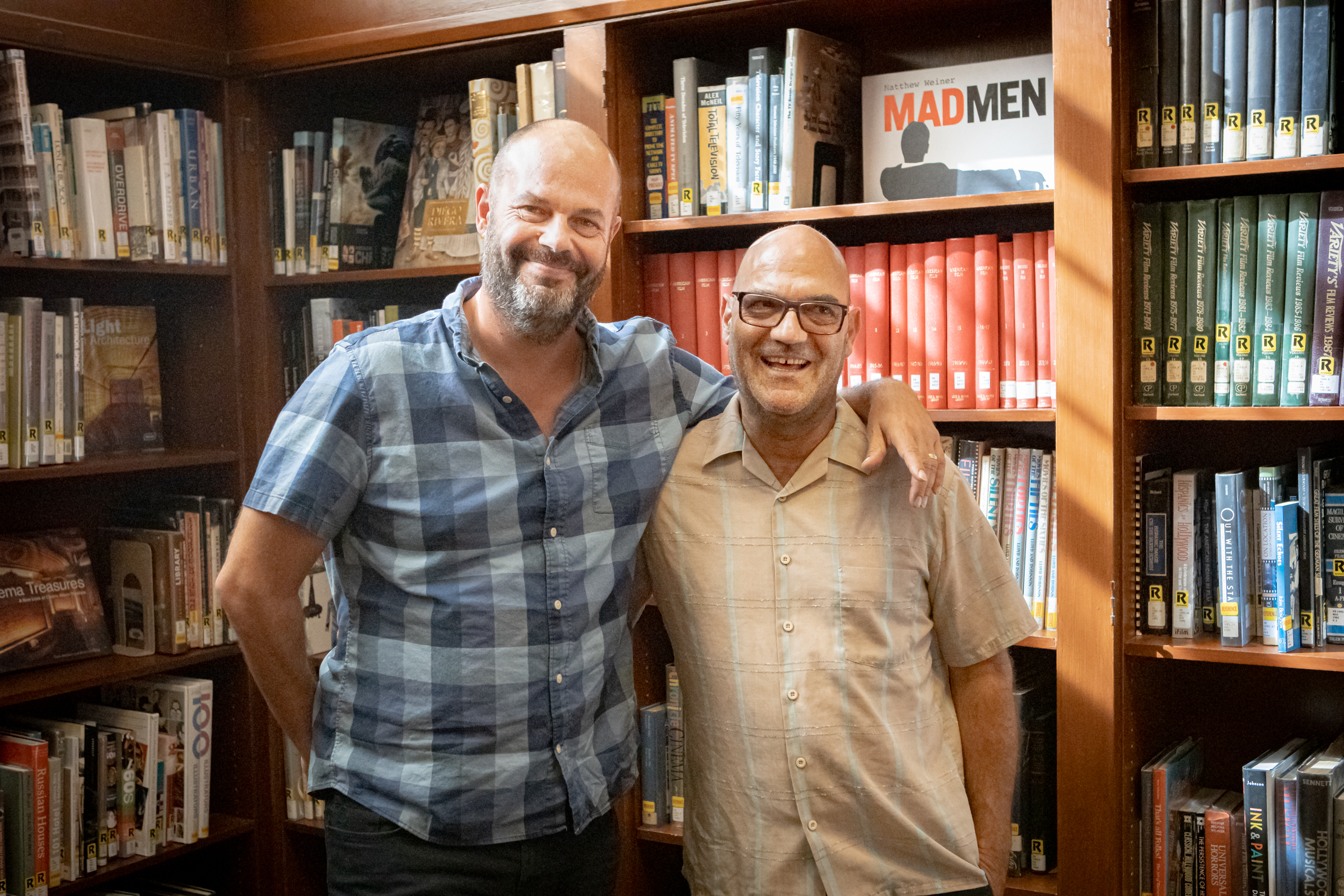 Directing alumnus Jacob Estes (Class of 2000) and Cinematographer Sharone Meir (Class of 1993) returned to campus with their new supernatural thriller DON'T LET GO, produced by OTL Releasing & Blumhouse.
The film stars David Oyelowo and Storm Reid and premiered at the Sundance Film Festival earlier this year.
DON'T LOOK NOW is currently in theaters. Watch the full trailer!
AFI Conservatory now accepting applications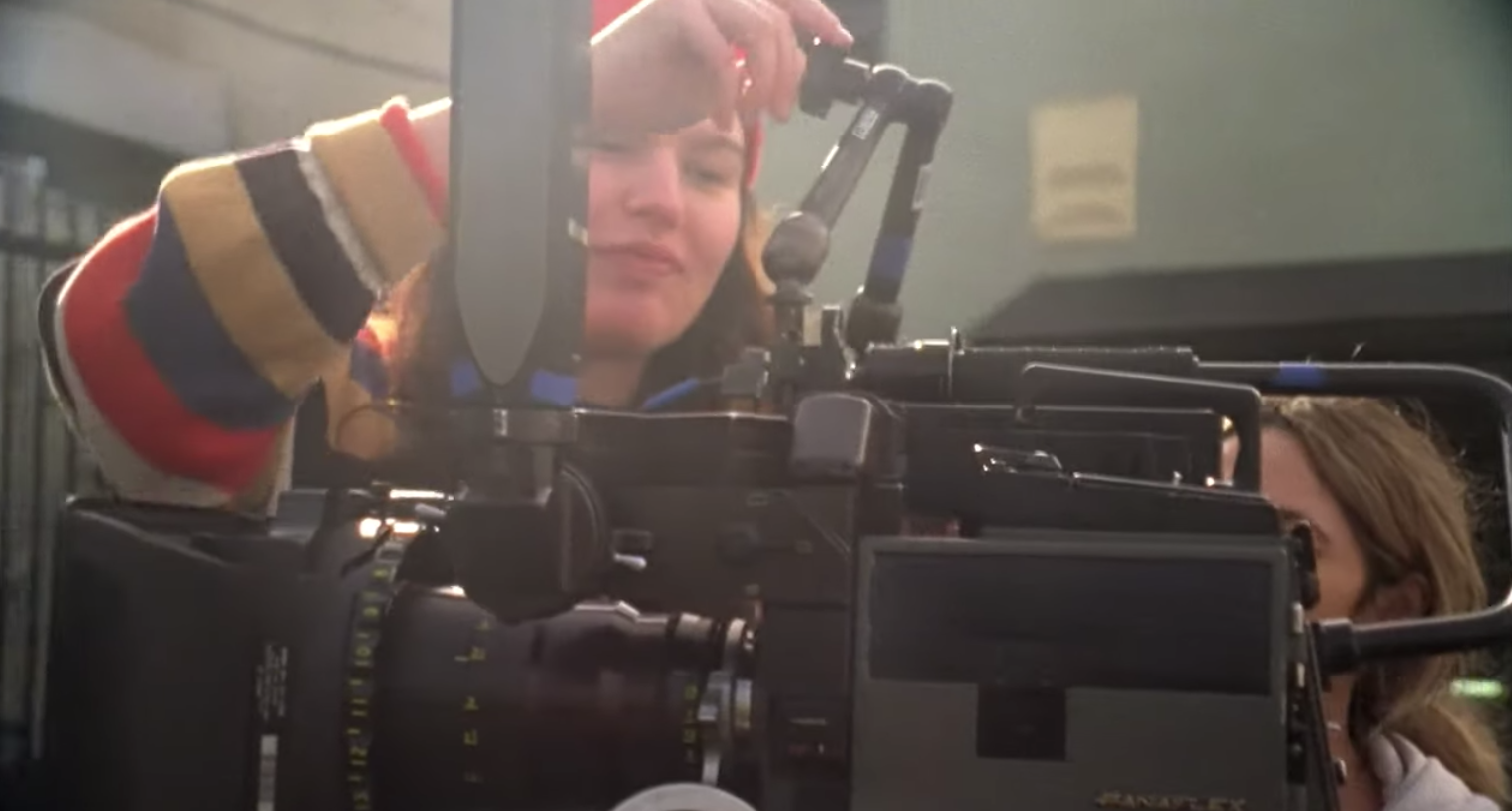 AFI is now accepting applications for the Fall 2020 semester. Do you know someone who is interested in applying? Spread the word!
Watch our brand new 15 second spot promoting the Conservatory here.
AFI Alum and Manager of Inclusion and Diversity Speaks on Film Independent Panel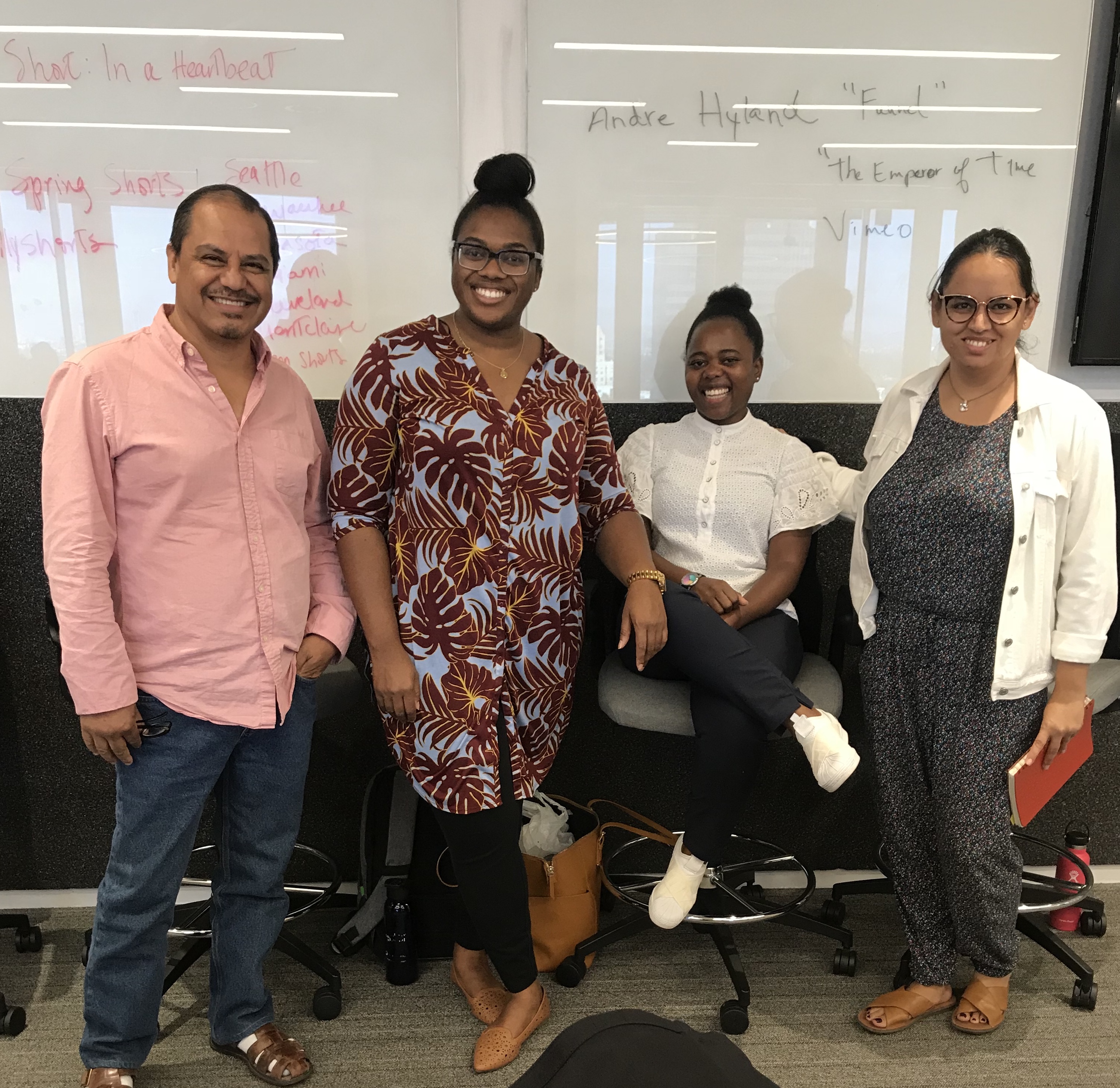 Joenique Rose (AFI Class of 2016), who works as the AFI Manager of Inclusion and Diversity, recently spoke about the life of a short film at a panel for the winners of the Easterseals Disability Film Challenge, hosted by Film Independent.
The Disability Film Challenge was launched in 2013 in response to the under-representation of talent with disabilities both in front of and behind the camera.
Winners will receive mentorship opportunities with entertainment professionals, including SK Global's John Penotti (CRAZY RICH ASIANS) and Academy Award®-winning writer, director and producer Phil Lord (SPIDER-MAN: INTO THE SPIDER-VERSE). Other prizes include the opportunity to screen their film at the HollyShorts Film Festival, a $2,000 production grant, a Sony camera kit and more.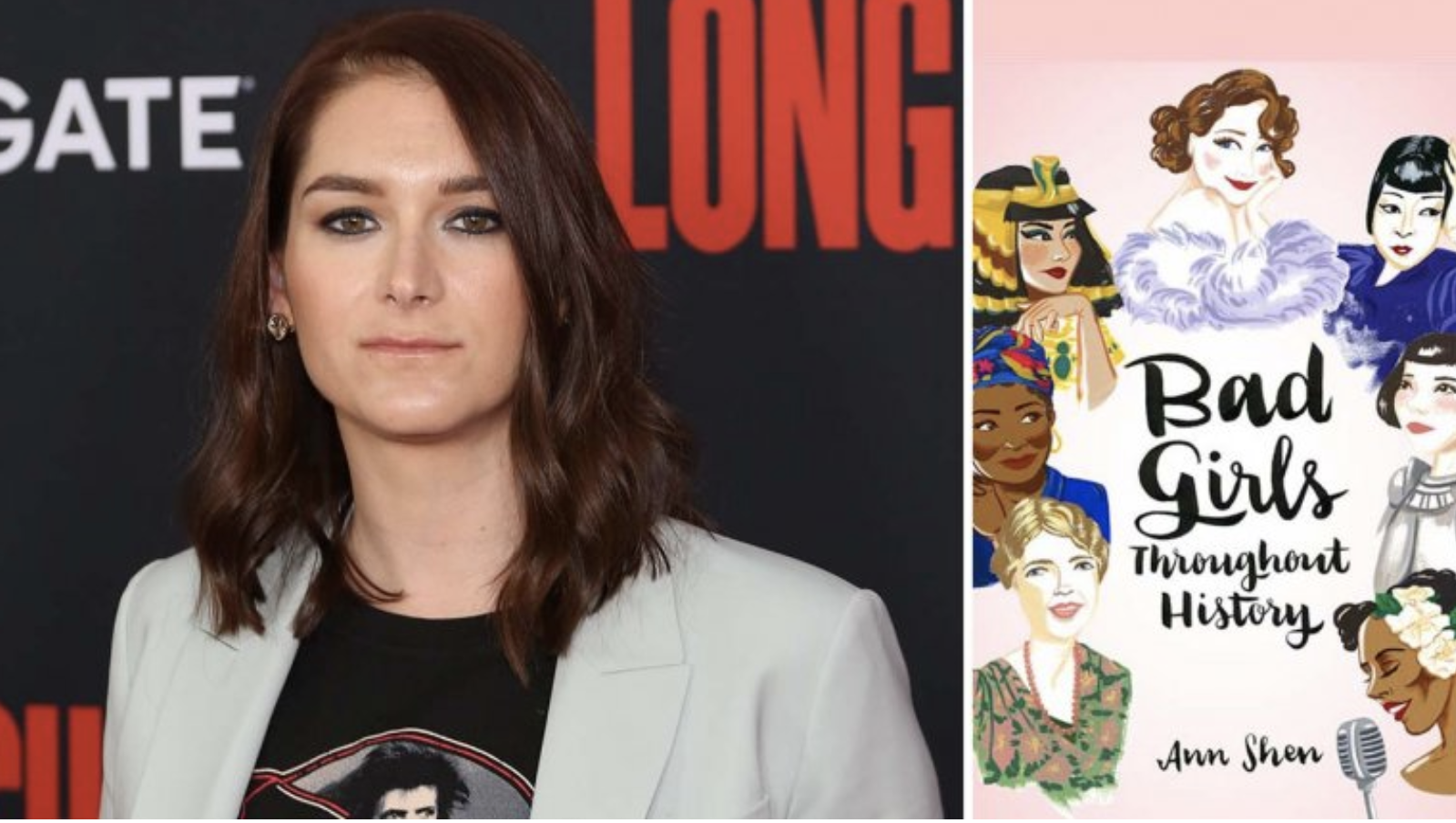 Liz Hannah (AFI Class of 2009) will adapt Ann Shen's book, "Bad Girls Throughout History: 100 Remarkable Women Who Changed the World, about notable women in history, with each episode focusing on a different person.
In other AFI Conservatory news…
On Opening Day, Quibi Founder Jeffrey Katzenberg attended the AFI Campus to address the first year Fellows. In honor of the occasion,  Katzenberg shared his insights and expertise during a Q & A that gave Fellows the opportunity to learn from and engage with the innovator. He urged the fellows, "Think about this amazing opportunity that you've been offered. To be here is to be given the resources, the tools, the access and the best possible coaches. Your job is to exceed expectations, and, when you do it, there's going to be an enormous reward for you."
Seven AFI alumni — Robert E. Arnold (AFI Class of 2011), Caleb Deschanel (AFI Class of 1969), Matthew Libatique (AFI Class of 1992), Matthew J. Lloyd (AFI Class of 2009), Yong Ok Lee (AFI Class of 2013), Vikash Patel (AFI Class of 2004), and Sandra Valde-Hansen (AFI Class of 2006) — were profiled by Variety as talent behind some of the best looks on stage and screen.
Alumnus Juan Avella's (AFI Class of 2013) script BOLICHICOS was selected for the inaugural Latinx List, from the creators of The Black List.
Films by alumni Todd Banhazl (AFI Class of 2009), Tom Burke and Leal Naim (AFI Class of 2016), Antoneta Kastrati (DWW Class of 2012), Terrence Malick (AFI Class of 1969) and Siyou Tan (DWW Class of 2019) have been announced as part of the programming lineup for the Toronto International Film Festival, which will take place from September 5-15.
The American Society of Cinematographers announced their 2019 Student Heritage nominees, including AFI alumni Lucas Dziedzic (AFI Class of 2018) for ANIMALS and Frances Kroon (AFI Class of 2018) for BALLOON.
HANNAH'S WAR, written by Jan Eliasberg's (AFI DWW Class of 1982), has been sold to Judy Clain at Little, Brown & Company in a pre-emptive bid. Adapted by Eliasberg from her Black List and BBC List-topping screenplay HEART OF THE ATOM, the novel will be Little, Brown & Company's lead title for spring, set to be published on March 3, 2020.
Rachel Morrison (AFI Class of 2006) was interviewed by Indiewire in their article titled "Why the Best Cinematographers Are Struggling to Find Films to Shoot."
Brad Falchuk (AFI Class of 1994) was recently profiled by the Wall Street Journal. The trailer for THE POLITICIAN, a new Netflix series which Falchuk is executive producing, will be released on September 27.
Jo Jo Lam (AFI Class of 2020) was awarded the 2019 UFVF/KODAK Excellence in Cinematography Grant—VISION Award, including a $3,000 grant and $5,000 in KODAK motion picture product, for her film CEREMONY.
Rocky Lang (AFI Class of 1979) has a new book titled, "Letters From Hollywood," set to be published by Abrams Books on September 10. You can check out the website, complete with video interviews with contributors, including William Wyler, Boris Karloff, Bela Lugosi, and Joseph Mankiewicz.
A HIDDEN LIFE, directed by Terrence Malick (AFI Class of 1969), screened at the Telluride Film Festival last weekend after premiering at the Cannes Film Festival where it took home the the François Chalais Award earlier in the spring. WAVES, produced by James Wilson (AFI Class of 1991), also screened at the festival.
Priscilla J. ("Sally") Mattison (AFI Class of 1986) co-wrote an article titled "The Reality of Reality Television Competition Programs," published in the July/August 2019 issue of "The Pennsylvania Lawyer." She also joined the Board of Directors of Pennsylvania Public Radio Associates, Inc./Echoes.
Jeremy Merrifield's (AFI Class of 2018) short AFI thesis film BALLOON, about a high schooler who discovers he has super powers, took home one of the top awards at the HollyShorts Film Festival.
Polly Morgan (AFI Class of 2010), who most recently shot the Natalie Portman-starring vehicle LUCY IN THE SKY, sat down with the American Society of Cinematographers for an interview discussing her early inspirations and mentors as a filmmaker.
Robert Richardson (AFI Class of 1979) has signed on to shoot VENOM 2 for Sony and director Andy Serkis, which will be released in theaters in October 2020.
The AFI thesis film FORT IRWIN will have its world premiere this at Fantastic Fest which runs September 19th-26th in Austin, Texas. Congratulations to AFI alumni Quinn Else (Writer/Director) Marc Tarczali (Producer) Ben Long (Cinematographer) Fernando Marroquin (Production Designer) and Yiqing Yu (Editor).
Courtney Stevens (AFI Class of 2009) was named one of Filmmaker Magazine's 25 New Faces of Independent Film.