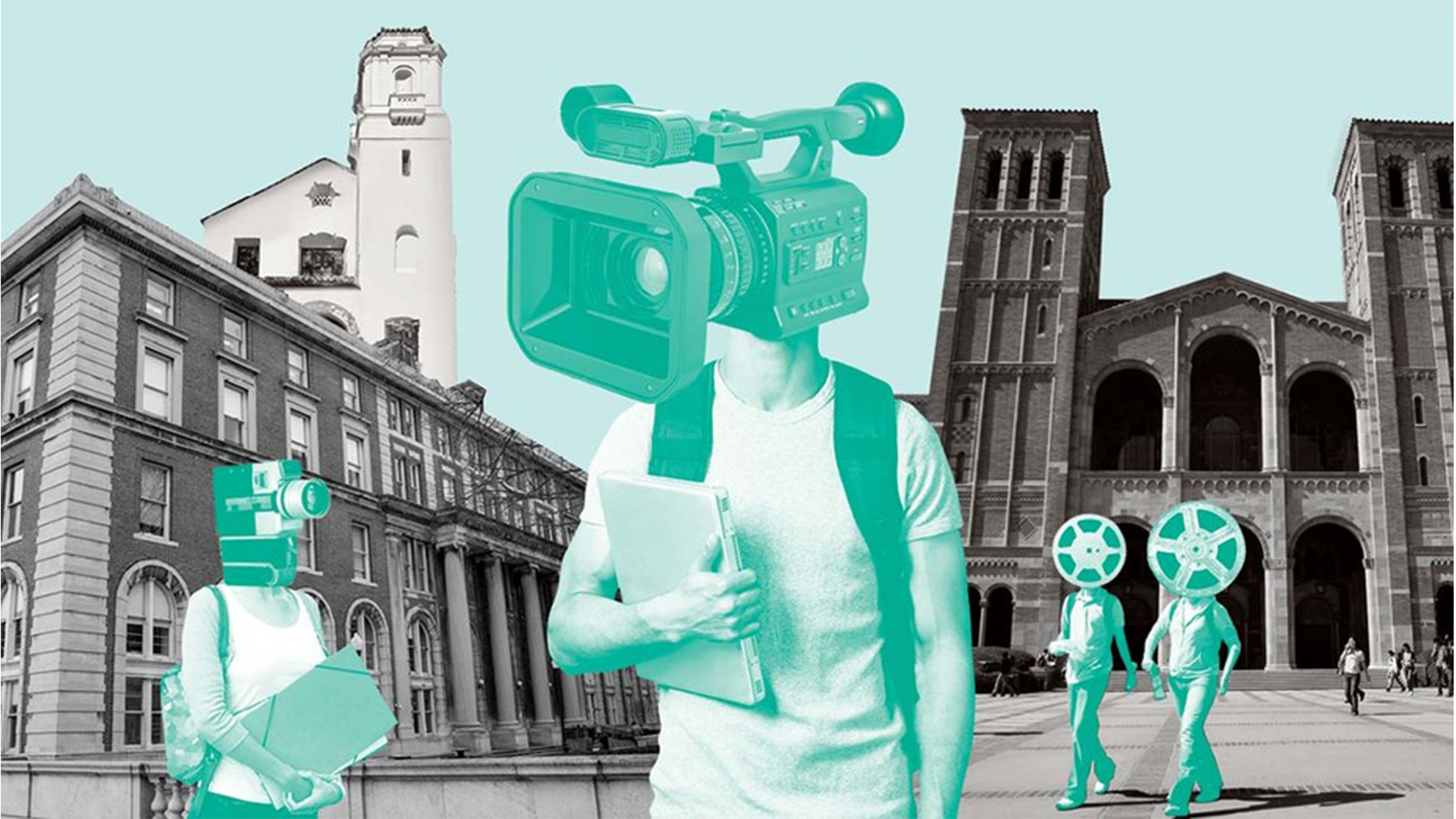 In Other AFI News…
The 35th Imagen Awards, which honors positive portrayals of Latinx in the media, nominated several AFI alumni, including Miguel Arteta (AFI Class of 1990) for ROOM 104 and Norberto Barba (AFI Class of 1990) for BETTER CALL SAUL.
Darren Aronofsky (AFI Class of 1992) wins the rights, alongside Searchlight Television, to David Gauvey Herbert's New York Magazine article "Boss of The Beach" to develop as a TV series.
Supernatural thriller, GEECHEE, directed by DuBois Ashong (AFI Class of 2017) and starring Andrea Riseborough, begins filming in the Dominican Republic.
17 Emmy-nominated cinematographers, including Ava Berkofsky (AFI Class of 2013) discuss the cameras and lenses they used to shoot the year's best TV shows.
Writer/director Jaclyn Bethany (AFI Class of 2018) discusses her new independent feature INDIGO VALLEY, which will be released nationwide on September 8.
Uta Briesewitz (AFI Class of 1994) is set to direct the first two episodes of the new Amazon series, THE WHEEL OF TIME, as well as serve as an executive producer.
CUT THROAT CITY, shot by cinematographer Brandon Cox (AFI Class of 2004), opens in select theaters.
The Emmys make history with the most Black performers ever nominated in a single year. Dime Davis (AFI DWW Class of 2015) – the first Black woman nominated in the variety series directing category – discusses her historic nomination in Variety.
ETHERIA, a horror anthology collection featuring women directors, recently premiered on Amazon. Three of the seven shorts in Season 1 are directed by AFI alumni: YOU, ME & HER, directed by Sarah Doyle (AFI Class of DWW 2013); KEPLER X-47, directed by Erin Li (AFI DWW Class of 2013); and RED RIDER, directed by Gala Goliani (AFI Class of 2013).
Outfest announced their lineup including projects by five AFI alumni: HOUSE OF CARDIN, co-directed by P. David Ebersole (AFI Class of 1991); IN FRANCE MICHELLE IS A MAN'S NAME, directed by Em Weinstein (AFI DWW Class of 2021); STALLS, directed by João Dall'Stella (AFI Class of 2019); TAPE, directed by Jojo Erholtz (AFI Class of 2019); and TEAM MARILYN, directed by LaToya Morgan (AFI Class of 2005).
Amanda Ferrarese (AFI Class of 2020) is awarded an honorable mention from The University Film & Video Foundation/Kodak Awards for her 2nd Year Visual Essay COMMUTERS, which was directed by fellow AFI alum Pip White (also AFI Class of 2020).
Emmy nominees Lesli Linka Glatter (AFI DWW Class of 1982) and Mimi Leder (AFI Class of 1973) discuss how the industry has changed for women leading up to the awards ceremony.
HUNTERS is renewed for a second season at Amazon. Alfonso Gomez-Rejon (AFI Class of 1995) directed the pilot and is an executive producer of the series.
Nominated for two Emmys for Outstanding Limited Series and Outstanding Writing for a Limited Series, Movie, or Dramatic Special, Susannah Grant (AFI Class of 1991) discusses acclaimed show UNBELIEVABLE.
SAVIORS, which was shot all in one continuous take and follows a woman who infiltrates a white-supremacist group, will be released September 8. The crew includes six AFI alums: writer/director/producer Christopher Greenslate (Class of 2016), producer Joshua Valle (Class of 2016), cinematographer Rasa Partin (Class of 2016), editor Reynolds Barney (Class of 2016), production designer Doriane Desfaugeres (Class of 2018) and art director Jake Vollmer (Class of 2019).
Hulu enlists Liz Hannah (AFI Class of 2009) and Patrick Macmanus as co-showrunners of new limited series THE GIRL FROM PLAINVILLE, starring Elle Fanning.
New York Film Festival announces the Closing Night film FRENCH EXIT, directed by Azazel Jacobs (AFI Class of 2001).
Bentonville Film Festival gives a platform to Asian American filmmakers, including Marie Jamora (AFI DWW Class of 2020) and her DWW short HARANA.
Patty Jenkins (AFI Class of 2000) releases new movie poster for WONDER WOMAN 1984 ahead of DC's FanDome event where she debuted a new trailer for the film.
With three Emmy wins and 12 nominations, Casting Director Allison Jones (AFI Class of 1981) is profiled ahead of this year's award, in which she is nominated for Outstanding Casting for a Comedy Series for CURB YOUR OWN ENTHUSIASM.
AFI and AGBO announced Marina Kato (AFI Class of 2019) as this year's recipient of the AGBO/AFI Conservatory Development Grant. Kato will receive the grant for her script DIA DE LAS CARPAS, a fairy tale about a little girl who escapes deportation by becoming a mermaid.
Rhode Island International Film Festival awards Saulius Lukoševičius (AFI Class of 2020) the Grand Prize for Best Cinematography for his short film UNFOLDED.
Manjari Makijany (AFI DWW Class of 2016) is tapped to direct the Disney Channel original movie SPIN.
HBO Max greenlights ONE PERFECT SHOT, a docuseries from Ava DuVernay that will be executive produced by Lee Metzger (AFI Class of 2000).
Joel Novoa (AFI Class of 2012), Alberto Belli and Diego Velasco hope to make Latinx representation more nuanced with the creation of the free website Latinx Directors. Afro-Latina filmmaker Melina Matsoukas (AFI Class of 2005) who directed QUEEN & SLIM for Universal last year is also featured in the article on creating greater diversity in Hollywood.
Saulius Lukosevicius and Mikhail Saburov (both AFI Class of 2020) created a short film to commemorate their 2nd Year Visual Essay BOUND being accepted into the Rhode Island International Film Festival.
Nashville Film Festival recently released their program which includes the short film LIKE FLYING as part of their Experimental Narrative Shorts competition. The following AFI alumni worked on the film: writer/director Peier Tracy Shen, producer Gregory M. Schroeder, cinematographer Diego Trenas and editor Arndt Werling – all from AFI Class of 2019. The festival will take place virtually October 1-7, 2020.
LEONARDO, an international drama executive produced by Frank Spotnitz (AFI Class of 1989) and made to mark the 500th anniversary of Leonardo da Vinci's death, wraps production overseas in the wake of the pandemic.
Premiering at the Berlin International Film Festival, THE AMERICAN SECTOR, a documentary directed by Courtney Stephens (AFI Class of 2009) and Pacho Velez secures distribution.
Mattson Tomlin (AFI Class of 2014) talks about his new film PROJECT POWER and the upcoming Batman movie he co-wrote with Matt Reeves.
Weeks after LA film production opened under COVID-19 guidelines, Pete Villani (AFI Class of 2004) shot the latest Farmers commercial "Save with Signal," starring JK Simmons, which is airing nationally.
Yancey Wang (AFI Class of 2020) is honored with a Best First Time Director award for her film AMICUS at the Los Angeles Film Awards.
Executive Producer Sam Wasserman (AFI Class of 2010) scores an Emmy® for Outstanding Innovation in Interactive Programming for CREATE TOGETHER.
Sony's TriStar Pictures has greenlit a sequel to TROOP BEVERLY HILLS, which will be directed by Oran Zegman (AFI Class of 2018), marking her feature film debut.
DEVS recently scored an Emmy nomination for Best Cinematography in a Limited Series. Joshua Zucker-Pluda (AFI Class of 2016) served as a 2nd Unit Director of Photography on the series.
Ed Zwick (AFI Class of 1975) will direct the romantic comedy THE MAKING OF from a script he co-wrote with longtime collaborator Marshall Herskovitz (AFI Class of 1975). Richard Gere, Diane Keaton and Lin-Manuel Miranda are all set to star.