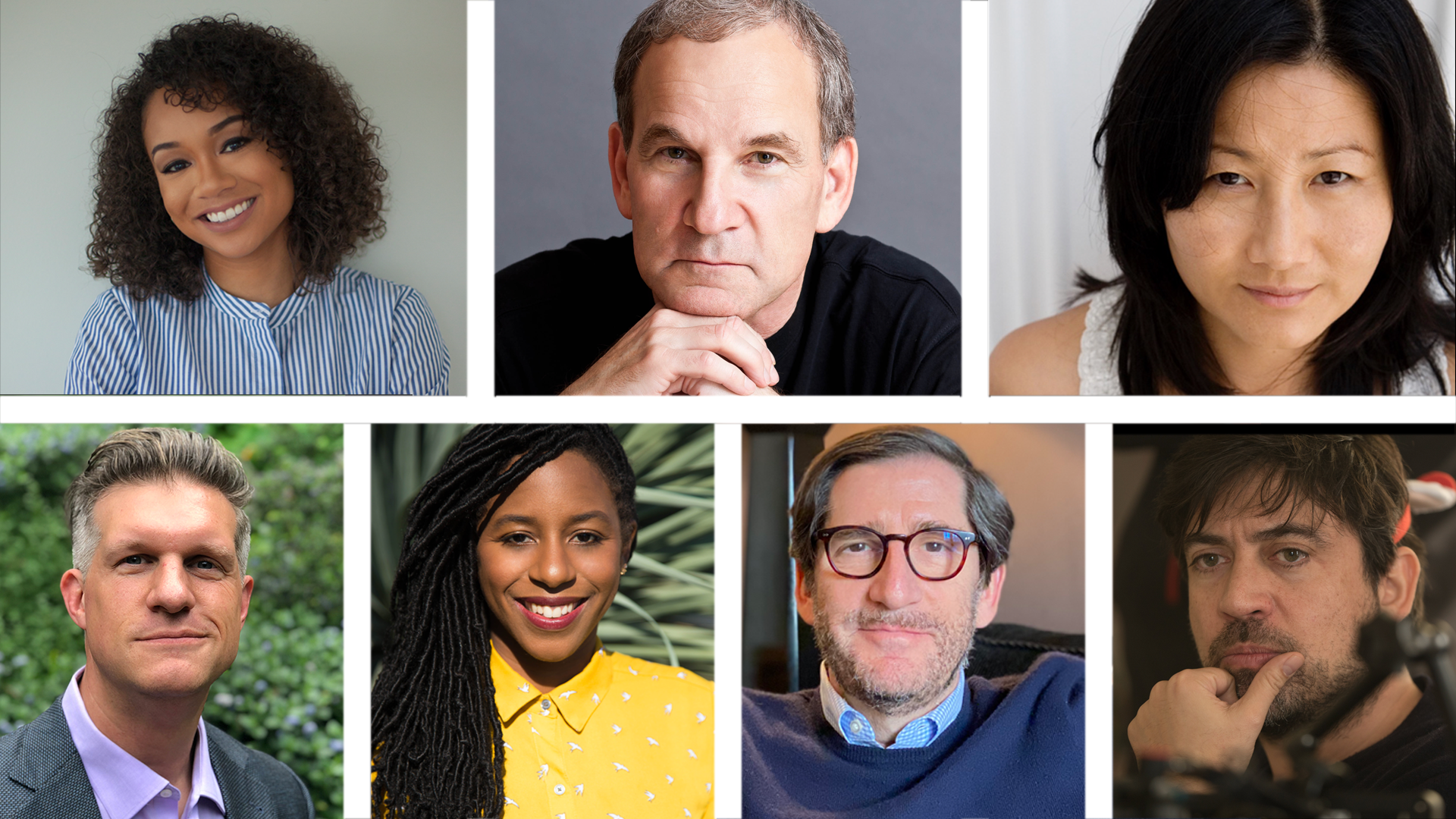 In Other AFI News…
AWARDS, DISTINCTIONS, GRANTS AND FELLOWSHIPS
Mentorship Matters, an initiative aimed at boosting opportunities for emerging writers of color, has announced the participants for its inaugural 2021-22 cycle, including Leticia Ayroza (AFI Class of 2020). Raelle Tucker (AFI DWW Class of 2003) is also serving as a showrunner mentor.
Paul Kowalski (AFI Class of 2015) and Kelly Pike (AFI DWW Class of  2021) recently made the list of 25 Screenwriters to Watch by the Austin Film Festival.
AFI Faculty and alum Heidi Levitt (AFI Class of 1987) recently received a grant from Steven Spielberg's newly launched Jewish Story Partners to direct and produce the documentary WALK WITH ME, a personal story about early onset Alzheimer's disease. Learn more about the project here.
Yugo Nakamura (AFI Class of 2020) is selected as a participant of the ninth annual CAPE New Writers Fellowship by the Coalition Of Asian Pacifics In Entertainment (CAPE).
The John Simon Guggenheim Memorial Foundation announced the 184 recipients of its 2021 fellowships, including directing alum Jake Yuzna (AFI Class of 2017) for Film-Video.
PRODUCTION DEALS & OTHER MAJOR NEWS
This week, Steven Spielberg launched the film foundation, Jewish Storyline Partners, with AFI alum Roberta Grossman (AFI Class of 1985) serving as Producing Director of their new venture to "tell stories about a diverse spectrum of Jewish experiences, histories, and cultures."
The Met Gala is returning, and director Melina Matsoukas (AFI Class of 2005) has been commissioned to create an open-ended film to project across the galleries in the exhibition.
NEW PROJECTS
QUEEN SUGAR announced the directors for its sixth season, including Shaz Bennett (AFI DWW Class of 2012) and Marie Jamora (AFI DWW Class of 2020).
Todd Field (AFI Class of 1992) is gearing up to direct his new movie TAR for Universal, which is set to star Cate Blanchett. Field also wrote and is producing the film.
Hulu has given a formal pilot order to OLGA DIES DREAMING which will be directed by Alfonso Gomez-Rejon (AFI Class of 1995).
FX Docuseries PRIDE sets director lineup, including Ro Haber (AFI DWW Class of 2016).
Jacqueline Hoyt (AFI Class of 2002) has been hired to write a new series on icon Audrey Hepburn. The show is based on a treatment by Hepburn's son Luca Dotti and Italian journalist and writer Luigi Spinola.
Paramount Players' BOUNCE, based on Megan Shull's young-adult novel, will be directed by Susan Johnson (AFI Class of 2000) with Will Smith serving as a producer.
AFI alum LaToya Morgan (AFI Class of 2005) (AMC's THE WALKING DEAD, INTO THE BADLANDS), artist Walt Barna and colorist A.H.G. are collaborating on an evocative new six-issue original series titled "Dark Blood" from BOOM! Studios.
Screenwriter and AFI alum Taylor Townsend (AFI Class of 2018) recently landed her first staff writing job on the CW's 4400.
DISTRIBUTION DEALS
Ellen Burstyn's (AFI DWW Class of 1974) new film QUEEN BEES was recently acquired by Gravitas Ventures and is set for a day-and-date theatrical and digital release on June 11.
THE ACTOR, directed by Duke Johnson (AFI Class of 2006) and starring Ryan Gosling, was acquired by Neon, with Charlie Kaufman boarding as an Executive Producer. This marks Johnson's solo feature film directorial debut.
FESTIVAL NEWS
The Austin Film Festival, which is set to take place October 21-28, will present Scott Frank (AFI Class of 1984), co-creator of the Golden Globe-winning THE QUEEN'S GAMBIT with the 2021 Bill Wittliff Award for Screenwriting.
PRODUCTIONS & NEW RELEASES
FOUR GOOD DAYS had its theatrical premiere in LA on April 30 and will be available streaming on demand starting May 21. The film features the work of AFI alumni: producer Jon Avnet (AFI Class of 1972), writer/director/producer Rodrigo García (AFI Class of 1986), UPM Ryan Kirby (AFI Class of 2012) and Executive Producer Sage Scroope (AFI Class of 2010).
The debut of the new Tina Turner documentary, produced by Diane Becker (AFI Class of 2006), drew more than 1.1 million total viewers across all HBO platforms when it premiered.
The first trailer was released for THINGS HEARD AND SEEN, starring Amanda Seyfried and based on the acclaimed novel "All Things Cease to Appear" by AFI alum Elizabeth Brundage (AFI Class of 1983). The film was released April 29 on Netflix.
KUNG FU premiered to strong ratings on The CW. The pilot episode was directed by AFI alum Hanelle Culpepper (AFI DWW Class of 2002).
EL BAILE DE LOS 4 (DANCE OF THE 41), shot by cinematographer Carolina Costa (AFI Class of 2013), will premiere on Netflix May 12.
The final season of POSE, co-created, written and produced by Brad Falchuk (AFI Class of 1994), gets a new trailer.
Sci-fi film VOYAGERS premiered recently and features the art direction of Kevin Houlihan (AFI Class of 2011).
Creator and writer Brad Ingelsby's (AFI Class of 2005) new limited series MARE OF EASTTOWN, starring Kate Winslet, recently premiered on HBO and HBO Max.
Writer/director Azazel Jacobs (AFI Class of 2001) was featured on Marc Maron's WTF podcast, talking about his new film FRENCH EXIT, starring Michelle Pfeiffer and Lucas Hedges.
The new variety show, ZIWE, featuring the production design work of Erin Magill (AFI Class of 2012), gets its first trailer and will premiere May 9 on Showtime.
Director Ross Marks' (AFI Class of 1993) new film WALKING WITH HERB, starring Edward James Olmos and George Lopez recently opened nationwide on April 30.
THEM, produced by Lena Waithe, recently debuted on Amazon Prime. The series, which played at SXSW, features the work of director Daniel Stamm (AFI Class of 2004), editor Daniel Kashevaroff (AFI Class of 2004) and production designer Tom Hammock (AFI Class of 2004).
SHADOW AND BONE debuts at #1 on Netflix. AFI alum Christina Strain (AFI Class of 2015) is a writer on the series based on Leigh Bardugo's best-selling novels.
OTHER NEWS OF NOTE
AFI alum Susan Black (AFI TV Workshop Alum Class of 1987) received a Christopher Award for her New York Times bestseller "Nothing General About It: How Love (And Lithium) Saved Me On and Off GENERAL HOSPITAL" published by William Morrow/Harper Collins.
WHERE ARE YOU, co-written by AFI Class of 2011 alums Matt Handy and Riccardo Spinotti (who also directed), added Academy Award® winner Anthony Hopkins to its cast. The film was also edited by Vero Vackova (AFI Class of 2016).
Mark Thorson (AFI Class of 1983) just released a new collection of short stories called "Final Delivery, And Eight Others," which explore race, culture, politics, and religion with unique characters who are faced with the simple struggles in life.