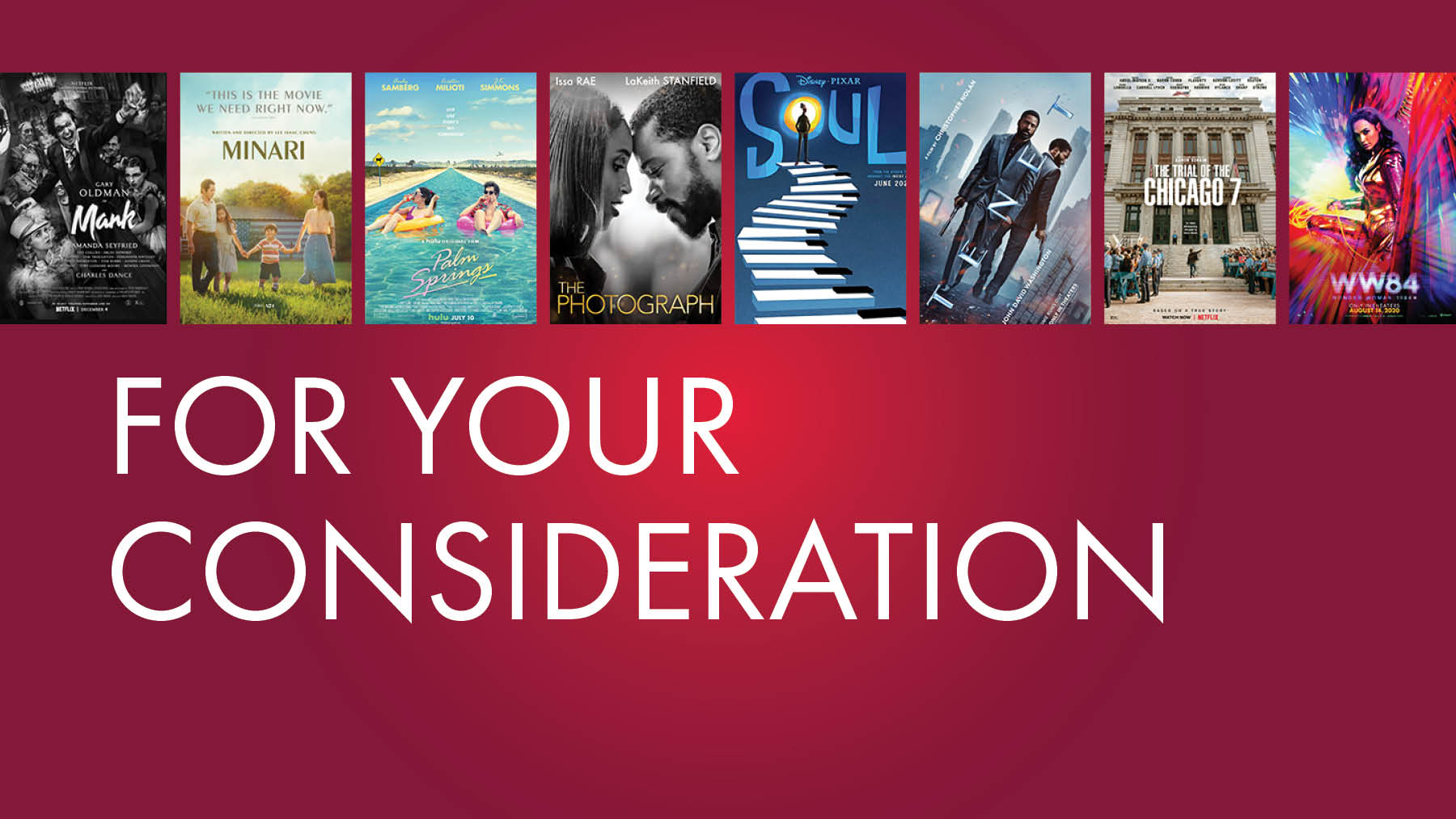 AFI in the News:
Awards Season & Competitions
Director Hanelle Culpepper (AFI DWW Class of 2002) penned a guest column for Deadline, in which she discussed her recent NAACP Image Award nomination for directing the pilot for STAR TREK: PICARD and the STAR TREK universe's longstanding commitment to diversity and representation.
Melina Matsoukas (AFI Class of 2005) and Regina King sat down to talk about visualizing vulnerability and celebrating Black men for Variety's "Directors on Directors" series.
The DGA announced the winners of the 26th Annual Student Film Awards, including writer/director Olivia Hang Zhou (AFI Class of 2020) for her film APART, TOGETHER.
Distinctions
Women in Film has compiled a list of female filmmakers for awards season that spotlights the work of AFI alumni including Patty Jenkins (Class of 2000), Carolina Costa (Class of 2013), Yong Ok Lee (Class of 2013), Theresa Guleserian (Class of 2006) and Erin Magill (Class of 2012).
New Projects in Development
Alum Ari Aster (AFI Class of 2010) is set to reteam with A24 for his third feature DISAPPOINTMENT BLVD. with Joaquin Phoenix onboard to star.
ABC ordered to pilot the romantic anthology series EPIC, written and executive produced by Brigitte Hales (AFI Class of 2005).
Amazon lined up a star-studded cast, including Helen Mirren and Morgan Freeman, for anthology series SOLOS. Tiffany Johnson (AFI DWW Class of 2018) is set to direct.
On the heels of his bestselling debut novel THE SILENT PATIENT, Alex Michaelides' (AFI Class of 2004) forthcoming novel THE MAIDENS has been picked up by Stone Village Television to develop as a TV series.
Distribution Deals
WHIRLYBIRD, which screened at AFI DOCS and was produced by Diane Becker (AFI Class of 2006), is acquired by Greenwich Entertainment.
IFC Films acquired the rights to Gia Coppola's MAINSTREAM, which was shot by cinematographer Autumn Durald (AFI Class of 2009).
MA BELLE, MY BEAUTY, which was shot by Lauren Guiteras (AFI Class of 2017) and won Sundance's Audience Award in the NEXT category, has been picked up by Good Deed Entertainment.
THE DJINN, produced by Ryan Scaringe (AFI Class of 2017), was recently picked up by IFC Midnight.
Productions & New Releases
Neema Barnette (AFI DWW Class of 1982) directed two episodes of Nat Geo's new limited television series, GENIUS ARETHA, which stars Cynthia Erivo and premieres March 21.
Variety reviewed the thriller ADVERSE, starring Mickey Rourke, Lou Diamond Phillips, Penelope Ann Miller and Sean Astin and shot by cinematographer Derrick Cohan (AFI Class of 2013).
The Washington Post interviewed filmmaker Kirby Dick (AFI Class of 1983) in which he discusses his upcoming miniseries ALLEN VS. FARROW and the power dynamics within Woody Allen's oeuvre.
TEST PATTERN, about an interracial couple navigating the aftermath of a sexual assault, opens today in virtual cinemas. The film was produced by Pin-Chun Liu (AFI Class of 2013) and Yu-Hao Su (AFI Class of 2015) and shot by Ludovica Isidori (AFI Class of 2013). Zekun Mao (AFI Class of 2017) served as an assistant editor while Valentina Martinico (AFI Class of 2014) was a gaffer on the project. It is also playing at the AFI Silver Virtual Screening Room.
Screenwriter Andy Siara (AFI Class of 2015) spoke about the inception of his film PALM SPRINGS and the culmination of his creative friendship with director Max Barbakow (AFI Class of 2015) in the LA Times.
LITTLE FISH, a pandemic love story written by Mattson Tomlin (AFI Class of 2014), is now available to watch in theaters and on VOD.
CBS' SILENCE OF THE LAMBS sequel, CLARICE, premiered this week. The pilot was directed by AFI alum Maja Vrvilo (AFI Class of 1995).
Other News of Note
Deniese Davis (AFI Class of 2012), who is a producer and founding member of AFI's Alumni Council for the Lawrence Herbert Alumni Center, recently founded Reform Media Group and signed with CAA.