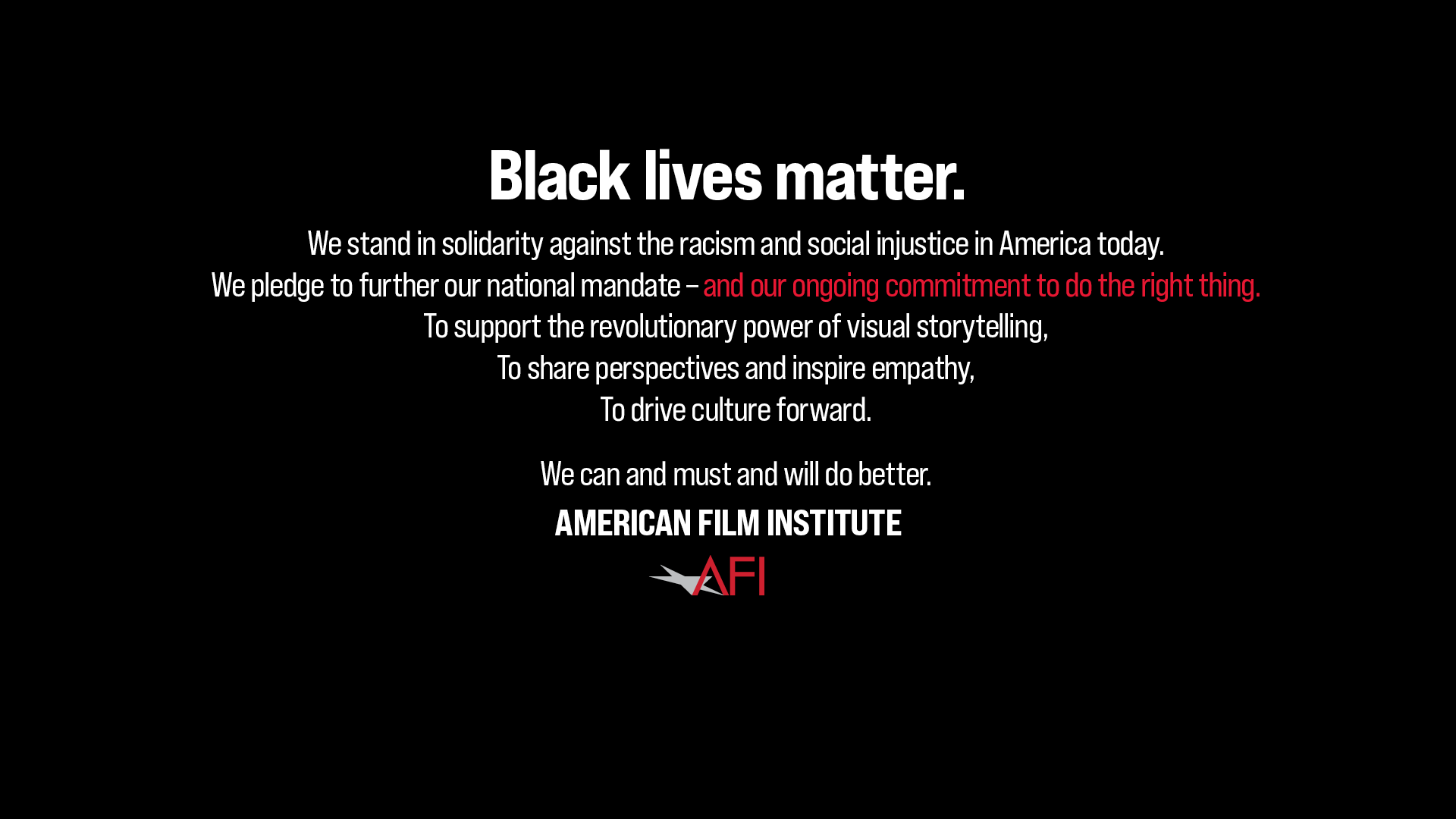 In Other Alumni News…
Three alumni projects score Peabody Award nominations: SUCCESSION, Miguel Arteta (AFI Class of 1990); UNBELIEVABLE, Susannah Grant (AFI Class of 1991) and Michael Dinner (AFI Class of 1979); and WATCHMEN, Anna Hauger (AFI Class of 2009) and Christal Henry (AFI Class of 2005).
The May Queen dress from MIDSOMMAR, directed by Ari Aster (AFI Class of 2010), is auctioned off to benefit the FDNY Foundation.
Ari Aster (AFI Class of 2010) teams with Parasite producer for English-language remake of cult Korean movie SAVE THE GREEN PLANET.
Max Barbakow (AFI Class of 2015) signs on to direct GOOD BAD & UNDEAD starring Peter Dinklage and Jason Momoa.
PALM SPRINGS, directed by Max Barbakow, co-written by Andy Siara (both AFI Class of 2015) and edited by AFI Faculty Matt Friedman, gets a July 10 release date on Hulu.
INDIGO VALLEY, written and directed by Jaclyn Bethany (AFI Class of 2018), is acquired by Giant Pictures.
KUNG FU, directed and executive produced by Hanelle Culpepper (DWW Class of 2002), receives series order for 2020-2021 season.
BOOMERANG Season 2, featuring the work of showrunner/director Dime Davis (AFI DWW Class of 2015) and directors Tiffany Johnson and Katrelle Kindred (both AFI DWW Class of 2018), goes out on a high note.
HBO Max launches with ON THE RECORD, directed by Kirby Dick (AFI Class of 1983) and Amy Ziering, putting a spotlight on women of color and sexual abuse in the music industry.
HOUSE OF CARDIN, directed by filmmakers P. David Ebersole (AFI Class of 1991) and Todd Hughes, is picked up for distribution by Utopia.
THE WRETCHED – with production designer Marlena Feehery and construction coordinator Robert Konowalow's (both (AFI Class of 2010) – recently ranked number one at the box office with the rise in drive-in movie theaters. It premiered at Mission Tiki drive-in in Montclair, California and will expand to several others as theaters re-open.
RUN SWEETHEART RUN, written, co-produced and directed by Shana Feste (AFI Class of 2003), lands at Amazon Studios.
Susannah Grant (AFI Class of 1991) is in Variety's new series, "Hollywood How-To," featuring writers talking about the craft.
Cinematographer John Guleserian's (AFI Class of 2005) AN AMERICAN PICKLE will premiere on HBO Max.
Jeffrey Kirschenbaum (AFI Class of 1999) is set to produce the Paul Feig-directed adaptation of THE SCHOOL FOR GOOD AND EVIL for Netflix.
David Lynch's (AFI Class of 1970) animated short FIRE (POZAR) debuts online.
Rachel Morrison's (AFI Class of 2006) feature directorial debut FLINT STRONG adds Judy Greer to the cast.
Four AFI alumni are semifinalists for the HBO Access 2020 Directing Fellowship: Juan Pablo Arias Muñoz (AFI Class of 2019), Portlynn Tagavi (AFI Class of 2019), Marielle Woods (DWW Class of 2020) and Hao Zheng (AFI Class of 2018).
Alexis Ostrander (DWW Class of 2014) is hired to direct THE RED ROSE CREW – Sports Illustrated Studios' first feature film.
KCRW interviews AFI faculty Michael Pessah (AFI Class of 2004) about Zoom tips for working from home.
HBO picks up SANTA INC. created by Alexandra Rushfield (AFI Class of 1998) with Seth Rogen and Sarah Silverman set to star.
Shortlist for BAFTA Student Awards includes four films by AFI alumni.
AFI Screenwriting Discipline Head Anna Thomas and two of the 2020 Writers' Room Ready participants – mentor LaToya Morgan (Class of 2005) and winner Kenda Greenwood Moran (Class of 2019) – were interviewed on the radio show TOMORROW WILL BE TELEVISED with Simon Applebaum.
Paramount picks up the original spec scrip 2084 from writer Mattson Tomlin (Class of 2014).
Jude Weng's (AFI DWW Class of 1998) action-comedy SHELLY adds Awkwafina and Karen Gillan to the cast.