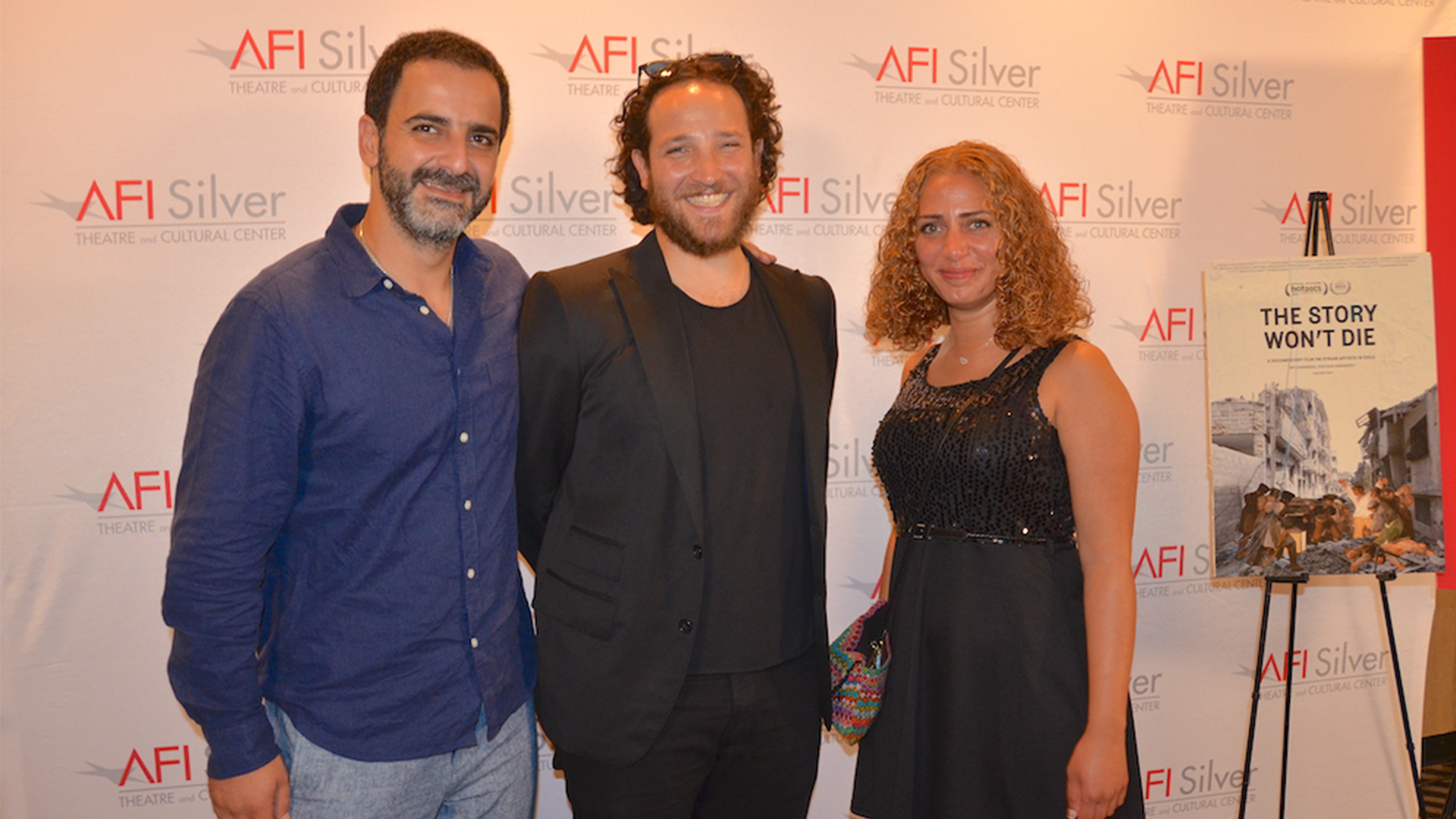 In Other AFI News…
AWARDS, COMPETITIONS AND FELLOWSHIPS
IS IT OVER?, directed by AFI alum Drew Pollins (AFI Class of 2016), was nominated in the "Best Use of Humor" category in the Cannes Lions, Young Director Award competition. The final results will be announced on July 8. You can watch the short film here.
The finalists were announced for the 2021 GSA BAFTA Student Awards, with a virtual ceremony to follow on Friday, July 23. Congratulations to the AFI filmmaking team that won Best Live Action short for APART, TOGETHER!
Olivia Hang Zhou (AFI Class of 2020) – director/writer
Blanca Balleste Perez de Olaguer (AFI Class of 2020) – producer
Lucia Zavarcikova (AFI Class of 2020) – cinematographer
Alexander Scarfe (AFI Class of 2020) – editor
Jess Kohs (AFI Class of 2017) – writer
Dae Hyun Kim (AFI Class of 2020) – steady cam operator
Nick Vera (AFI Class of 2020) – 1st AC
Lily Judge (AFI Class of 2020) – assistant editor
A massive congrats to our talented alumni who took home awards at this year's Tribeca Film Festival:
Audience Award, Best Narrative Feature: CATCH THE FAIR ONE

Darren Aronofsky (AFI Class of 1992), executive producer

Audience Award, Best Online Feature: FERGUSON RISES

Mobolaji Olambiwonnu (AFI Class of 2001), director and Tamika Lamison (AFI DWW Class of 2001), producer
DISTINCTIONS, PRODUCTION DEALS & OTHER MAJOR NEWS
AFI alum Susannah Grant (AFI Class of 1991, ERIN BROCKOVICH, UNBELIEVABLE) has signed a first-look television deal with Lionsgate.
CODA filmmaker Siân Heder (AFI DWW Class of 2005) has signed an exclusive deal with Apple for series written and developed by her, as well as a first-look on features.
NEW PROJECTS
For his next film DISAPPOINTMENT BLVD, AFI alum Ari Aster (AFI Class of 2010) added Academy Award® nominee Amy Ryan and Broadway mainstays Nathan Lane and Patti LuPone, to a cast that already includes Joaquin Phoenix in the lead role.
Director Maggie Kiley (AFI DWW Class of 2009) is tapped to helm the first three episodes of Netflix's survival drama series BREATHE, starring Melissa Barrera (IN THE HEIGHTS, VIDA).
AFI alum Todd Kniss (AFI Class of 2004) created, wrote and edited a multi-episode narrative podcast titled FOR BLOOD OF JUSTICE, which just dropped on all major podcast platforms and features actors Zach Grenier, Xander Berkley, Kellan Lutz, Sarah Clarke and Danny Trejo.  The graphic novel version is available to download for free. Listen to the podcast here!
Miramax Television and Stone Village are developing a series adaptation of author Alex Michaelides' (AFI Class of 2004) upcoming novel "The Maidens." Annapurna and Plan B are currently producing his debut novel, "The Silent Patient."
Deadline announced that Shailene Woodley will co-star with Jack Whitehall in the comedy ROBOTS, which is being executive produced by Thorsten Schumacher (AFI Class of 2001) and shopped to distributors at Cannes.
THE RESORT, the new dark comedy series written by Andy Siara (AFI Class of 2015) and executive produced by Sam Esmail (AFI Class of 2004), has been ordered to series at Peacock. It is set against the backdrop of one of "Mayan Riviera's most bizarre unsolved mysteries."
NBC is developing the comedy, LEFTOVER DAUGHTERS, written by Jude Weng (AFI DWW Class of 1998). She is also set to direct the pilot of the Paul Feig-produced series, which centers on the lives of a single Chinese-American woman and her circle of unmarried family and friends who strive for love and happiness as they face the pressures of cultural expectations.
DISTRIBUTION DEALS
Amazon Studios picked up GATOR AND THE EGG, an undercover buddy cop movie written by BenDavid Grabinski, with Tricia Brock (AFI DWW Class of 2001) set to direct.
Peacock picked up the documentary CIVIL WAR (OR, WHO DO WE THINK WE ARE), which AFI alum Rick Rosenthal (AFI Class of 1973) and Steven Shainburg (AFI Class of 1989) executive produced.
FESTIVAL NEWS
Indiewire took a look back at 21 filmmakers who launched their careers at Cannes, including AFI alum Andrea Arnold (AFI Class of 1991) who has won the Jury Prize three times in the main competition. Her film COW will have its world premiere at the festival in July.
Creative Artists Agency announced the sixth edition of their Moebius Film Festival – a two-day virtual screening series, spotlighting diverse graduate filmmakers. Of this year's 12 filmmakers, CAA has selected three AFI filmmakers: Omar S. Kamara, Anthony Sneed and Ira Storozhenko (all AFI Class of 2020).
A MONTH OF SUNDAYS – the second part in the Thisvi Trilogy written and directed by AFI alum Fay Efrosini Lellios (AFI Class of 1998) – just screened at the London Greek Film Festival and was a finalist for Best Short Fiction Film. The film was shot during the pandemic last October in Greece, and you can watch the trailer here.
The Cannes Film Festival added EVOLVER-PROLOGUE, a music-filled immersive film that is executive produced by AFI alum and Academy Award®-nominated filmmaker Terrence Malick (AFI Class of 1969), to its lineup.
Variety spoke with filmmakers Mobolaji Olambiwonnu (AFI Class of 2001) and David Oyelowo about their documentary FERGUSON RISES, which played Tribeca, as well as Michael Brown Sr., whose son was killed by a police officer at age 18 in Ferguson, Missouri.
PRODUCTIONS & NEW RELEASES
The Miami Herald interviewed screenwriter and AFI alum Daniel Casey (AFI Class of 2007) about his new summer blockbuster F9, which is part of the FAST AND THE FURIOUS franchise and sees the Detroit native return to familiar stomping grounds.
The documentary FIRE SEASON, directed by Quinn Else (AFI Class of 2019) debuted on Vimeo as one of their Staff Pick Premieres. AFI Alumni Celine Layous, Ben Long, Abraham El-Raheb, Bethany Michalski and Melisse Riahi (all AFI Class of 2019) also worked on the film.
Variety interviewed the directors, including Trisha Gum (AFI DWW Class of 2011), behind the new animated series WE THE PEOPLE (three episodes of which will premiere at AFI DOCS.)
Director Siân Heder (AFI DWW Class of 2005) released a new trailer for her Sundance award-winning film CODA, which is set to premiere in theaters and on Apple TV+ on August 13.
The finale of MARE OF EASTTOWN, created and written by Brad Ingelsby (AFI Class of 2005), marked HBO Max's most-watched episode since its launch, with four million viewers tuning in last weekend.
THE MORNING SHOW, directed and executive produced by Mimi Leder (AFI Class of 1973), revealed a new trailer for its second season, starring Jennifer Aniston and Reese Witherspoon.
A QUIET PLACE II, shot by cinematographer and AFI alum Polly Morgan (AFI Class of 2010), recorded a $48 million debut and grossed the largest three-day sum of the pandemic era.
LIKE FLYING, a short film directed by Peier "Tracy" Shen (AFI Class of 2019), produced by Gregory Schroeder (AFI Class of 2019), with cinematography by Diego Trenas (AFI Class of 2019), and editing by Arndt Werling (AFI Class of 2019) — was released in June as a part of an anthology collection (WHO WILL START ANOTHER FIRE), distributed by Dedza Films with the support of Kino Lorber.
Hit series SHADOW AND BONE, written by Christina Strain (AFI Class of 2015), has been picked up for a second season by Netflix.
Maja Vrvilo (AFI Class of 1995) is interviewed by Variety about her experience directing CLARICE, a sequel series to THE SILENCE OF THE LAMBS.
The New York Times highlighted the Disney+ Launchpad initiative, including DINNER IS SERVED, directed by Hao Zheng (AFI Class of 2018). Journalist Kristen Yoonsoo Kim wrote, "Zheng surprises by eschewing the standard Disney story line of an underdog's saccharine victory and instead exposes that some wins are just for optics."