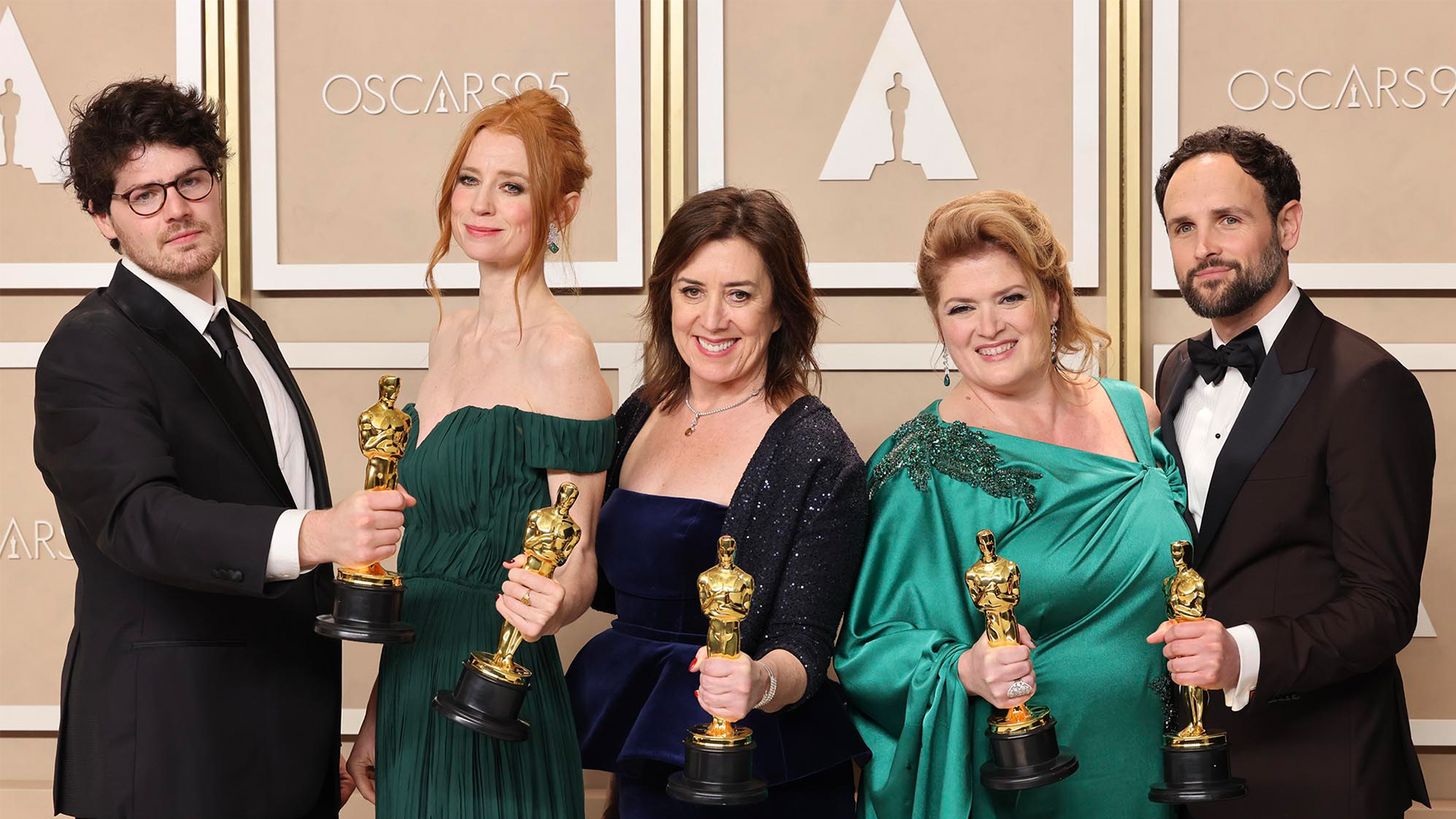 In Other AFI News…
AWARDS, GRANTS, FELLOWSHIPS AND OTHER HONORS
The Sundance Institute unveiled the participants for the second edition of the Trans Possibilities Intensive, including AFI Alum Malik Ever (AFI Class of 2022).
Film Independent revealed the six Fellows and their projects for the 2023 Amplifier Fellowship, including Philiane Phang (AFI DWW Class of 2015).
The Pan African Film and Arts Festival announced their winners, including WE WERE MEANT TO which was awarded Best Short Narrative. The film was directed/co-written by Tari Wariebi (AFI Class of 2020), co-written by Christina Kingsleigh Licud (AFI Class of 2019), produced by Jordan Tyner (AFI Class of 2020), shot by cinematographer Veronica Bouza (AFI Class of 2020), edited by Luodawei Xiao (AFI Class of 2020) with production design by Rhea Solanki (AFI Class of 2020).
ABC News' SOUL OF A NATION: Andra Day Performance was awarded the Outstanding Lighting Direction and Scenic Design at the News and Documentary Emmy® Awards. Derek Rittenhouse (AFI Class of 2012) served as Lighting Director on the project while director James Adolphus (AFI Class of 2011) and cinematographer Michael Pessah (AFI Class of 2004) both worked on the project.
DEVELOPMENT
Production Designer Elena Albanese (AFI Class of 2012) has signed on to the film COLD STORAGE, which will star Sosie Bacon, Joe Keery, Liam Neeson and Georgina Campbell. Oscar® nominee Lesley Manville is in final talks to join the cast.
Writer/director/executive producer Drake Doremus (AFI Class of 2005) is developing an adaptation of "One Day in December" for Netflix with actress Lucy Boynton set to star as well as executive produce.
AFI Alum John Patton Ford (AFI Class of 2009) is set to write and direct HUNTINGTON for StudioCanal and Blueprint Pictures.
Netflix has ordered the limited series ZERO DAY with Robert De Niro set to star in his first regular television role. All six episodes of the series will be directed and executive produced by Lesli Linka Glatter (AFI DWW Class of 1982).
Brady Hallongren (AFI Class of 2010) is set to produce the indie drama WHEN WE GET THERE which will star Alfred Molina.
Writer Brad Ingelsby (AFI Class of 2005) has set his next project ECHO VALLEY, which will star Academy Award® winner Julianne Moore and Emmy® nominee Sydney Sweeney.
Amazon Studios has hired AFI Alum Jeremy Podeswa (AFI Class of 1984) to direct the pilot of the upcoming limited series BLADE RUNNER 2099, which will be executive produced by original BLADE RUNNER (1982) director Ridley Scott.
Amazon Studios is developing an adaptation of THE BETTER LIAR, which will be written and executive produced by Raelle Tucker (AFI DWW Class of 2003) with Daisy Ridley attached to star and also executive produce.
Jordan Willcox (AFI Class of 2020) will produce STEALING PULP FICTION, which is set to star Cazzie David, Jon Rudnitsky, Karan Soni, Oliver Cooper, Taylor Hill and Jason Alexander.
FELLOWSHIPS AND GRANTS
Film Independent revealed the three filmmakers who will participate in its inaugural Imaginar Producers Residency, including AFI Alum Nicolas Blanco (AFI Class of 2021).
The Black List and Women in Film announced their participants for their 2023 Episodic Lab, including AFI Alum Deanna Esposito (AFI Class of 2022) for her screenplay "Dissent."
Beta Group announced that Eva Husson's (AFI Class of 2003) "Instagods" script has been selected for Series Mania, a mentoring program for filmmakers making their TV creator debut. The inaugural edition of the program concluded with the announcement of the three winning teams on March 22 at the Series Mania Forum, which runs March 21-23.
NALIP Latino Lens Narrative Short Film Incubator for Women of Color has selected its class of 2022, including Jhanvi Motla (AFI Class of 2017).
NEW PROJECTS
Ari Aster (AFI Class of 2010) was interviewed by the New York Times ahead of his new A24 film BEAU IS AFRAID, starring Joaquin Phoenix, being released later this month. Fellow AFI Alum Pawel Pogorzelski (AFI Class of 2010) served as the cinematographer on the feature.
Charlotte Brändström (AFI Class of 1982) will serve as a lead director and a co-executive producer on the second season THE LORD OF THE RINGS: THE RINGS OF POWER, which just added actors Ciarán Hinds, Rory Kinnear and Tanya Moodie to the cast.
IFC released the first trailer for MONICA, starring Trace Lysette and Patricia Clarkson. The film is produced by AFI Alum Christina Dow (AFI Class of 2015) and also played at AFI FEST 2022.
Eva Longoria's upcoming movie FLAMIN' HOT will debut simultaneously on Disney+ and Hulu, marking the first feature film to debut on both platforms. The film's editor Kayla Emter (AFI Class of 2008) and First Assistant Editor Selinda Zhou (AFI Class of 2018) are both Alumni of the AFI Conservatory.
MSNBC Films released the first trailer for PERIODICAL, which was shot by cinematographer and AFI Alum Lauren Guiteras (AFI Class of 2017). The film recently had its World Premiere in the Documentary Spotlight section at SXSW.
Lionsgate released the first clip of SCRAMBLED ahead of its premiere at SXSW. AFI Alumni Jonathan Levine (AFI Class of 2004) and Jordan Backhus (AFI Class of 2020) both produced the film.
The Wrap interviewed director Yoko Okumara (AFI Class of 2014) about her feature-length directorial debut UNSEEN from Blumhouse Productions.
Variety reviewed Ben Affleck's fifth feature AIR about the rise of Nike through its partnership with basketball legend Michael Jordan, calling it "a funny, touching Cinderella story about how the third-place sneaker brand wished upon a star, and how that man — and his mother — were smart enough to know their value." Cinematographer Robert Richardson (AFI Class of 1979) lensed the film while Kelsi Drew Howard (AFI Class of 2021) served as an Art Department Production Assistant on the project.
Magnolia Pictures dropped the first trailer for MASTER GARDENER, starring Joel Edgerton, Sigourney Weaver and Quintessa Swindell and written/directed by AFI Alum Paul Schrader (AFI Class of 1969).
A24 released the first trailer to Nicole Holofcener's YOU HURT MY FEELINGS, which stars Julia Louis-Dreyfus and was shot by AFI Alum Jeffrey Waldron (AFI Class of 2005).
AMC released a new trailer for LUCKY HANK, starring Bob Odenkirk. Jude Weng (AFI DWW Class of 1998) served as a director on the new series.
FESTIVALS
The Hollywood Reporter profiled director/producer/cinematographer James Adolphus (AFI Class of 2011) ahead of the SXSW premiere of his new documentary BEING MARY TYLER MOORE is debuting.
Dare to Dance in Public Film Festival announces its Guest Judges for D2D Round 6, including Karole Armitage (AFI DWW Class of 1991), the Artistic Director of New York-based company Armitage Gone! Dance. The Executive Director of Dance to Dance is a fellow Alum – Sarah Elgart (AFI DWW Class of 1991).
THE TRILOGY OF THISVI, written and directed by Fay Lellios (AFI Class of 1998), took home the Best Fiction Feature Film: Acting Code Awards at the London Greek Film Festival.
Doc10 announced its lineup, including STILL: A MICHAEL J. FOX MOVIE, which was produced by Annetta Marion (AFI DWW Class of 2005).
OTHER NEWS
In honor of Pi Day, Indiewire interviewed writer/director Darren Aronofsky (AFI Class of 1992) about his debut feature film PI which was recently restored and rereleased in IMAX for its 25th anniversary. Cinematographer Matthew Libatique (AFI Class of 1992) also worked on the film.
Variety profiled the Oscar® contenders for Live Action Shorts, including IVALU, produced by AFI Alum Kim Magnusson (AFI Class of 1991).
Maria Ripoll's (AFI Class of 1990) production company Cahuenga Filmmakers and El Estudio have joined with Sony Pictures International Productions to launch The Love Collection, a series of romantic comedy features which will be written and helmed by women.