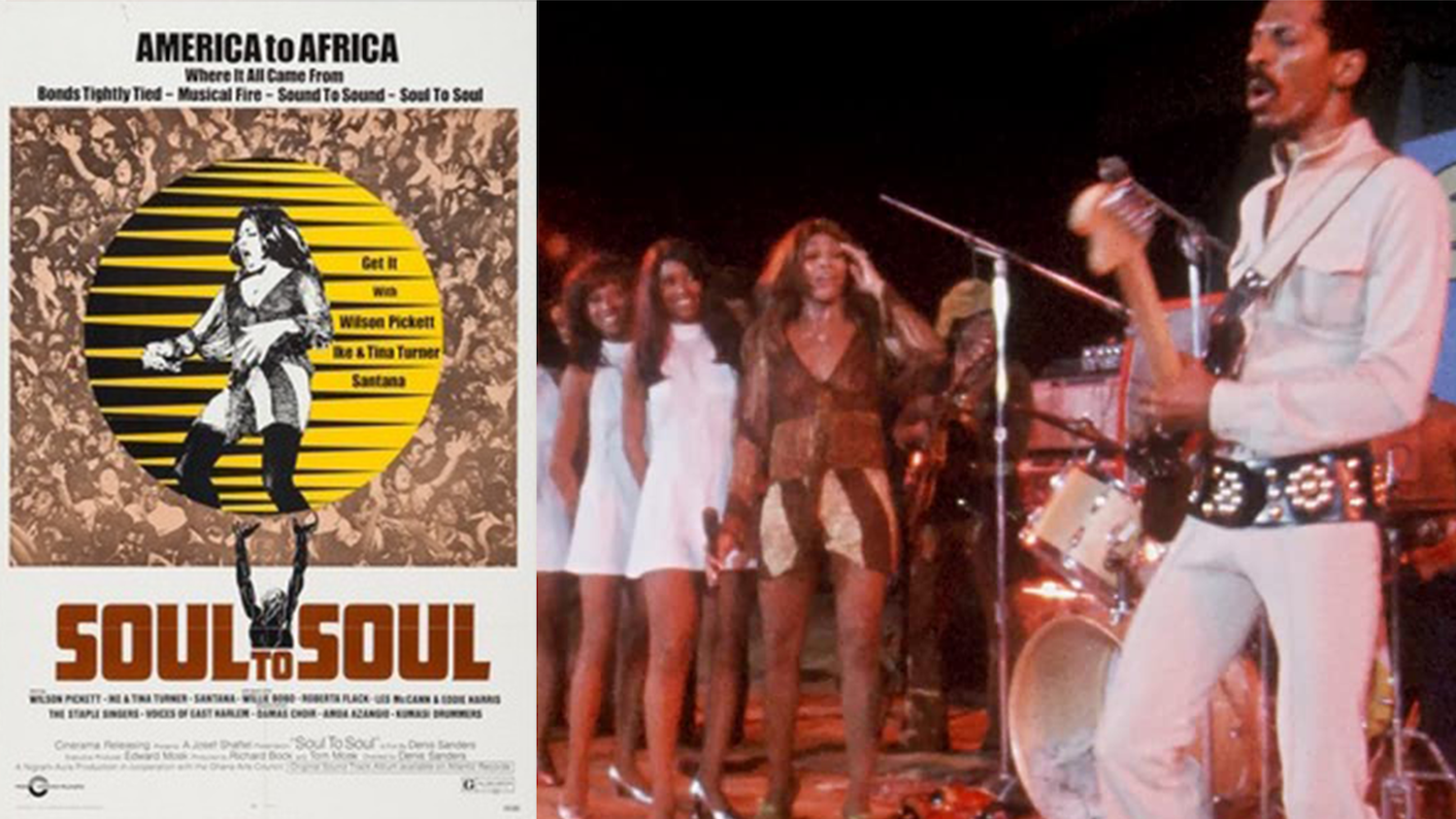 AFI Catalog Spotlight: SOUL TO SOUL
Released 50 years ago this August, SOUL TO SOUL (1971) documents a 14-hour concert event of the same name that took place in Accra, Ghana, to celebrate the country's 14th anniversary of independence from British colonial rule.
On March 6, 1971, a crowd of over 100,000 Africans gathered in the capital city of Ghana to celebrate liberation with a concert at the Black Star Square. American musicians including Wilson Pickett, Ike and Tina Turner, Les McCann and Eddie Harris, the Staple Singers, Santana, Roberta Flack and the Voices of East Harlem were joined by African performers such as Guy Warren, Charlotte Dada and Ghana's most famous rock band, The Aliens. The concert was considered particularly impactful for the African American performers, some of whom were making their inaugural trip to Africa and were experiencing the culture of their ancestors for the first time.
The idea for the commemorative event was initiated in the mid-1960s by American poet Maya Angelou, who had lived in Ghana and suggested a concert with African American musicians. However, Prime Minister Kwame Nkrumah was deposed before plans for the concert could come to fruition. In 1970, Hollywood attorney Edward Mosk was travelling in West Africa with his family while producing the television film THINGS FALL APART (1971), a cinematic adaptation of Chinua Achebe's eponymous 1958 novel that was written for the screen by Mosk's wife, Fern. At the time, their son, Tom—who went on to produce SOUL TO SOUL—suggested a "West African Woodstock." Funding from Warner Bros. and Bank of America was eventually declined due to complications with the Ghana Arts Council, and the project was ultimately supported by independent companies.
SOUL TO SOUL won the Ethiopian Film Festival's highest honor, the Golden Lion of Addis Ababa, and the soundtrack album peaked at #10 on Billboard's Soul LP chart, but the film was not a box-office success and the concert failed to recoup its costs. Still, the documentary was hailed by The New York Times, which wrote: "'Soul to Soul' will hook you. We defy anybody to watch the final half hour of this color documentary… without tapping a foot. But it is the sea of rapturous black faces, those of the visiting American artists and their Ghana audiences, that makes this movie a haunting experience."
Although Carlos Santana had only one African musician in his band—Ghanaian drummer Obo Addy—his performance was credited with kicking off a wave of Latin-tinged music in Africa, and several sites in Ghana were subsequently named after him. Roberta Flack, who performed two songs at the concert, declined to be included in the DVD release.
SOUL TO SOUL was restored by the Grammy Foundation and was released on DVD in 2004. Clips from the movie can be found here.