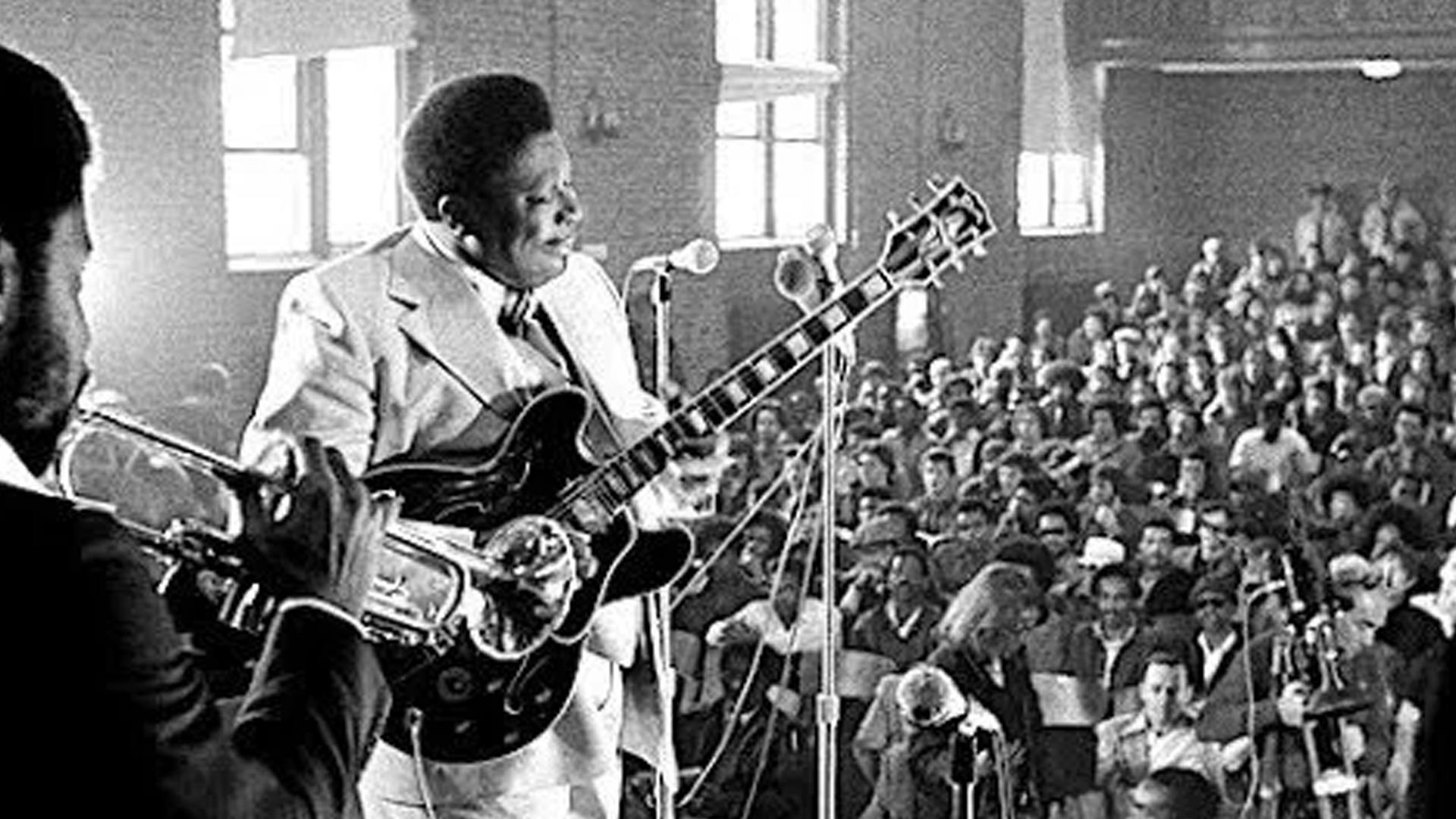 AFI Catalog Spotlight: SING SING THANKSGIVING
In honor of Thanksgiving, the AFI Catalog spotlights the documentary SING SING THANKSGIVING, which was hailed by The Hollywood Reporter as "the most provocative and moving concert film ever made." SING SING THANKSGIVING took audiences behind the fortress walls of the notorious Ossining Correctional Facility on Thanksgiving Day in 1972 to share musical performances by Joan Baez, The Voices of East Harlem, Mimi Fariña, comedian Jimmie Walker and B. B. King in what he later described as one of his greatest shows of all time.
Deeply affected by the Attica Prison rebellion in 1971 that left 33 inmates dead, filmmaker David Hoffman and his partner Harry Wiland — residents of Ossining, New York — decided to teach filmmaking to convicts at the infamous local prison known as Sing Sing. The early 1970s were a time in which President Richard Nixon first declared the "war on drugs" and mass incarcerations of men of color ensued, leaving them in jail for minor offenses with little opportunity for rehabilitation. Hoffman and Wiland's class began with 50 inmates, and, undeterred by the vast dangers inside Sing Sing, the filmmakers concluded that a concert would be a good way to promote the arts and spread joy in an otherwise bleak environment. At that time, Johnny Cash had previously headlined concerts at Folsom Prison and San Quentin, and concert documentaries such as those filmed at Altamont (GIMME SHELTER) and WOODSTOCK were gaining popularity. (Harry Wiland associate produced JOHNNY CASH! THE MAN, HIS WORLD, HIS MUSIC in 1969 and was instrumental in putting together the Folsom Prison show.) Planning for the Sing Sing Thanksgiving concert took one year with 12 inmates as organizers, and there were many complications, including B. B. King being delayed at the prison gates. King, who agreed to perform free of charge with his 26-piece band, warmed up the audience of 1,200 inmates by saying: "I was told that some of you dudes don't know anything about the blues…I wanna say this to you, I came to swap some with you. I imagine quite a few of you dudes have the blues already."
Other highlights of the concert included the comedic work of Jimmie Walker (who was famous for the role of J.J. on the hit TV show GOOD TIMES), The Voices of East Harlem and Joan Baez singing a rendition of "I Shall Be Released" that was met with an enthusiastic response from the audience despite their unfamiliarity with folk music. Baez, whose husband was incarcerated for civil disobedience, was joined onstage by her younger sister, Mimi Fariña, for "Viva mi patria Bolivia." The experience of playing to an audience of inmates inspired Fariña to establish Bread & Roses, a San Francisco-based nonprofit arts organization that brings live music to people young and old who are "disadvantaged, marginalized, or otherwise isolated in diverse institutional settings." Baez wrote the original song "Sing Sing" about the prison, and it is played over the end credits of the film. In between songs, inmates took the stage to perform a play and to recite a rap poem. Inmates contributed black-and-white, 16mm footage to the film, while Hoffman and Wiland's work is distinguished by its color photography, captured by seven camera crews.
SING SING THANKSGIVING also includes significant documentation of daily life inside the maximum-security prison that was shot the day before the concert, showcasing the men's reflections about their work in jail and their crimes. Just last year, in November 2020, the Sing Sing Prison Museum interviewed Hoffman about his documentary, and he noted that the film was unique because it shed light upon the plight of incarcerated individuals and showed their true humanity. When asked about the nation's current conversation about prison reform due to popular movements such as Black Lives Matter and Defund the Police, Hoffman expressed his faith in America and his hope that the film will allow its viewers to witness history as a benchmark for positive change in society, moving forward. Hoffman recalled that Sing Sing was sadly devoid of any opportunities for rehabilitation, and he imagined a future in which prisons might evolve for the better in the next 50 years. In recognition of the Thanksgiving season, Hoffman gave thanks for being the child of immigrant parents and for the freedom to express his voice through filmmaking, the freedom he attempted to share with inmates at Sing Sing nearly a half century ago.
Watch B.B. King's full performance here
Watch Joan Baez and Mimi Fariña's performance here