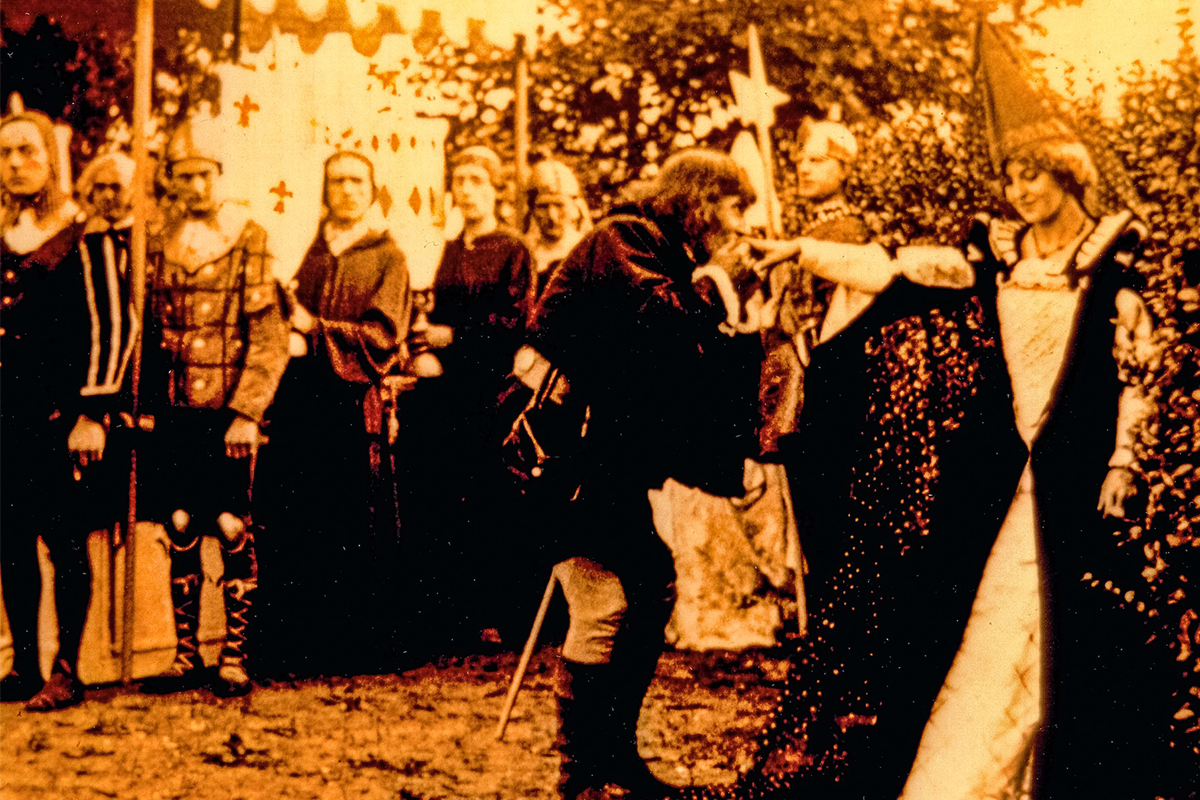 AFI Catalog Spotlight: RICHARD III
This month, AFI celebrates the 110th release anniversary of the 1912 epic silent film adaptation of William Shakespeare's RICHARD III, the oldest known feature film in existence which AFI restored from a nitrate print in 1996. Long believed to be lost—as are roughly 70% of films made before 1930, according to the Library of Congress—RICHARD III (also known as THE LIFE AND DEATH OF KING RICHARD III) was discovered by retired film projectionist William Buffum, who acquired the picture around 1960, while trading films with another collector. He rewound the film in its five reels once a year to prevent it from sticking together, which accounted for its near flawless condition. Buffum kept it in his private collection unaware of its significance until he donated it to AFI.
RICHARD III is also believed to be the first feature-length version of a Shakespeare play, marking an early example of the film industry setting its sights on more advanced forms of narrative storytelling. At the time of RICHARD III's release, the movie business was just beginning to step away from producing short vignettes aimed at mass audiences to begin making longer features with prestigious literary sources which were intended to appeal to upper class sensibilities. RICHARD III demonstrated a critical shift in filmmaking that imagined the burgeoning technology as a high artform. AFI CEO emerita Jean Picker Firstenberg compared the discovery of RICHARD III to finding a lost Rembrandt.
Directed by James Keane in his feature film debut, RICHARD III was advertised in 1912 as a big budget "Sensation of the Century," with "seventy big scenes" featuring "1,000 people, 200 horses, 5 distinct battle scenes, a three-masted warship, crowded with soldiers, on real water. Architecture, costumes, armor, all historically correct in every detail," as advertised in The Billboard, which proudly listed a production cost of $30,000 (nearly one million dollars in today's economy). An early color process of tinting and toning was also used in the release, with hand-stenciled sequences that were preserved in the restoration. AFI archivists who worked on the project reported that the film was intended to tour the country with its lead performer, English Shakespearean actor Frederick Warde, reciting speeches from the play in theaters when the projectionist changed the reels; contemporary reviews revealed that in early January 1913, Warde gave lectures with the film when it played in Southern cities. Despite being well-known for his work on the stage, RICHARD III marked Warde's first feature film—he became distinguished as an early mentor to Douglas Fairbanks, Sr.—and went on to play the titular role in KING LEAR (1916). Modern critics, such as Kevin Thomas in his Los Angeles Times review, noted that RICHARD III was, despite its years, "a surprisingly engaging example of the well-filmed play," with Keane's skill at placing a crowd of actors in front of the camera and choreographing their moves. Despite its lack of close-ups, the film displayed some technological innovations, such as camera pans and editing within scenes. Filmed on City Island in the Bronx and in Westchester County, New York, RICHARD III was a pioneering attempt at taking Shakespeare off the theatrical stage and bringing his work to mass audiences, demonstrating that long narratives could be conveyed without sound in the new medium of film.
AFI's restoration of RICHARD III premiered in October 1996 at AFI FEST, then known as the AFI Los Angeles International Film Festival, where it was presented with musical accompaniment by a chamber orchestra under the direction of Robert Israel. A second screening followed in November at the Kennedy Center in Washington, D.C. William Buffum was acknowledged with an honorary plaque for his important contribution to cinema history. In 2001, a commercial DVD of RICHARD III was released by Kino International, featuring a score composed by Ennio Morricone. The survival of RICHARD III in its complete, original form was nothing short of miraculous and its contribution to the study of film history unparalleled. AFI, with support from the Joseph H. Kanter Foundation, brought RICHARD III back to life for future generations to catch a glimpse of what moviemaking was like at the dawn of feature film production. The restored print remains in the AFI Collection at the Library of Congress.
Learn more at the AFI Catalog.