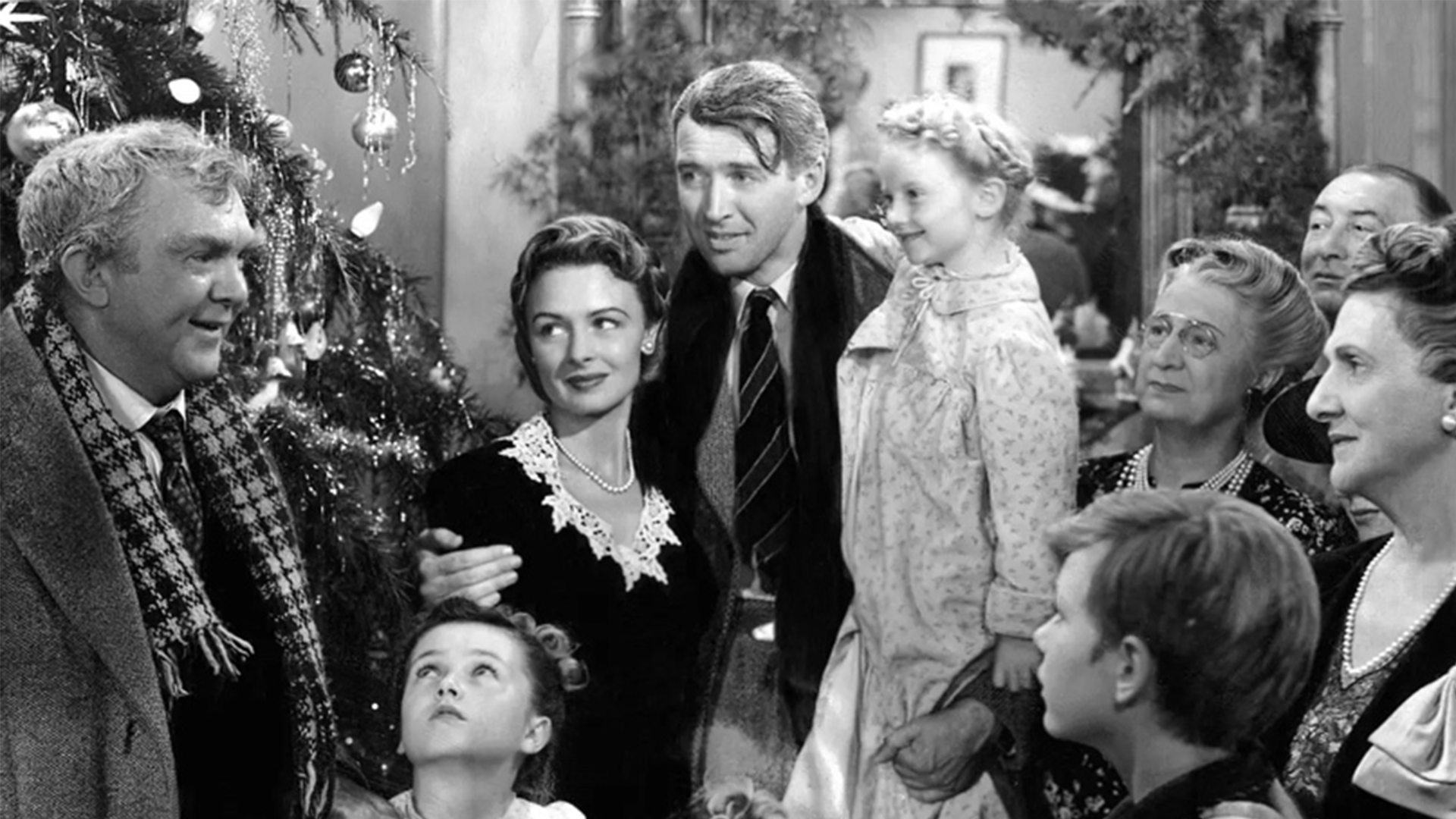 AFI Catalog Spotlight: IT'S A WONDERFUL LIFE
This December, the AFI Catalog shines a spotlight on the beloved Christmas classic IT'S A WONDERFUL LIFE, which premiered this month in 1946 and has remained high on AFI's lists of the best films ever made, including #1 on AFI's 100 YEARS…100 CHEERS list of the most inspiring films of all time. Although it received mixed reviews upon its release, Frank Capra's IT'S A WONDERFUL LIFE was nominated for five Oscars®, including Best Picture, and became a staple of holiday season cinema when it entered the public domain and was screened every December on television. IT'S A WONDERFUL LIFE was added to the Library of Congress' National Film Registry in 1990 and was Frank Capra, Donna Reed, and Jimmy Stewart's favorite movie, according to their biographies. Telling the story of one man's desire to end it all, only to recognize the true value of his life by witnessing the world as if he had never been born, IT'S A WONDERFUL LIFE reminds viewers of the significance of their humanity at the holidays, a time when many struggle with depression despite the expectation of a joyous season. George Bailey's journey reaffirms the value of love, community, self-sacrifice and forgiveness in a complex world that is mired in capitalistic greed and too often at war. His experience resounds with faith that life can indeed be wonderful, if only we believe it to be so.
IT'S A WONDERFUL LIFE began as a Christmas card. Unable to get his short story published, writer Philip Van Doren Stern took matters into his own hands and enclosed "The Greatest Gift" in his 1943 Christmas greetings for friends and family. Actor Cary Grant caught wind of the story and brought it to RKO, where he was under contract at the time, and the studio purchased its screen rights as a vehicle for the star. However, by 1945 the property was sold to Liberty Films, a company founded by Frank Capra, William Wyler, George Stevens and Samuel J. Briskin shortly after their service during World War II, and Jimmy Stewart (who had also recently ended his years in the military) was hired to play George Bailey. IT'S A WONDERFUL LIFE marked the studio's inaugural production, and Stewart's first film since the war. The adaptation of Stern's story involved many acclaimed writers, including Jo Swerling, Clifford Odets, Dorothy Parker and Dalton Trumbo, but the onscreen credit went to husband-and-wife team Frances Goodrich and Albert Hackett, along with Frank Capra. Goodrich and Hackett reportedly quit the project before it was finished, due to conflicts with Capra.
Aside from shooting at the RKO studio lot in Culver City, CA, location filming took place at the RKO Ranch in Encino, where the elaborate set for Bedford Falls was built at the site of a previous film, CIMARRON (1931). It included a three-block Main Street with 75 buildings and the planting of 20 full-grown oak trees. Principal photography started in April and wrapped in July 1946, and the production endured a heat wave while shooting winter scenes. The largest recreation of a snowstorm in the history of movies to date was fabricated over the span of two weeks, using 300 tons of limestone and 50 tons of white plaster. RKO's special effects head Russell Shearman was credited with creating a new, more realistic looking compound for the snow and won a technical achievement Oscar® for his innovation. Shooting also occurred at Beverly Hills High School, where there was a newly built moving floor over a swimming pool that was featured in the Charleston dance contest scene.
IT'S A WONDERFUL LIFE is a family film, but several scenes were considered controversial for the time, including the recitation of the Lord's Prayer in Martini's bar (which was re-written as an informal prayer in the final cut) and the first passionate kiss between George and Mary (which was steamy enough to be in violation of the Hays Code). In 1947, the FBI presented a memo in a document titled "Communist Infiltration of the Motion Picture Industry" to the House Un-American Activities Committee (HUAC) which claimed that the film was written by close associates of Communists. It stated that the movie "represented a rather obvious attempt to discredit bankers by casting Lionel Barrymore as a 'scrooge-type' so that he would be the most hated man in the picture" and that this was "a common trick used by Communists." IT'S A WONDERFUL LIFE was perceived to be a deliberate attempt at disparaging the upper class and a means to promote leftist ideologies.
Still, historians have pointed out that IT'S A WONDERFUL LIFE fails to present an inclusive, multidimensional vision of American society, with Donna Reed's character Mary centering solely around family life as a housewife and Lillian Randolph's depiction of the Bailey's Black domestic worker Annie only being in service to her white employers. When George views the world as it would have been if he had never lived, Capra chooses to convey society at its worst with Mary as a spinster librarian and the town of Bedford Falls (now the vice-riddled Pottersville) filled with jazz music and dance halls. Perhaps in an effort to support diversity, the film includes an Italian family—the Martinis—at a time in which immigrants were threatened with prejudice and harassment. However, they too are portrayed in a stereotypical light. Although IT'S A WONDERFUL LIFE represents society from the perspective of white male privilege, it champions the underdog and cherishes the American dream. It gives viewers a glimpse of how Hollywood depicted American culture in the 1940s and encourages us to picture a better world.
Over the years, IT'S A WONDERFUL LIFE has topped lists of the best films ever made, including AFI's, and has been viewed by millions all over the world. It has become the standard for Christmas viewing, much to the surprise of Frank Capra, who stated that "the film has a life of its own now…I'm like a parent whose kid grows up to be president…I didn't even think of it as a Christmas story when I first ran across it. I just liked the idea." Although it is no longer in the public domain, IT'S A WONDERFUL LIFE is widely available and continues to screen at the holidays, including a theatrical presentation hosted by TCM on December 18 and 21 this year.
Frank Capra talks to AFI Fellows about the making of IT'S A WONDERFUL LIFE: https://www.youtube.com/watch?v=zcOJ0KSA4r0
Jimmy Stewart discusses Frank Capra's life story: https://www.youtube.com/watch?v=1AGbKhMDXoY
Jodie Foster describes IT'S A WONDERFUL LIFE as "everyone's favorite movie": https://www.youtube.com/watch?v=uhq9Ke8M25M
Places to stream IT'S A WONDERFUL LIFE: https://reelgood.com/movie/its-a-wonderful-life-1946