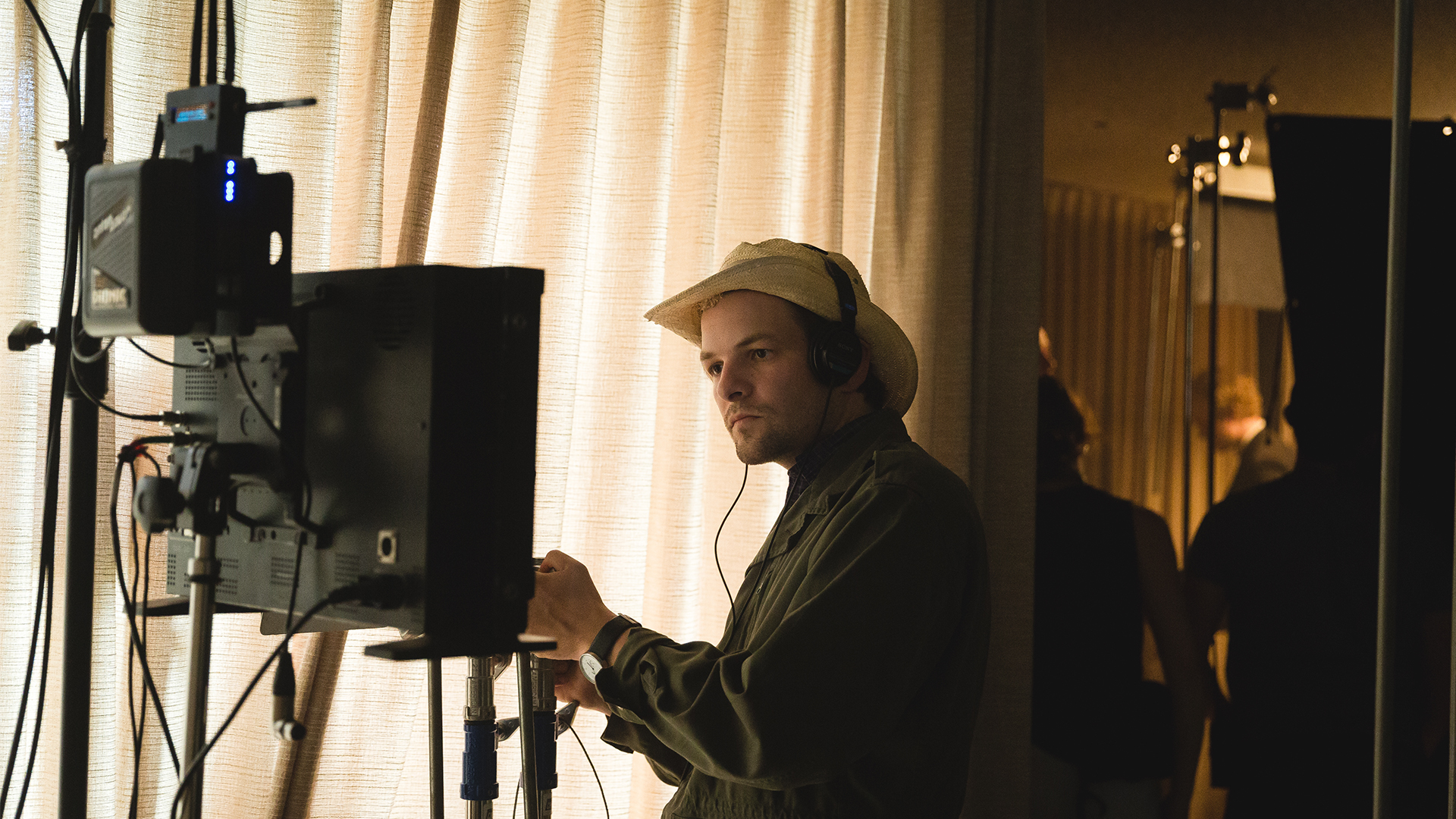 The AFI Team on Their New Mystery-Thriller Film THE BLOODHOUND
In THE BLOODHOUND, writer/director Patrick Picard (AFI Class of 2016) tells the intriguing tale of a young man's visit to a wealthy and reclusive friend that soon finds him fearful and isolated from the outside world. For his feature directorial debut, Picard assembled a team full of AFI graduates, including up-and-coming producers Leal Naim and Thomas Burke (THE ENDLESS, SYNCHRONIC), cinematographer Jake Magee (THE MOUNTAINS ARE A DREAM THAT CALL TO ME), production designer Arielle Ness-Cohn (MCMILLIONS) and editor David Scorca (THE LOWER ANGELS).
The film – which was originally scheduled for a festival premiere in March before the shutdown – was recently picked up by Arrow and is currently available to stream on its new subscription-based platform. To celebrate the film's official launch, AFI spoke with the filmmakers about the conception of THE BLOODHOUND, collaborating with fellow AFI alumni and how they pivoted with their distribution strategy in light of the pandemic.
AFI: Patrick, as the writer of THE BLOODHOUND, what was your inspiration?
Patrick: I was just sitting on my couch trying to get ideas when I saw a book of Poe stories, which had belonged to my grandfather, on the bookshelf. I didn't know my grandfather, but I inherited many of his books including a first edition of "Brave New World," a copy of "Ulysses" from the 1930s and several Poe anthologies. I opened the anthology, and the first story was "The Fall of The House of Usher." I read two or three pages and got so excited about the atmosphere and basic set-up that I started making my own story. I love the gothic set-up of being summoned to a strange old house by a strange old friend, and it was a loose enough structure to work in my own ideas. After I had written most of the story, I read the rest of the story and ended up being somewhat faithful to the ending. In fact, it's one of the few Poe endings that I really like because it doesn't compromise the mystery established at the beginning. The story ends as mysteriously as it began.
AFI: Thomas and Leal, how did you become involved in the project?
Thomas: I always wanted to collaborate with Patrick while we were at AFI together because of his amazing work on cycle films there. Leal and I were looking for high-concept films that could be shot with limited resources.
Leal: Another producer from our year, Emma Franceour, sent us the script. Emma had worked with Patrick on her thesis and cycle films at AFI, and she was using the original short of THE BLOODHOUND for her producer's portfolio. Tom and I were just starting our company, Love & Death Productions, and we thought THE BLOODHOUND would be a great fit. We also were in Patrick's class and got to see how incredibly talented he is from his short films. We dove into development and started putting our plan together on how to get the film off the ground from a financing and production standpoint.
AFI: What was the visual style you hoped to achieve? How did that inform the film's cinematography and production design?
Patrick: The visual style is always dictated by the story and resources. The story asked for the characters to be considered in relation to the house. The location was fairly difficult to shoot in for many reasons, but the size of the rooms, which are smaller than they appear in the film, often forced us to use wide lenses in order to understand the characters in relation to the architecture and give the home its own presence. Jake was able to find wide lenses that didn't distort the verticals so that the strong geometry of the architecture remained while widening the spaces. The camera didn't move much because it was hard to use any toys in the house and the story was never screaming at me to use a dolly or a steadicam. We just used a nice motorized zoom.
Jake: We were influenced by Julius Schulman's wide lensed photographs of the great mid-century homes of Neutra and other architects. We wanted the house to be its own force in the story. Using wide lenses helped us to create compositions that gave the house a large and ominous quality, inside of which JP and Francis' strained friendship plays out. As far as the characters, we were interested in some of Lucien Freud's earlier portraiture and drawings which have a fantastic duality of both life and lifelessness. In some of these works the surrounding world has life and saturation, but the people themselves are pale. JP himself is both full of culture and humor, but he is lifeless, alone and phantasmagoric. Using pale skin tones and more colorful production design helped to evoke some of that feeling.
Patrick: The idea with the design was to create a kind of sogginess out of Modern elements instead the old familiar gothic ones. So, in this instance, an old piece of Victorian furniture is swapped for a Gerrit Rietveld chair— which can take on a kind of cold menace of its own. We wanted to avoid the old haunted house look and considered the international-style modernism of the 1930's to be our version of the old Georgian style home or whatever Poe was thinking about. It might seem like a lot of the design elements were just there in that house, but much of it was brought in by Arielle and her team, some of it is our own furniture, and I even made a few of the paintings.
Arielle: Patrick and I started discussing color palette, design aesthetic and scouting locations really early on in the process. We had a lot of discussions about the backgrounds of the characters and about the main house location. We wanted to create a rich enough feel of backstory to the spaces, while keeping many details elusive and unexplained in order to serve the story. The house itself played the role of another character in the film, so coming up with ways for that character to show through the architecture, set dressing, and constructed spaces was a really fun challenge. One thing we did with production design was to help give the house and its legacy of inhabitants a past and present life of its own. We expressed an ancient quality in the environment by incorporating worldly and historic set decoration that still fit in with the timeless aesthetic we were creating.
AFI: What was it like collaborating with your fellow AFI alumni? Was there a level of comfort knowing you'd been through the same training?
Patrick: Comfort indeed! The truth is that it just would not have happened without AFI people— or not in remotely the same way. If you could have seen the set, like everybody was AFI. If not for AFI, it'd probably be me and one other friend. It was invaluable to have AFI producers because their training is so comprehensive. The AFI cinematographers are this weird gang who are somehow all friends, and I'd say nearly half the cinematography class of 2016 helped out on this film in some way. Again, the production designers are comprehensive in their understanding and Arielle managed to build rooms and objects for this film for nothing that looked great! With David editing, we already had a language going that we started years ago at the AFI.
David: It's my favorite thing in the world. These people are my good friends and getting to see them and work with them on a daily basis was tremendously fulfilling. I think that is most filmmakers' dream – not only to make movies that you think are important and interesting – but to make films with people who you respect and simply enjoy being around. We've all been very busy with unpredictable and demanding production schedules since graduating from AFI so whereas some people in other careers might be able to call each other up after work and say, "Hey, want to grab a drink?," our version is "Hey, want to spend every waking hour of every day together for a little while making a film?"
Jake: It was a pleasure to work with colleagues from AFI. Although our production was humble and small, our strength as a team was found in the shorthand we have developed over the years working closely on many other projects together.
Leal: We've all been through the bootcamp that is AFI and speak the same lingo. It was so awesome to work with my fellow classmates, from both a creative perspective and also a logistical/production perspective. There is a kind of loyalty, respect and accountability that you have when working with fellow AFI alumni. I knew I could rely on Arielle, Jake, David, and all the other AFIers who worked on the film, and I knew that they understood the constraints that we had on the film. With Patrick, there was a familiarity and a great understanding of the vision all across the board.
Thomas: On the one hand, it was amazing having the same shorthand from our time together on-set at AFI. We were trained under the same umbrella, so inherently we all knew how to work on a set professionally and understood each other's workflow. The other side of this is that there are inherently different expectations from shooting an independent feature, where a lot of money is at stake, versus a short at AFI. It took a little bit of finessing to make sure we all understood the differences and to make sure that those expectations were set and fulfilled. Thankfully, it worked out beautifully.
AFI: How did you approach editing the film, David? Were there other films that influenced your approach?
David: Between Pat, Jake and Arielle, the images I receive in dailies were just so beautiful and strange. So the approach is all about preserving that – about doing justice to that – and doing justice to the captivating performances from Joe and Liam. Patrick and I always seek out what is most interesting or peculiar in the footage and just see where it takes us. There's a lot of experimentation. A lot of work gets scrapped – a lot of good work that for one reason or another doesn't quite cut it – until we strike something that we consider a bit of gold. A lot of the work was about creating and moderating the levels of dreaminess and of confinement and of emotional tension, creating the feeling of sinking deeper and deeper into something. We did have to be mindful of an audience's patience for that sort of thing as wonderful as it is for us to indulge. Because of the nature of the film, we also had the opportunity to play with the visibility and menace of the other three simultaneously sparse and yet omnipresent characters – the Bloodhound, Vivian and that fantastic house.
AFI: What were some of the greatest challenges during filming and in post-production?
Arielle: Money and crew! We were all so excited about the story, conceptual look and design of the film. We had an amazing location, had done a lot of planning and ideating based on our production realities. And still, without fail, when it comes down to execution, you always need more money and talented crew to help make the designs a reality! Luckily, I had an amazing art department with me and incredibly supportive and creative producers in Tom and Leal, so we all worked hard and smart to make it happen. We also had a set build where we were struggling to find a stage to construct on, and AFI came through in a big way for us there, which was an amazing support system to have as we transitioned into the real world.
David: For me, post-production is always a challenge on a low-budget film. Tom and Leal did a great job budgeting and turning our humble pile of cash into a film that swings way above its weight, but inevitably at some point at the end of the process the money simply runs out. And post-production can be so expensive – the mix stage and the grading theaters and the hourly rates – you're literally begging people for an extra hour of their time, and it's a big request because they are used to getting, like, a million dollars an hour or something from the studios. Then, on the flip side, you have these kind folks working out of their garages for much cheaper, but you just don't know about the quality unless you get a good reference. So you've got to be very creative and judicious with how you solve the inevitable problems that come up after the fact without spending extra money. We ended up doing a crazy, but cool thing where Patrick went to Denmark to do most the sound on the picture because it was ultimately a cheaper and better situation, but having your mix half a world away definitely adds complexity to the process.
AFI: Leal and Tom, can you talk a little bit about the release strategy for THE BLOODHOUND and how you went about getting it distributed, especially at this challenging time?
Leal: That's an interesting story. We tinkered with THE BLOODHOUND for quite a while and tried different approaches in post-production. When we felt like we got it right, we started sending it out to various festivals. That is truly one of the only strategies you have on these low, low-budget films – to get into a great festival, which will then give us the exposure we need to ultimately sell the film.
THE BLOODHOUND was set to premiere at the Emergence Film Festival, which was the brand-new festival that Slamdance and Arclight were putting together for Los Angeles. That was supposed to happen at the end of last March, but alas we all know what happened next, and the festival was shut down. We then shifted gears to try and get a sales agent on board to show it to distributors directly. We realized buyers are desperate for content more than ever and so we felt it was the right decision to try and sell it without any festivals, reviews or publicity. We met Joe Yanick, Co-Founder of Yellow Veil Pictures, at Frontieres Film Festival in Montreal, and we decided to send the film to him. He responded really well and said his company would like to rep it. We got a few offers from different distributors and decided to partner with Arrow Films, which also released THE ENDLESS in the UK. It was definitely a different experience than we are used to. We are bummed that we won't get to sit in a full theater – there is nothing like your film premiering at a film festival to a crowd!
Thomas: Now, the focus has been on trying to leverage Arrow's streaming platform and word of mouth to get eyes on the film.
AFI: What advice do you have for alumni looking to make ultra-low-budget independent films?
Patrick: Just get an idea that you really, really, really want to see on a screen and get your friends jazzed about it. Start making moves before you even have money— other people will get hip to that energy and things will start happening. You can't get discouraged and you can't be afraid to ask people for things.
Arielle: You have to want it. Make sure you are working on a project you are willing to give your all to for a certain amount of time, because making an ultra-low-budget indie film is not a light task. Ultimately, make something you are proud of and that you believe in! And if you're lucky enough to have great collaborators, do your best to work together and support each other.
Thomas: My advice is to work backwards from whatever resources you have access to, whether it's money, locations, equipment, friends, or whatever else could be an asset on a feature film. From there, try to create a story that you know you can deliver on using those resources and find friends (and other AFI grads) who are just as passionate as you. Be realistic about what you can pull off and what the market is looking for, and prepare for a multi-year process of begging, borrowing and stealing to get the film out there.
Leal: Just go out and do it. We hear it all the time from our teachers, mentors and role models, and it's totally true. Start by finding a contained script (preferably SAG Ultra Low Budget) that you're excited to work on. That is the hardest part because everyone is trying to write their next spec or studio movie and it's hard to find a great, contained script. But they're out there, you just have to look everywhere you can. Once you have the script, start finding collaborators who will put the time and effort into it during development and while looking for the financing. Send it out to everyone you know, you never know where the financing can come from.
I think going out to get cast on your first movie in order to get the financing is a really hard thing to accomplish and it rarely happens on this scale. Look for the financing first, just like we did with Thesis, except now it's a business proposal and there is a chance your investors will recoup their money. Be conscious of your audience, and even though it's low-budget, try and make it as commercial as possible.
But the initial goal should just be to make the film, once the film is wrapped you can start thinking about festivals, sales agents, publicists and distributors. If your film is good, that will come naturally. After AFI, Tom and I made the decision to try and make an independent film; if we failed, we'd go the traditional route of being an assistant for a studio or agency, but we wanted to take a shot first, and luckily we made THE ENDLESS six months after graduating. Don't get me wrong, you still have to hustle even if you make your first movie – it doesn't get easier – but doors start opening and the industry starts to see you know what you're doing. Mark Duplass says it best in his 2015 SXSW Keynote speech: "The cavalry isn't coming. You are the cavalry."
David: To the editors out there, I think you have to love the film if you endeavor to make a low-budget picture. I say that simply because the film will continue to ask things of you until it is ultimately purchased and delivered (and even after that!). In a truly low-budget situation, you end up having to wear quite a few hats, and you wear them sporadically over a long period of time. Maybe there isn't the budget for all the VFX, so you have to do some yourself. Maybe a shot gets changed way after the fact and you can't afford to pay the colorist again, so you have to open up Resolve and reverse engineer it if you want to make it work. Or even less direct, maybe you need to call in some favors you've accumulated out in the bigger-budget world to get something done. You might not do that kind of thing for a film you are just going through the motions with, but for something you believe in you'll pull out all the stops.
AFI: What projects do you have on the horizon?
Patrick: I have two stories – one is a neo-noir that I've written with Jes Gao (also AFI!) and another that is a more of a straight-up horror film— but it's more than just a horror film.
David: I'm in the midst of a vampire movie for Netflix at the moment, and there are some very nice scripts that I've got my fingers crossed for as soon as COVID dies a swift and terrible death at the hands of big pharma.
Thomas: Leal and I just released SYNCHRONIC last month with the same team we made THE ENDLESS with.
Leal: We also have a much bigger project called CALL JANE, which Tom and I are co-producing alongside Oscar®-nominated producer Robbie Brenner (THE DALLAS BUYERS CLUB), which stars Elizabeth Banks, Sigourney Weaver, Rupert Friend and Kate Mara. That one is set to go sometime next year, and we are currently pre-selling it at the American Film Market. We also have an amazing project that we have been developing and are now packaging called THE HALFWAY INITIATIVE, which was written by another AFI alum, Amy Whittenberger (AFI Class of 2013). We are ecstatic about that one and Amy is a truly remarkable writer!
Arielle: Most recently, I production designed the limited series MCMILLIONS on HBO, which premiered at Sundance. I am currently Art Directing on a new series for Disney+, which I'm not at liberty to share yet – but it's definitely one I'm excited about! And there are a few more Production Design projects down the line as well, which I can't wait to share when the time comes!
THE BLOODHOUND is currently available to stream on Arrow. Support your fellow alumni and watch it today!