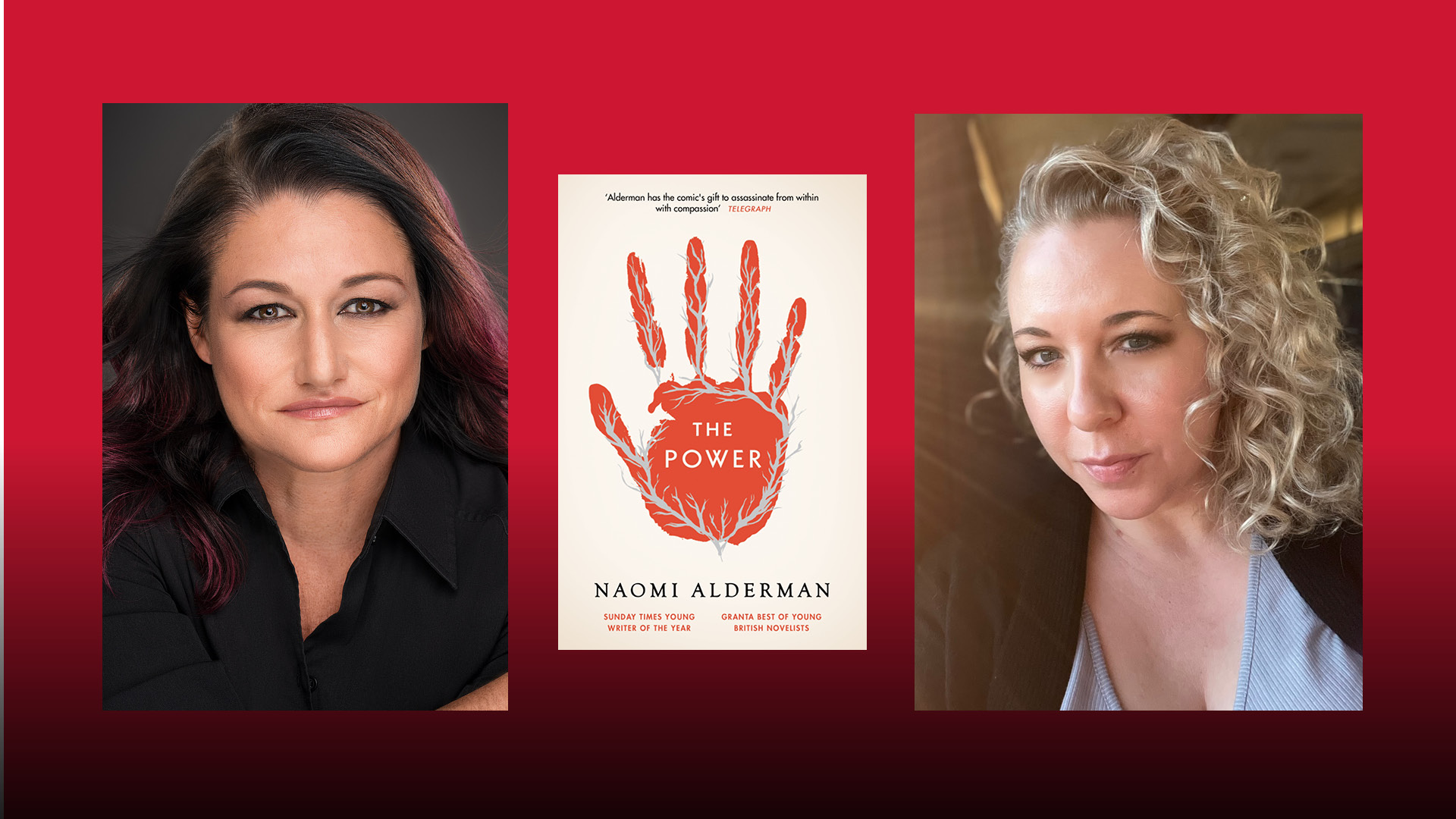 Catching up with Writers Raelle Tucker and Brennan Elizabeth Peters on THE POWER
Emmy®-nominated television writer, producer, and showrunner Raelle Tucker (AFI DWW Class of 2003) first crossed paths with writer Brennan Elizabeth Peters (AFI Class of 2015) when they were paired during AFI's Writers' Room Ready program to develop Brennan's first pilot "The Empress." Her script not only went on to win the AFI Writers' Room Ready Award in 2016, but also was named a Humanitas College Drama Award nominee.
Raelle, whose credits include TRUE BLOOD, THE RETURNED and JESSICA JONES, next brought Brennan on board her Blumhouse-produced anthology series SACRED LIES before enlisting her again for THE POWER – an ambitious adaptation of Naomi Alderman's 2016 bestselling novel which imagines a world in which young women, empowered by a genetic mutation that gives them the power to conduct electricity, find themselves the dominant sex in society. Originally hired for rewrites in the middle of production, Raelle and Brennan – along with staff writers Sue Chung and Michelle Hsu, found themselves tasked with a much larger restructuring of the series when two of the lead actors became unavailable for reshoots during the pandemic and were ultimately replaced. AFI spoke with the two AFI Alums about their collaboration during Writers' Room Ready, the unconventional process of creating THE POWER and the advice they would give emerging screenwriters.
AFI: Brennan, can you talk about your Writers' Room Ready experience and what it was like to have Raelle come on board as your mentor?
Brennan: For starters, it was a huge affirmation to have somebody who actually works in television read a script of yours and say, "this is good." That was amazing for my confidence right after graduating from AFI which I think is a really difficult transitional time for people. Raelle has been invaluable to my career ever since – introducing me to my agent, staffing me and we've worked together on several other projects since then. She's also a really excellent friend and mentor in the industry. When I tell people I work with Raelle, they are more willing to hire me because they know that I'm learning how to do things the right way.
AFI: Raelle, what was it like serving as a mentor for AFI's Writers Room Ready program and what was it about Brennan that impressed you from the start?
Raelle: Mentorship is really important to me. I came up at a time where there were very few women working in writers' rooms, and I really didn't know what I was doing and there was no one there to tell me that I didn't know what I was doing. After I agreed to serve as a mentor for Writers Room Ready, I was sent three scripts and one of them was Brennan's. I could pick who I wanted to mentor, which was really meaningful to me. I just really loved her script. I felt that it was one of the stronger pilots I had read in years, and it was hard for me to believe that she wasn't already a really successful working writer because it was so good. While we have very different backgrounds, her voice and my voice gel and I identified with her work on the page because I recognized a similarity in how we approach writing both structurally and character-wise.
AFI: How did you come to collaborate on SACRED LIES which marked Brennan's first full-time job in a writers' room?
Raelle: It had been a couple years since I had read this amazing sample of Brennan's and she had sent me other scripts, and I was confused being such a big fan of her writing why she wasn't already staffed. I thought, "I'm this person's mentor. I think they're so talented and they need to be on a writing staff," so I gave her the opportunity. While working together on SACRED LIES, Brennan was batting way above average – definitely above what I expected her to be able to do, having not been in a full-time writers' room before. She was really valuable to me on that show. After that experience, we started developing another pilot right away because when I find somebody who I have easy chemistry with and who doesn't take things personally and is really willing to dig in with me – the way I like to work, that's a very valuable person to me. I've tried to keep her close ever since.
AFI: Had you read THE POWER before joining the series and what about the story resonated with you?
Raelle: I read Naomi's book in 2016 when it first came out, and I was about halfway through when I called my agents and said, "why don't I get sent these things to adapt because this is the show that I should be making?" This is big and epic and global. It's got a message that I believe in. I thoughts here's this incredible feminist GAME OF THRONES but set in the modern-day world, but it was already in production and Naomi Alderman was running the writers' room. Then I got a call years later asking if I wanted to come in and help finish the show. To me, it was very much like the one that got away and it felt like something that was meant for me.
Brennan: I also read the book when it initially came out and it felt like a dream project. It's funny because when we wrote it, we felt like it would never be more relevant than at that moment. Now a year later it feels like it will never be more relevant than it is right now. The show is so layered and has so much nuance and such a diversity of characters that it's always going to feel super pertinent, which is the only work I'm really interested in doing.
AFI: Can you talk about joining THE POWER halfway through production and what your process was like in order to complete the series?
Raelle: Originally, we were just going to do some polishing and write some new scenes over the span of a few weeks. When Leslie Mann and Tim Robbins became unavailable for reshoots, it became a much bigger job because we had to go back into all that material and restructure it, rewrite it and change it for Toni Collette and Josh Charles. There was already so much beautiful material and performance in the show. It needed to be a little bit more linear, or move a little faster, but we got handed an incredible, epic show that they shot over multiple years with a lot of resources and an incredible cast. We came on board to glue all these pieces together and make sure that it was everything that everyone wanted it to be, and I do feel like we accomplished that.
Over a three-month period, I worked in London with an editor to dissect the show they had created and over Zoom with the writers to figure out what pieces were missing to fit into the editorial work that I was doing simultaneously. It was like a jigsaw puzzle. It was challenging, but my writers –Brennan especially, were incredibly instrumental. I would come back from the editing room and say, "ok, there's a plot hole between this storyline and this storyline. What's the solution?" We had such narrow parameters. It took a lot of precision from the writers and a deep knowledge of all the material. They had to look at it critically, understand what we could and couldn't do, and, based on what story pieces were missing, pitch toward those.
Brennan: I remember there was literally a whole day in the room where we had to breakdown storylines A, B and C from beginning to end. We constantly had to consider time of day and how much time we were condensing as we were working with what had been shot. There was a lot of creative problem-solving happening around the material that we'd been handed that we had to make work on a logistical level, which was a real challenge.
AFI: What advice do you have for up-and-coming AFI Fellows and Alumni who want to work in TV?
Brennan: First and foremost, listen to people who've been doing this longer than you. I think a lot of times new writers can feel a little precious and worry that they're going to lose their voice if they listen too much to the advice of people who've been doing this longer than they have. But your voice is something that's inherent. If you have to work really hard to have a voice, then there's probably not a lot there to begin with. Listen to the people who are trying to be helpful to you. The other thing that I have hanging on my wall is "Be interested, not interesting." Lean in, listen to other people and engage. Don't try to sound like the smartest, coolest person in the room.
Raelle: I would also say to trust the process. It's about the experience of making it with other people and trusting that the process that you're going through, even in challenging moments, is really important. You'll get through the other side of it and hopefully you'll be proud of what you made in the end. But even if we fail, the process of making things with other people and supporting each other and learning from each other is really worthwhile and why we should all be doing it.
THE POWER, starring Toni Collette, Josh Charles, John Leguizamo and more, is now streaming on Amazon Prime.