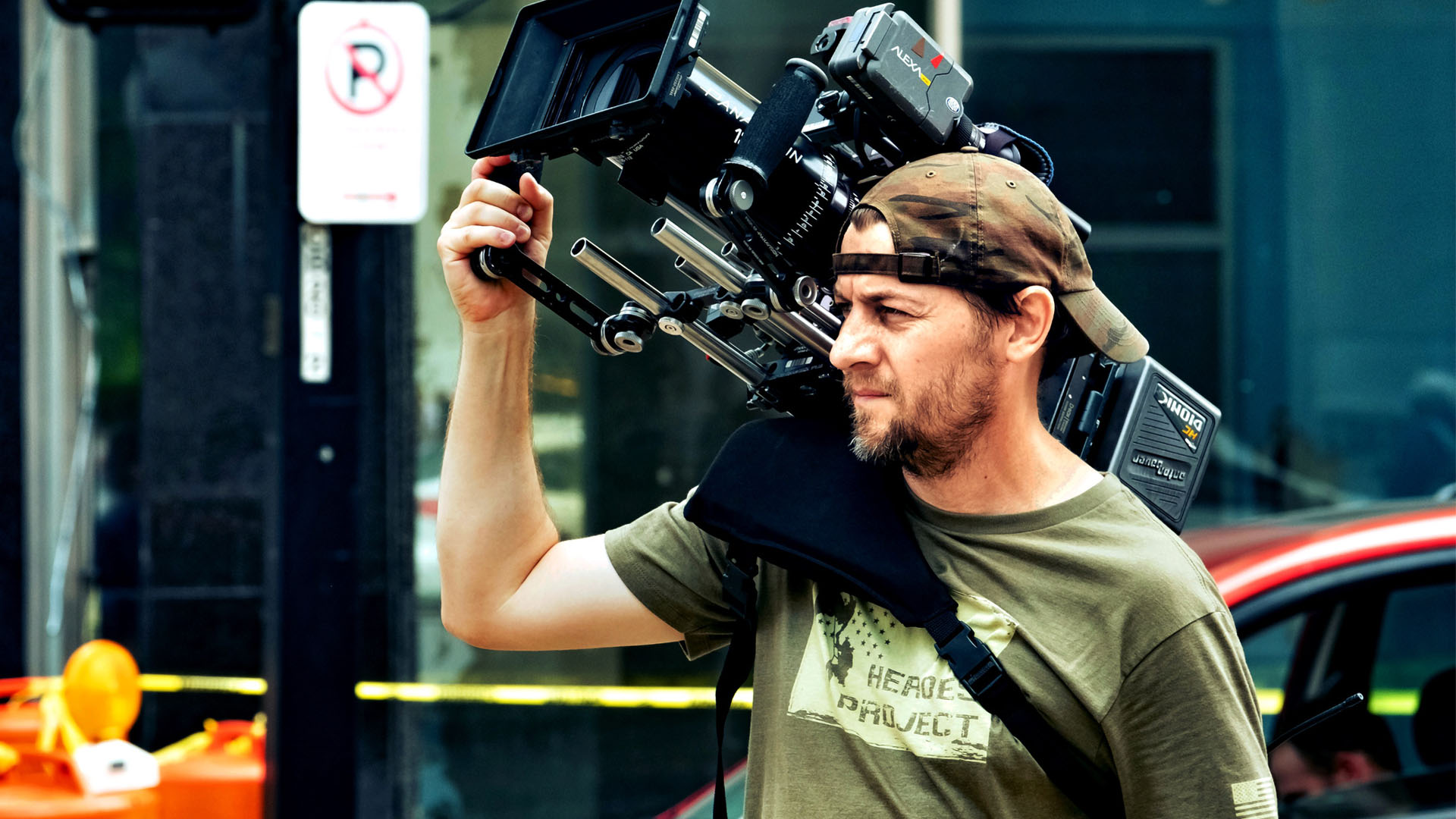 Cinematographer Brandon Cox on his SXSW Film CUT THROAT CITY and the Movies That Inspire Him
"Trust your eye." This is the mantra of cinematographer Brandon Cox (Class of 2004). His latest project, CUT THROAT CITY directed by Wu-Tang Clan's RZA, is set to premiere at the 2020 SXSW Festival. The film stars Shameik Moore, Demetrius Shipp Jr., Denzel Whitaker and Keean Johnson as four boyhood friends who return to New Orleans' Lower Ninth Ward after Hurricane Katrina to find their homes decimated. Unable to receive federal aid from the government, they turn to a local gangster who offers them help in exchange for pulling off a dangerous heist.
AFI recently spoke with Brandon about SXSW, his approach to filmmaking and the movies that have inspired him.
AFI: Congratulations on CUT THROAT CITY having its World Premiere at SXSW. What does it mean to you have the film debut at the festival?
BRANDON: It's a huge honor. I've never had a film premiere at a festival before, so this is a first for me. I know how prestigious SXSW is and how it can help propel buzz and hype for a movie. As for RZA, being part of the Wu-Tang Clan and having such strong ties to hip hop and music, I think it is the perfect festival for the film's premiere. I couldn't be happier and more honored to be part of this movie. It was a long journey, and I'm so glad to finally see the movie being recognized.
AFI: How did you become involved in the project?
BRANDON: I met Will Clevinger (producer, CUT THROAT CITY) through a director I've worked with six times, Steven C. Miller. Over the years, Will and I became friends. He approached me about doing the film. At the same time, a cinematographer by the name of Joseph White, who shot RZA's last film LOVE BEATS RHYME and has also worked with Steven, called me. Joseph was recovering from surgery and couldn't shoot the film. He liked my work and thought I would get along with RZA. He said, "I'm giving you my blessing. You should do this movie."
When I met with RZA, we didn't even talk about CUT THROAT CITY. We talked about martial arts movies – we both have a love for martial arts and Bruce Lee – RZA has an insane encyclopedic knowledge of Kung Fu and martial arts movies. We really just got to know each other, talked about our thoughts on life and the movies we love. It was probably one of the best meetings I've ever had.
AFI: Could you talk a little about your style and working with RZA?
BRANDON: When I graduated from AFI, I immediately went into camera operating on music videos. My eye is on the diopter when I'm operating and I feel a connection to what's going on, the actors and the story. I like moving with the actors, being in the action. I've done a lot of action movies – I don't mind guns being fired around me! Besides the director, I'm the closest person to the actor. I feel I can see things that people can't through a monitor. I just love doing it.
And working with RZA, the first things we spoke about were the characters intentions, what they wanted to do and the overall goal for each character. Visually, we discussed the movies we liked, what movies and directors were influencing us.
One of my mentors since I graduated from AFI, Lawrence Sher – he shot JOKER and six movies for Todd Phillips – developed a program that's in beta testing at the moment called ShotDeck. It's has about a 100,000 stills from movies that he has captured and cataloged. For CUT THROAT CITY, I picked out over a hundred stills from different movies, from TRAINING DAY, DOPE, MISSISSIPPI BURNING to KILLING THEM SOFTLY and MOONLIGHT. I printed out all these stills and put them on the walls, so that anyone on the creative team, even the PA's if they wanted to, could look at what we were trying to do and feel engulfed in the visuals. RZA loved that. He immediately responded to that.
Photo: Brandon on set of CUT THROAT CITY with director RZA
AFI: What are some of the memorable moments from shooting CUT THROAT CITY?
BRANDON: We actually shot in the Lower Ninth Ward where the levee broke. It was a real eye opener because there are people who still don't have running water or power. It's 15 years later and still that neighborhood is trying to recover.
And from the script, there is a particular scene with T.I. and Terrence Howard – T.I. plays the upcoming guy who is really taking advantage of the situation to make money and Terrence Howard is the old regime in New Orleans – the dialogue exchange and acting is incredible and it was great to watch.
AFI: You mentioned you've collaborated with director Steven C. Miller six times. How did you meet and what do you think contributes to your good director-cinematographer relationship?  
BRANDON: I shot HEIST (starring Robert De Niro and Jeffrey Dean Morgan) for Emmett/Furla Films. One of the executive producers was doing a Bruce Willis film called EXTRACTION and wanted me to meet with Steven, who was the director. We met and immediately bonded. Steven is an editor by background and works incredibly fast. We've been told to slow down because one day I think we did 180 setups – that's a running joke on our movies. We average between 70-80 setups a day. Our last film called LINE OF DUTY with Aaron Eckhart was a 90-minute roller coaster ride of nonstop action.
Steve and I are cinematic brothers –  We both love movies. We both love cinema. We always try to best ourselves and make a better movie than the last one. Having somebody that you really can trust – that's super important. If you don't have a connection and trust with the person you're working with, it's probably not going to really work out. That trust is the glue to our relationship.
Photo: Brandon and Steven C. Miller on set of LINE OF DUTY
AFI: Many of your recent films have been in the heist genre. What is your favorite movie in the heist/action genre?   
BRANDON: I've always been a fan of the OCEANS films and bank robbery films. One of my favorites is Michael Mann's HEAT. I think that movie is a masterpiece, with the actors, the tone, the way it's shot, the score, the editing. It's all great.
While at AFI, I was lucky enough to actually be taught lighting by Dante Spinotti, the cinematographer of HEAT, at one of the light classes at Mole Richardson.  I remember the first HLMS Seminar I went to – I wasn't supposed to go to actually – with Janusz Kamiński. It was for the second year Fellows, but I was such a huge fan, so I snuck in. I was so nervous. It was worth it.
AFI: Aside from sneaking into seminars, can you share something from your time at the AFI Conservatory that you have applied to your career? 
BRANDON: I attended AFI Conservatory from 2002-2004, Bill Dill was the cinematography chair. One thing he constantly repeated that's always stuck with me was, "Walk boldly on set." Not meaning that you walk on the set with an ego and say that you are God's gift to the earth. Be humble but don't be afraid to command the set. Believe in yourself and believe in what you're doing. Don't be afraid to fail but learn from your failures and make it better next time.
Shooting music videos after AFI was a huge experimentation lab for me, and a lot of those things I wouldn't have done if I didn't have that training at AFI. It prepared me to walk onto any set, big or small. Still today, I hear Bill's voice on set. I saw him at the ASC Awards a few weeks ago and told him that it's a blessing and curse that I hear his voice in my head when I'm working. He laughed!
AFI: Thank you so much for speaking taking the time to speak with us. As we wrap up, is there any advice you have for the current class of Fellows at AFI?
BRANDON: You can't be afraid to fail – and I think a lot of young cinematographers are afraid to try things that are outside of a comfort zone. When you're at film school, you have to try things. Some of them work, some of them may not work.
The lessons that I've taken from all of the DP's who have been mentors are: don't quit, keep going, believe in what you're doing and trust your eye. And be fearless on set with your lights.