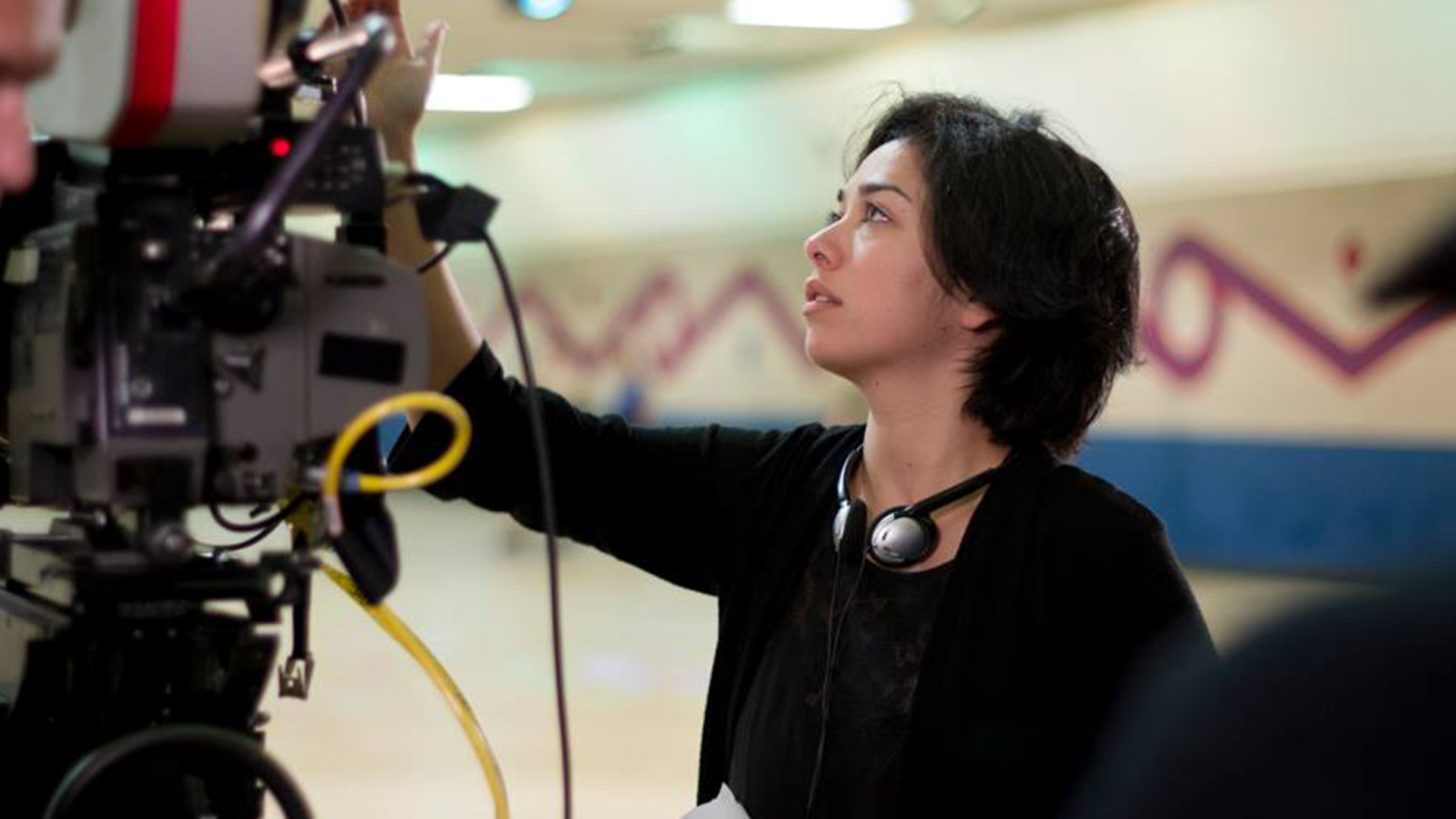 Catching up with Writer/Director Chloe Okuno
Upon graduating from UC Berkeley, writer/director Chloe Okuno (AFI Class of 2014) turned her attention to filmmaking, applying to the AFI Conservatory's Directing program to help train and prepare her for the road ahead. While at AFI, she thrived, making the award-winning horror film SLUT and receiving the prestigious Franklin J. Shaffner Fellow Award.
Inspired by the work of masters including David Fincher, Sofia Coppola, John Carpenter and Hal Ashby, Okuno has carved out a niche directing smart, psychological horror films. She wrote and directed a segment of the anthology series V/H/S/94, which had its World Premiere at Fantastic Fest in 2021. Her feature directorial debut WATCHER, which reunited her with cinematographer Benjamin Nielsen and editor Michael Block (both AFI Class of 2014), was filmed during the height of the pandemic in Romania. Following WATCHER's World Premiere at the Sundance Film Festival earlier this year, RogerEbert.com called the film "an old-fashioned thriller with a modern heartbeat [and] an announcement of Okuno as a major talent to watch." In March, WATCHER and BODIES BODIES BODIES, which she co-wrote, both screened at the 2022 SXSW Film Festival.
AFI spoke with Okuno about what initially drew her to the AFI Conservatory, why the horror genre resonates so deeply and her approach to directing the upcoming true crime drama RODNEY & SHERYL, starring Anna Kendrick.
AFI: Congratulations on having two films at SXSW – WATCHER and BODIES, BODIES, BODIES! What does it mean for you to screen your films at the festival this year and to play in front of an audience that will be there in person for the first time in three years?
Chloe: Thank you! Under any circumstances it would feel incredible to have a movie at SXSW, but this is also the first time I'll be seeing the finished movie with an audience, so it's particularly exciting.
AFI: Can you talk about your experience reuniting with cinematographer Benjamin Nielsen and editor Michael Block who were at AFI with you and how you formed a close collaboration during the making of WATCHER?
Chloe: Block, Benji and I all worked on our AFI thesis film SLUT together, which was a very wonderful and very challenging experience. I advocated strongly for them to come on board the feature because I knew how great they both are at what they do. And I also felt like it would be a huge benefit to work with people who I already shared a common language with – both from our work together on SLUT and generally our background as AFI-ers. We approach filmmaking the same ways – rooted in telling the story and the emotional arc of the characters. I know that sounds very basic, but surprisingly not everyone works that way.
AFI: What is it about the horror genre that resonates so strongly for you? 
Chloe: I find horror speaks to emotions in a way that is more accessible for people who are repressed. It's easier to channel uncomfortable feelings when you're doing it through the metaphor of monsters. I am also very fearful generally, so I very much relate to people in horror movies.
AFI: When you decided to go to film school, what made the AFI Conservatory stand out? 
Chloe: I liked that it was a two-year program, and I really liked that it seemed to be about learning through doing and by actually making as many movies as possible within that time period. But the biggest factor in applying to AFI was this: When I made one of my first short films as a 19-year-old with no connections or resources, I drove up to the AFI campus and posted a note on a communal board looking for a DP (because I heard the best ones were at AFI). I got one response and that person ended up shooting my short film. He brought on quite a few of his classmates to work with him, and it became very clear that they had a super tight bond, based around this AFI background. More than anything, I wanted to find those essential creative collaborators.
AFI: What is some of the best filmmaking advice you received from AFI Faculty and/or your peers at the Conservatory? 
Chloe: "Acceptable is not acceptable" is one that always sticks in my mind from AFI Faculty Andy Wolk. It's just a good reminder not to settle. It's so hard when you're the one in the center of the spotlight, making creative decisions that directly impact everyone around you. Unfortunately, as a woman, it's sort of been drilled into me from birth not to kick up a fuss or make things in any way difficult for the people around me. But at the end of the day, you're the person on set who has to push to make sure you're getting what you need.
AFI: As an AFI Alum, can you describe some of the tools that AFI armed you with as a filmmaker? What lessons did you learn that you still use in your career?
Chloe: Narrative point of view is probably the biggest one. I always try to build the visual language around the emotions of our protagonist – definitely a lesson I took away from my time at AFI.
AFI: You recently became attached to direct the upcoming film RODNEY & SHERYL. What drew you to the project and made you want to be part of it?
Chloe: I was already aware of the Rodney Alcala story prior to reading the script. He's a serial killer who operated largely in the '70s throughout California and was convicted of murdering five women but is believed to be responsible for potentially dozens more. He also appeared on THE DATING GAME in 1978 (after he'd already murdered at least one woman). I watched the clip of his appearance on the show and found it deeply strange and unsettling.
Ian McDonald's very brilliant script is inspired by the real-life bachelorette on the show – Cheryl Bradshaw. The film allows us to explore not just Rodney Alcala, the killer, but also the larger culture that allowed him to flourish. It builds in a very basic contrast between two different realities. There is the reality of THE DATING GAME, which presents a cartoonish, hyper-idealized version of the way men and women interact. Then, there is the reality that Cheryl encounters in her day-to-day life as a woman and working actress, which is a much darker proposition.