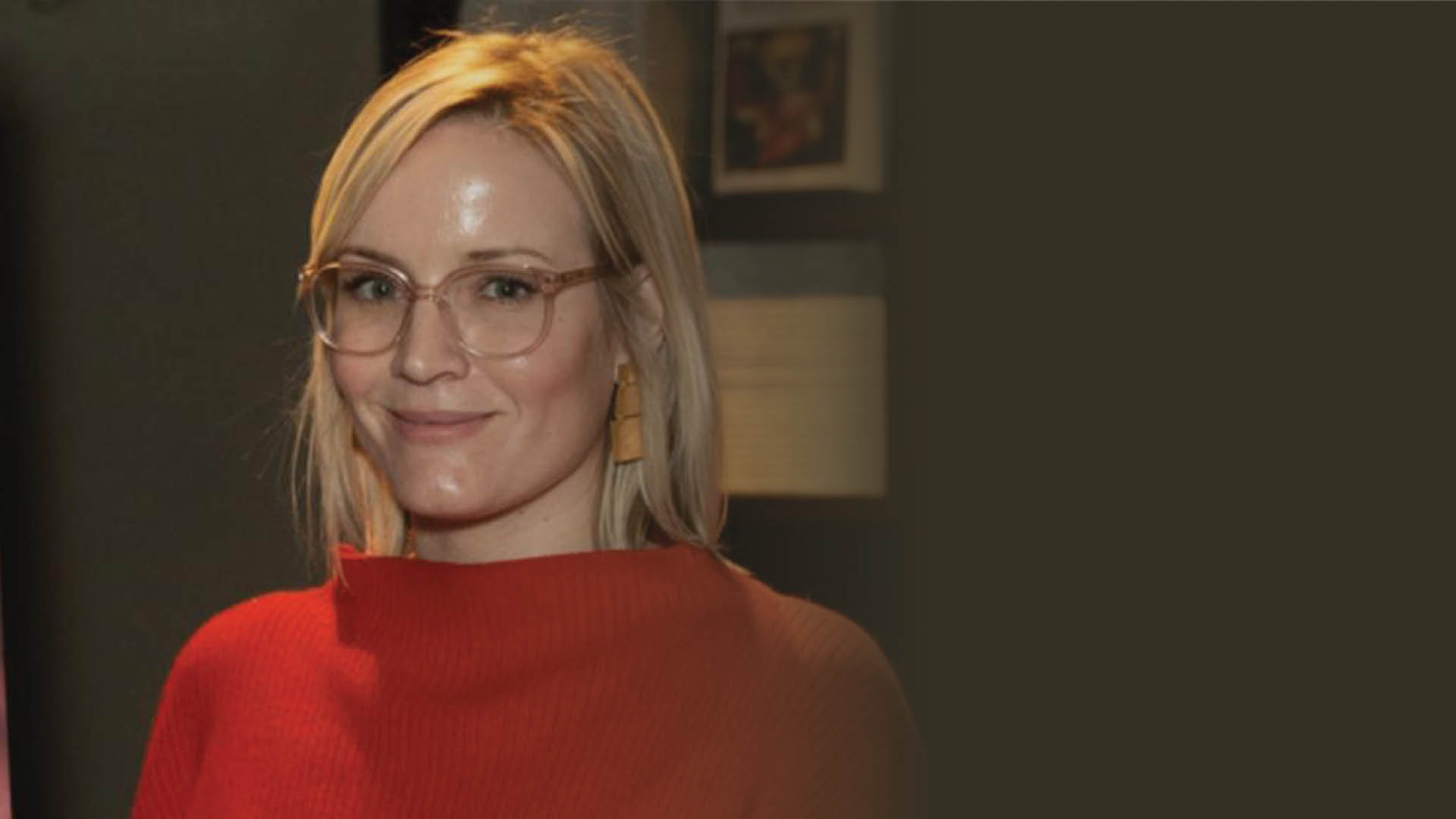 Catching up with Production Designer and AFI Alum Erin Magill
This month, AFI is catching up with Production Designer Erin Magill (AFI Class of 2012). During her time at AFI, Erin received the prestigious Fisher Fellow Award, awarded to a Fellow who best personifies the philosophy of filmmaking as a collaborative art form.
As a production designer, Erin has created the worlds for indie comedies like BRITTANY RUNS A MARATHON and HEARTS BEAT LOUD and dramatic thrillers like THE QUARRY and SWALLOW. Her art department credits include MAD MEN, SCANDAL, POPSTAR: NEVER STOP NEVER STOPPING and STRAIGHT OUTTA COMPTON – and she previously worked at Pixar Animation Studios in the art department on RATATOUILLE and TOY STORY 3.
AFI spoke with Erin about her path to becoming a production designer, paying homage to the Riot Grrrl movement in the recent Netflix film MOXIE and world building in an upcoming Showtime variety series starring the comedian Ziwe.
AFI: What first inspired you to pursue production design? 
Erin: There was a pivotal moment, but I had always been a creative, artistic kid. My mom encouraged those skills with all sorts of art classes, drawing classes, carpentry classes. She was a creative person – she actually worked in interior design at a corporate level. She would take us to museums all the time, and she was also really into movies. I grew up watching far more TV shows and movies than I should have! I went into my undergrad at UC Davis as a Communications major, but that wasn't what I really wanted. Thankfully, a friend introduced me to the UC Davis design program, which covered a wide gamut of design, from architecture to graphic design to art history. I was also minoring in film, but it was much more of film history and film theory, nothing practical like at AFI making short films. I took a course taught by production designer, John Iacovelli, who works a lot in the theater but also in TV and film. He did a production design-centric lecture once and showed us these behind-the-scenes photos from HONEY I SHRUNK THE KIDS, which he worked on. He was showing us images of the making of these giant blades of grass and Legos and that oversized world, and I thought, "That seems like a really cool job." As much as I was learning Photoshop and Illustrator, I didn't want to sit at the computer all day long. I didn't really know a lot about production design at that time, but that class started me on the journey to figure it out.
AFI: Can you talk about what your creative process is like as a production designer? What do you use for inspiration for your lookbooks? 
Erin: My process always starts by reading the script – taking it in for the first time – and then reading it again, thinking about what the script is trying to say, what is the story about and my interpretation. There is a process of making an initial lookbook and meeting with the writer, director and producers about it. Once you are on board, it's about continuing a lot of those conversation and asking a lot of questions about the story or characters or things that aren't written in the script but are necessary to build out the world and give your own team direction.
For lookbooks, I tend to use a lot of photography. I don't use as many films as references – I find them really useful when we are talking about a certain mood or tone or camera movements that the cinematographer wants to do. I tend to take a lot more from other photographer's images and photos that I take myself, and all sorts of architectural books and old magazines. On one level, I am trying to capture the basics of who the characters are and the world they are living in and the kind of world it is. But then there is a lot of imagery I'll use to give hints of color palettes or mood and the world I am hoping to create and have the cinematographer and director capture.
AFI: How do you build a rapport with directors, especially ones you haven't work with before? 
Erin: The creative process is different for everyone. Every film and story is different, and the restraints you're dealing with are different. For me, it's all about those initial conversations. I can ask questions of the director that will help inform the choices I'm going to make in creating a design concept. But then there is another level of challenge: how people visualize is different. Some need a SketchUp model or an actual model made or they need to go to the actual location and have me walk them through it. For some directors I've worked with, I can throw a collage together of four images that seemingly don't make any sense to other people, but it makes total sense to them. So it's just finding out where they fall on that spectrum and forming a common language with them. That helps build a level of trust, especially when you don't have the luxury of time.
AFI: You recently worked on MOXIE, which was directed by Amy Poehler and released on Netflix in March. How did you become involved in the film and what made you want to be part of the project?
Erin: My agent sent me the script. I knew it was based on a very popular YA book, but I hadn't read it. I was more than happy to meet with Amy Poehler because I adored her and her talents on PARKS AND REC. On the business side, it was going to be the largest budget film I was going to have a chance to work on and it was for Netflix, and those were definite positives. On a creative level, I appreciated the values in MOXIE as a coming-of-age teenage film. It was not the kind of teenage films I grew up with. Although I loved them, when you look back, some of the politics and choices made [in those films] are inappropriate nowadays for teenage viewing. I really enjoyed that about the script. I also really appreciated – although it was a fictional character – the connection to the real Riot Grrrl movement.
For me as a designer, the research aspect for any story, no matter what it is, is always something I love. Going deep into the Riot Grrrl movement and just the idea of what they stood for and their artwork and expression and collage, as a designer there were so many things that were exciting to me – not only how we could pay homage to them respectfully and appropriately, but also try to use some of their style and concepts and reinterpret them in the design of the film. All of that was really exciting to talk to Amy about. And we had a great initial conversation and that's what drew me to it and want to come on board.
AFI: Can you share with us any updates about some of your current projects?
Erin: I wrapped a variety show titled ZIWE at the end of February. It will be premiering on Showtime on May 9. Ziwe is a comedian and late night comedy writer; she started her career very early on as an intern on THE COLBERT SHOW. A few years ago, she had done her own YouTube series called BAITED, interviewing her friends and fellow comedians about race and other issues. In a Colbert way, she would play a bit of a personality and had some standard questions she would ask. That led to her doing a lot of Instagram Live interviews in a similar vein this last spring while we were all on lockdown. Then with George Floyd and Breonna Taylor and the Black Lives Matter protests, more people started watching and paying attention to what she was saying and the conversations she was starting. Showtime offered her a straight-to-series six-episode half-hour variety show in October. We shot it all in January and February in New York. All on stage. It was the first time I had designed a series that was an entire build. I'm sure in non-COVID times we would have gone out to a location for some things, but because of COVID we were contained to the stage. There is an interview portion, a sketch portion and a music video portion in each episode. And each one has a different theme. I'm very, very excited about it.
As a designer, did I necessarily have on my wish list designing a variety show? Honestly, absolutely not, but when I met with Ziwe and started reading the scripts, it was really exciting to me in terms of the content and the types of questions she was asking. There was a layer of very hysterically written comedy about a subject matter that really does need to be discussed. And if the way we are going to get people to talk about it and continue the conversation is with comedy, then it was absolutely something that I wanted to be a part of. It was a very exciting challenge and a lot of fun. I can't wait for it to be out there and for people to watch it.
AFI: Your filmography is very eclectic, including comedies, dramas and period pieces across film and television. What draws you to these different genres? And do you prefer working in film or TV?
Erin: I had the path of working early on as an assistant, getting into the union, working as an assistant art director for a few years with a few different people, then as an art director – that is a little why my art directing credits are a bit all over the place! There were certain designers that I would get hired by again and again; it was whatever project they were doing, and I was hopping on board. I had less of a say other than that I was happy to have a job, but it was people I liked working for, and I was happy to have the opportunity to learn from them. As I got the opportunity to design and have continued to, it is a privilege to be discerning in the projects that I accept. I always attempt to pick projects where it is about the story and I am attracted to the story for some reason – or it's a perspective that I haven't necessarily heard before or the story is saying something in a new way about something I think should be on the screen, or maybe it's a classic narrative but visually they are talking about interpreting it in a new way. It consumes so much of my time when I take on a project, there has to be something for me that will make me want to wake up every day and do it.
And since it's more about what the story is, I enjoy working in both film and TV. I am interested in world building, including ones that can exist in a comedy, like what I did with the ZIWE project because it was a very specific kind of world we were creating. On a film level, I've always said the world building of CHILDREN OF MEN, where to a degree it is subtle, more subtle than the world building of STAR WARS, something like that is really always exciting to me – dealing with the restraints or what are the rules of the world you are working with and how you can design within that.
AFI: What did you learn at the AFI Conservatory that you continue to carry with you onto film sets?
Erin: Two things. The foundation that the story and the script and the characters are driving every choice that I make as a designer. And definitely the collaboration. On certain projects, I may be very proud of the design work, but, when I look at the films that I'm most proud of, it's when I really see and know that – for a variety of reasons – the costume designer, the cinematographer, the director and I were very much on the same page and collaborated in a way that shows on screen. And it's really exciting when that happens.
I feel like AFI really instilled a lot of the conversations about the power of collaboration and the importance of it. I sometimes meet people who don't quite understand what a production designer does or can do for their project. We're there to help build a better world for the director or the cinematographer. I think about it a lot, and I'm very grateful that AFI instilled the importance of those relationships and helping each other out.
AFI: What advice would you give to someone interested in a career in production design or the art department? 
Erin: There is definitely not one path to becoming a designer. I went into AFI wanting to learn about production design and become a production designer. I came from a background of working at Pixar animation studios. While there are similarities within animation, there are obviously some major differences in terms of the world when working in live action. One of the great things about AFI was having teachers who were working in the industry. Frankly, I learned what the set decorator, set designer and assistant art director do and what those different jobs meant. It was really helpful. I really appreciated getting to learn about all those positions and learning what matched my skillset. A connection with one of my teachers at AFI led to my first job as an art department assistant on MAD MEN. That was a well-oiled, exceptional art department. I learned a great deal – how the roles are supposed to interact and work with one another – and got into the union that way.
Reach out to people and go out to coffee with them. I looked up my favorite films on IMDb and emailed the designer or the art director or set decorator and had coffee with them to hear their story of how they got into the business. That will help you find your way. You will start to hear that there is no one way and everyone has their own unique story, but that process will help you eventually find the spot for you in the art department.