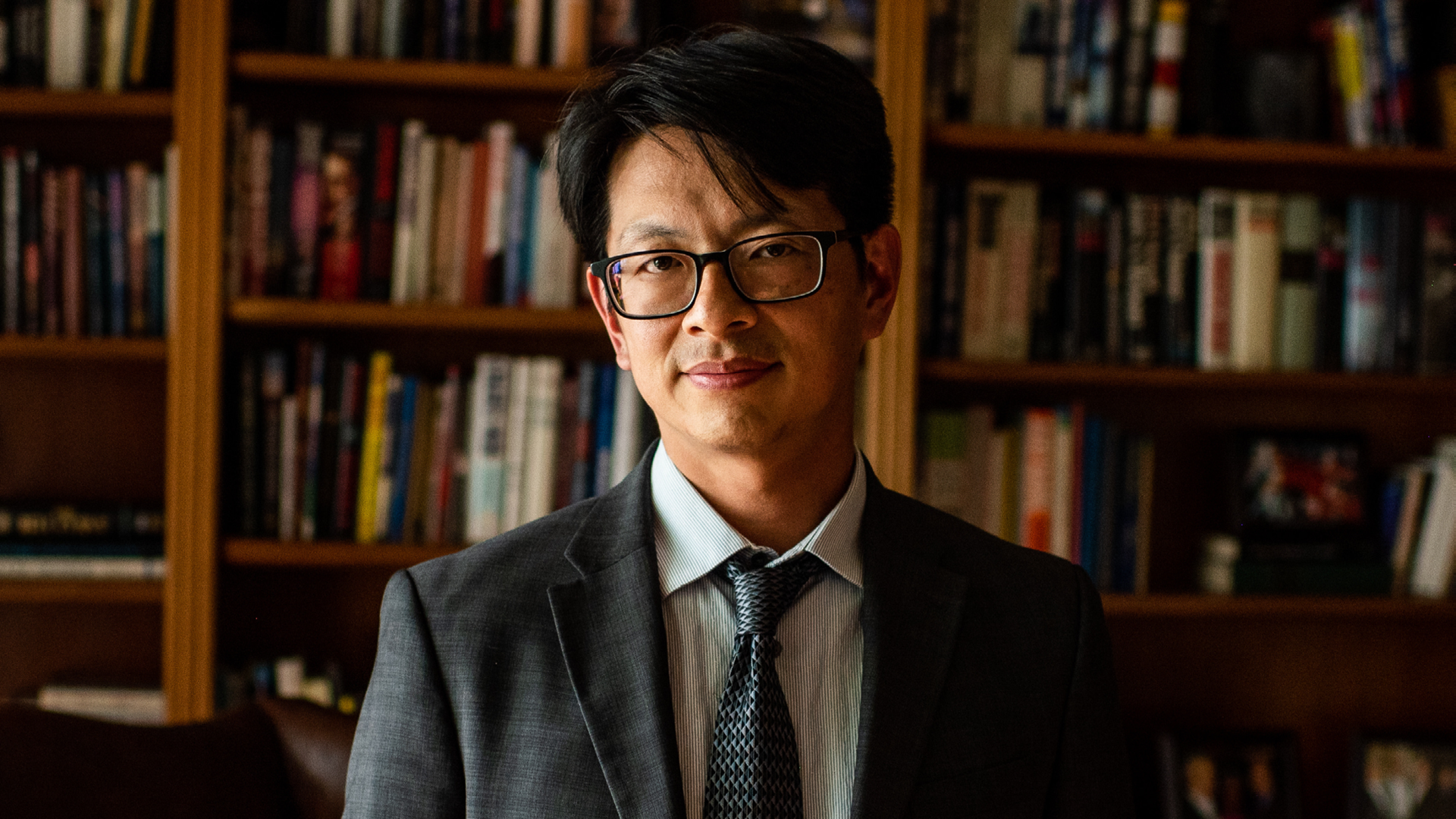 Catching Up with PACHINKO Writer Franklin Rho
Hailing from Richmond, Virginia, writer Franklin Rho (AFI Class of 2004) grew up with a passion for auteur-driven arthouse cinema which ultimately led him to the Directing Program at the AFI Conservatory. His thesis film THE MONSTER AND THE PEANUT, which played at myriad film festivals, was the recipient of a grant from the Alfred P. Sloan Foundation and won the first prize Emmy® for Best Dramatic Student film in 2004 from the Academy of Television Arts and Sciences. Prior to breaking into television, Franklin was a Film Independent Project Involve Directing Fellow and a Coalition of Asian Pacifics in Entertainment (CAPE) New Writers Fellow.
Recently, Franklin was a creator in the Rideback TV Incubator, developing alongside Rideback and MRC, "The Beautiful South," a drama centered around an interracial couple adjusting to life in Appalachia. After receiving his first TV writing credit on THE EXORCIST (2016), Franklin has hit his stride as a writer and was most recently staffed as an Executive Story Editor on PACHINKO which just premiered on Apple TV Plus. Created by Soo Hugh and adapted from the acclaimed novel by Min Jin Lee, the sweeping, sumptuous epic chronicles four generations of a Korean immigrant family living in Japan and the reverberating impact of colonial rule in Korea. Directed by Justin Chon and Kogonada, PACHINKO stars Academy Award® winner Youn Yuh-jung, as well as a new generation of extraordinary talent including Min-Ha Kim, Lee Min-Ho and Jin Ha.
AFI spoke with Franklin about navigating his own path in episodic television, his experience in the writers' room on PACHINKO and the importance of underrepresented voices in film and television.
AFI: How did your filmmaking journey begin and what led you to the AFI Conservatory?
Franklin: I moved to New York from Virginia where I grew up, but I had no connections to the industry and was still figuring out how to break in. I worked in production, post-production and made a couple of short films. New York was the epicenter of indie filmmaking back then and that's where a lot of my inspiration and interests lay. It was the typical ups and downs of being a freelancer and then 9/11 happened, which made me really start considering what I wanted in the long run.
At that point, AFI was on my radar. I'd been a director's assistant on this indie feature and a lot of the crew had gone to AFI. That's when I started thinking about film school. AFI was by far and away the one program where I thought this makes a lot of sense for me and, if I can get in, it would be worth doing. I didn't know a thing about LA. It was very daunting to move across country. Getting into film school was really important for me because it gave me a base and a home and a way to meet people.
AFI: Tell me what you took away from your experience in the directing program at AFI.
Franklin: "Collaboration" was the key word at AFI and it's no joke. This was part of my own growth process, coming from a world where auteurs were celebrated, and indie filmmakers and individual genius was kind of buzzy. I understand where auteur theory comes from and I think creative vision is important, but I think we need a different vocabulary – something that celebrates something much greater than oneself. I think collaboration is the word that hints at it but doesn't totally get to the heart of a newer model that reflects how important it is to have a balance between a distinct creative vision and also amplifying the many talents that are necessary, especially to make something as large-scale as episodic television.
AFI: Can you talk about your transition from directing to focusing on writing full time?
Franklin: At the time, I thought I'd make an indie film and that was going to be what would get me on the radar as my calling card. But nobody was knocking down my door to be like, "here's your $1-4 million dollars to go make your indie feature." So I just focused on writing and kept writing and honestly kept failing for years. I distinctly remember it was right around the time that FRIDAY NIGHT LIGHTS came out that things started to take a turn. That's the show that got me interested in episodic television because before that I didn't have access to shows like THE SOPRANOS or SIX FEET UNDER. And, speaking to my own limitations, I was definitely a film snob. I was going to do features or nothing. But when I saw FRIDAY NIGHT LIGHTS, I began to realize that there's this whole other world that I'd been blind to. That really opened my eyes, and then I started taking classes to figure out how to write in an episodic format and it introduced me to a community of other episodic writers.
Then I got my first assistant gig on a miniseries called THE ASSETS. The people I worked with were wonderful, and it was one of those critical stepping stones without which the rest doesn't happen. I got that job and my bosses on that show were responsible for my second and third jobs and eventually I ended up on THE EXORCIST. That was the show where they read me and gave me a shared credit and then said if we come back for Season 2, we're going to fight to staff you. And, you know, people talk all the time and sometimes these things don't happen, but they delivered, and I got my first staff gig on the second season of THE EXORCIST and have been working as a writer ever since.
AFI: How did you first connect with Soo Hugh and join the writing staff of PACHINKO?
Franklin: When I first heard they were turning "Pachinko" into an adaptation, it was pre-MINARI, pre-SQUID GAME, pre-all things K-drama. I mean, Korean drama existed, but there really was no Korean American television. It was literally like Steven Yeun in THE WALKING DEAD and John Cho and that's it. It's a very different landscape we're in now.
I knew about the novel which my mother-in-law had given me to read. When I heard the news in the trades that it was going to be adapted, I said to my reps that I'll do whatever it takes. Wherever the door closes, it closes, but I'm going to chase this because who knows when an opportunity like this will come again. I had worked with a couple of people who had worked with Soo. I reached out to creator Veena Sud and also Adam Stein who was a writer on THE EXORCIST, who had both worked with her before. And that certainly helped. It was a wait. A couple of times, I thought the answer was "no," but eventually I got an offer and three days later I was on a flight to New York.
AFI: Describe your experience as a writer on the series and what the room was like?
Franklin: Soo had broken a lot of the story in advance, so when I came on the show, she already had a very clear idea of the outline. It was going to be four seasons, eight episodes each. And she understood what the out-points for Season 1 were going to be. It's certainly the most academically rigorous room I've ever been a part of because of us needing to bring authenticity to the history covered in the show. Soo brings a certain scholasticism, which isn't to diminish other people I've worked with; it's just that the content itself really demanded a real commitment to the research in order to talk about colonialism through a lot of different lenses. There's such a strong foundation on which the show is made. Min's novel is such a phenomenal book and obviously well-researched. So it was almost like retracing some of those steps, but then going in a different direction and making it our own for the series.
AFI: PACHINKO marks the first major trilingual U.S. series to hit the small screen. How did you ensure the authenticity of the characters and these communities while also making it accessible knowing it would be on a platform that predominantly serves a Western, English-speaking audience?
Franklin: I don't know that Min's book had played that well to Korea as a market. It is a different sensibility. What appeals to Korean Americans is not exactly the same as what might appeal to people in Korea. When we were in the room, there was a lot of research and a lot of reading. I remember reading one book I was assigned – a book by Richard E. Kim – and it was about his own remembrances and talking about what it was like to grow up in Korea during colonial rule. Everything I read in that book is consistent with what's in the show. And Soo just picked a great selection of source texts to help fill out the world. We read Korean poets, historical texts and folktales were a part of it as well. All the material contributed to us better understanding something that took place 100 years ago.
The commitment to have Japanese and Korean was there from the start, but the question of what that balance should be was always at the forefront of our minds because people's interest and tolerance for subtitles and foreign languages – it's a huge variable when you're talking about pulling in a western audience. I think that was certainly a constant conversation, but I think Soo and the room, we were all committed to the source text and knew it had to be that and be very forward about it. And hopefully it will find that audience.
AFI:  Can you talk more about the Korean and Korean American creative forces that came together to shape PACHINKO and working on a project with such incredible talent?
Franklin: I mean, we had Justin Chon and Kogonada as directors who are distinctly Korean American. And then you have the Korean filmmaking machine where there's such a wealth of talent. Like when Soo was casting, she was able to find someone like Min-ha, who plays teenage Sunja in a major, breakthrough role. It is like a machine similar to how K-Pop has been built. I think you're going to see more and more talent coming out of Korea.
AFI: What do you hope audiences take away from the series?
Franklin: It is true of most storytelling and it's certainly true of what I got from the book, which is that it is so humanizing. It is this weird tension and paradox because it's so hyper-specific to the experience of being Korean and a Korean worldview and what it's like to be colonized, but the story is also relatable to so many communities as an oppressed people. To my surprise, it has resonated with other communities. It is the story of a woman who perseveres despite not having any of the advantages granted to so many others in life and learns to survive and then thrive. It's hard for that story not to resonate with tons of people who feel like the camera has always been on these heroes who have been mostly men and white, so I think people are starved for stories that are finally giving a proper due to other kinds of heroes and other models of heroism.
In an interview with Theresa Kang-Lowe who was instrumental in getting PACHINKO made, she said she wanted to make sure that she was meeting with people who, even if they weren't Korean or Asian, then maybe they were immigrants or kids of immigrants. Because there is an instant connection people get and a shorthand when you've had that experience and are able to understand it on a more direct level.
AFI: What advice do you have for other AFI Alumni who are looking to enter the industry?
Franklin: Hopefully I can inspire others by the fact that there certainly has been an element of perseverance to my journey. But more important than the perseverance aspect of what has helped me find some success, is malleability. I was set on one specific path early on and thinking that I had so much control over that and, of course, that's absurd. I followed a model that certainly exists but is also just not available to everybody. My advice for filmmakers interested in breaking in is – and I'm co-opting Bruce Lee's famous quote – but "be like water." Don't be afraid to see where things flow and try to understand that wherever you are, it isn't the end. Sometimes a dead end is a growth opportunity in terms of what you've learned via that experience.
I consider myself very fortunate. I'm at a certain place where I've been able to work on something really amazing. I've been able to work on a number of other shows that I think are really fantastic and to work with other writers who have been so helpful along my career trajectory. I think a balance of humility and courage is what you're looking for – that is what I continue to try to embrace as a philosophy.