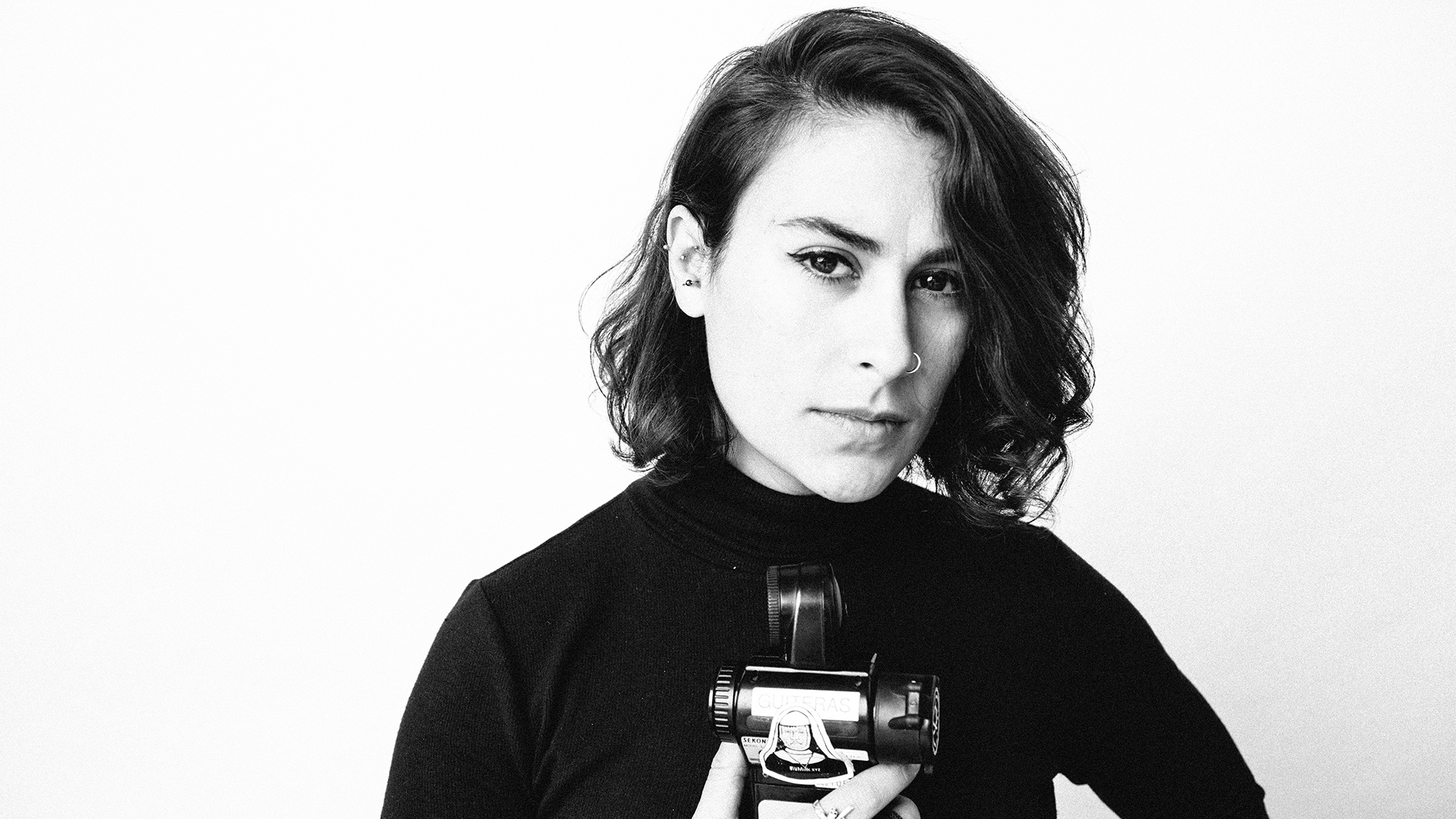 Catching up with MA BELLE, MY BEAUTY Cinematographer and AFI Alum Lauren Guiteras
MA BELLE, MY BEAUTY, shot by cinematographer Lauren Guiteras (AFI Class of 2017), is a transportive, cross-cultural love story set in the south of France, which follows the polyamorous relationship of Lane (Hannah Pepper), Bertie (Idella Johnson) and Fred (Lucien Guignard). Following its premiere at the 2021 Sundance Film Festival, MA BELLE, MY BEAUTY won the Audience Award in the NEXT category and will play in the "Festival Favorites" section at the South by Southwest Film Festival later this month.
Throughout her burgeoning career, Guiteras has demonstrated her versatility, shooting narrative features, shorts, documentaries, music videos, and branded content in the U.S. and internationally. Variety, in its review of MA BELLE, MY BEAUTY, praised her style of atmospheric cinematography, noting that "Lauren Guiteras seize[s] the light in ways that suggest the unfolding dramas — while ouchy — are part and parcel of a life worth grabbing hold of."
AFI spoke with Guiteras about her collaboration on the film with director Marion Hill, her experience in the Cinematography program at AFI and the advice she would impart to current Fellows and recent alumni.
AFI: Congratulations on winning the NEXT Audience Award at Sundance! How does it feel to premiere the film at the festival (even remotely) and now have it play at SXSW?
Lauren: Thank you so much. It was definitely a bittersweet experience to see the film from home, especially because I've never attended Sundance or SXSW in person. But I'm thrilled that between both virtual screenings more people will get to see it. I love that people who normally would not have been able to attend film festivals (like my parents) get to participate in and enjoy some small part of them now. I hope virtual screenings will remain accessible even after we go back to attending festivals in person. For all that I am missing about the collective experience of watching films in a theater, I am grateful for the dream come true that is shooting films I am proud of and getting to share them with others.
AFI: How would you describe the visual style of MA BELLE, MY BEAUTY? And how was it informed by the characters as well as the setting in the French countryside?
Lauren: When I first read MA BELLE, I felt it would be the kind of film in which the camera owes a greater responsibility to the performances than to itself. Bertie, Lane, Fred and Noa were brilliantly cast and deserved camerawork that could hold space for the quiet moments of intimacy they brought to the table. So I rarely wanted to call attention to the camera and aimed for a naturalistic approach to the lighting, and Marion and I talked about camera movement that was almost exclusively motivated by blocking. I think I can count on one hand the number of times the camera moves on its own in the film.
The countryside setting also lent a lot to the visual style; we leaned into golden hour and an earthy palette for the day exterior scenes, never forcing too much saturation into anything that wasn't already there. We made conscious choices about lighting scenarios (what would be motivated by tungsten versus moonlight versus dusk to evoke the right mood), but always within the bounds of what a real world would look like.
AFI: What was your collaboration like with Marion Hill while shooting the film? How did you establish a rapport and how did you work together to get all shots you needed during such a short window of time?
Lauren: I was lucky to have known Marion for a while before we shot this film. They pulled focus on one of the first shorts I ever shot when we were in school together nearly 10 years ago. We hadn't shot anything before as director and cinematographer, but I had a sense of their taste, their vision as a filmmaker, and their values as a person. Beyond visual references, listening to their composer Mahmoud Chouki's work before the shoot was key to understanding the mood and tone of the film. Marion and Mahmoud have a strong collaboration, so the film was created very much in tandem with the music, and I think that really shows. We also talked a lot about how Marion envisioned the edit (they're an editor by trade as well) and that helped enormously in making decisions about what could be a one-shot scene, what they planned to jump cut, what needed more angles and how we could approach the whole thing in just 13 days. They had a very clear picture of the rhythm of the film and that was such a gift to receive as a cinematographer.
AFI: What camera did you shoot on? How did you decide which camera to choose from?
Lauren: I chose to shoot on the ARRI Amira because I knew Marion's work favored a handheld camera, and in my opinion, the Amira offers the most balanced ergonomics of any digital camera for handheld. Additionally, I was already familiar with the sensor's limits and the LogC gamma curve, so with all that in mind I could focus more time and energy on the story.
I think the lenses are worth mentioning too since we shot on Panavision Ultra Speeds, and that family includes a 29mm lens, which is not a focal length you find in most sets of primes. It's something I like for shooting close-ups that really feel like you're right there without crossing the threshold into a highly stylized or optically loud image. I do love shooting close-ups on really wide lenses like the 14mm CF Primo, but something like that would have been way out of character for what Marion and I wanted for MA BELLE, MY BEAUTY.
AFI: How did your journey to becoming a cinematographer lead to you attending AFI?
Lauren: When I moved to Los Angeles, I knew I wanted to apply to AFI someday in the future, maybe a few years after working in LA, but I ended up getting to know a lot of the cinematography Fellows in the classes of 2015 and 2016 pretty quickly. So after getting a sense of what the community was like, I decided to apply earlier than I originally intended. And someone who had been accepted dropped out before the semester started, so I got in off the wait list.
AFI: How have your AFI faculty and/or classmates helped you evolve into the cinematographer you are today? What did you learn through the program that you still carry with you and use on film sets?
Lauren: I've been lucky to find ride-or-die collaborators through the AFI network, and their trust and support really gave me the confidence I needed to call myself a cinematographer. The camaraderie among my peers in the cinematography program was also key to getting through long hours and difficult periods of technical and creative growth. I think from the faculty what I really got was a deeply instilled sense of discipline. I had a pretty strong one going into the school, but they pushed it to its full potential. The prep I do now is an adapted version of the cycle book. Especially on MA BELLE, MY BEAUTY, where I was so reliant on the path of the sun, I conducted a highly detailed study of light at the major location, taking photographs at four to five different times of day from each angle of each room in Bertie and Fred's home. I knew I needed to learn the location and the sun path like the back of my hand to make the right decisions about light each day, and that kind of recall can only come from lots of time and dedication in preproduction. The roots of this process came from my learning experience at AFI.
My current approach to camera testing is also highly informed by what I learned in the cinematography program. And Stephen [Lighthill] was always very supportive of me. Especially when I didn't necessarily feel like I was up to scratch with my peers, his belief in me helped heal the impostor syndrome. I don't know that impostor syndrome ever really goes away, but I'm certainly more equipped to confront it now because of these experiences.
AFI: As a fairly recent graduate, what practical advice do you have for current Fellows and new alumni who are looking to make their mark on the industry?
Lauren: If you are a current fellow, don't skip Barry's class. A year of cycle filmmaking is good exercise, like practicing scales, but it can really impose a rigidity on your thinking that exposure to world cinema can help shake loose.
If you are a new alum… well, I don't think I am really in a position to talk about "making a mark" per se since my career doesn't have longevity yet… I've just been lucky to participate in the filmmaking process with collaborators I love and trust and really good things have come out of that so far. But here are a couple things I think might be helpful to other emerging cinematographers: I think the advice we hear to "shoot everything" is to be taken with a big grain of salt. I blindly followed that advice for a little while, sometimes to serendipitous results but sometimes ending up in situations I really regretted putting my crew and myself in. Of course, that doesn't mean "only shoot things that speak perfectly to your personal and professional ambitions," but it does mean to carefully define your limits and honor them. Really take the time to think critically about the benefits and the physical and mental costs of each project.
Another thing you can do to stay focused on your work is to re-evaluate your definition of "talent." If you think of talent as something that is possible to build rather than something that is strictly innate, you will be more empowered to learn from your mistakes instead of defining yourself by them. I really think this is important because that word is thrown around so much at AFI and in the film industry at large, and I really think it's kind of scandalous how routinely the specter of "talent" is invoked to little or no objection. I was telling a friend recently that I wish we had the opposite of the Criterion Collection ­– all of the worst films by all of most "talented" filmmakers, as a reminder of just how specious our notions of talent are. I think everyone, not just Fellows and new alumni, can benefit from this perspective. I highly recommend looking at Angela Duckworth's book GRIT and applying it to how you work and how you think of yourself as an artist. This is really personal to me because I don't think of myself at all as someone to whom cinematography ever came naturally. But I decided it was important to me and that I owed it to myself to try to work at it and find out what was possible.