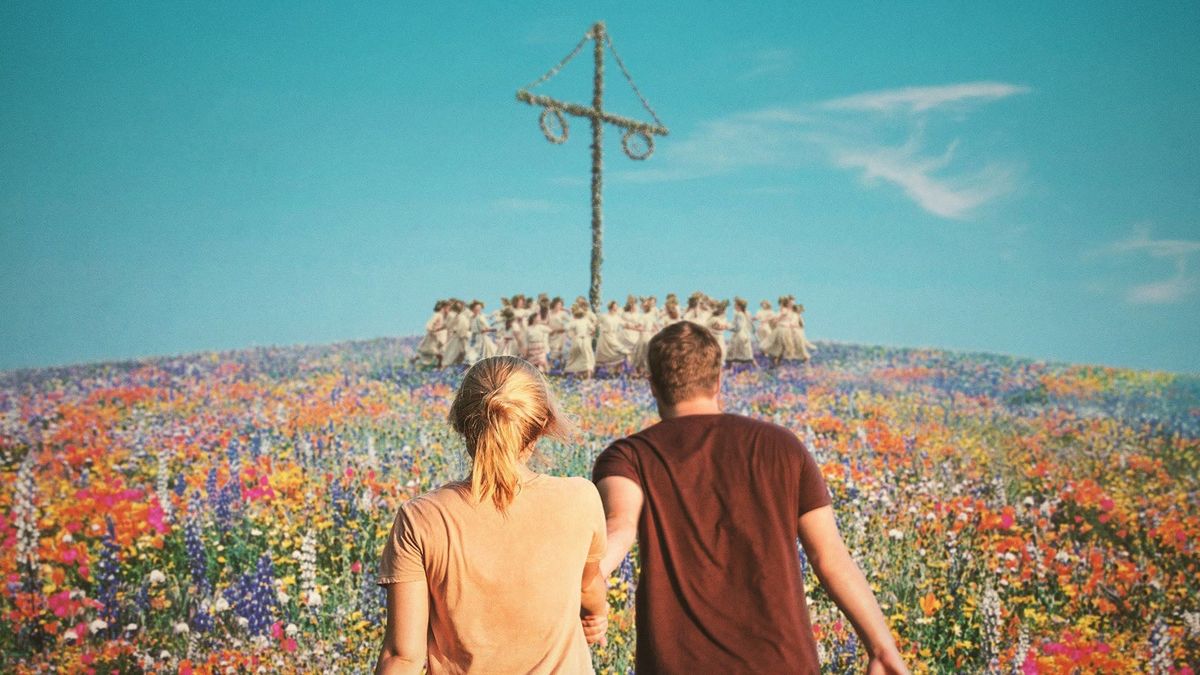 Ari Aster on His Terrifying, Personal New Film MIDSOMMAR
Ari Aster's (AFI Class of 2010) critically acclaimed new folk horror film MIDSOMMAR is both hilarious and horrifying — and if you've ever gone through a soul-crushing breakup, or stayed in a toxic relationship for too long, or spent a summer vacation in Sweden with a paganist death cult, then you can probably relate to this intense tale. Aster's follow-up to 2018's shivery tale of family implosion HEREDITARY goes even darker — all while taking place under the shining sun of the bucolic Scandinavian countryside. Critics are calling the film "A terrifically juicy, apocalyptic cinematic sacrament," "wonderfully audacious" and "mad science filmmaking."
MIDSOMMAR begins with star Florence Pugh (2016's LADY MACBETH) tumbling into a rage over an unspeakable family tragedy, and to the indifference of her boyfriend, played by Jack Reynor. The sun is setting on their three-plus-year relationship. In a desperate bid to redeem things, she joins him on a research trip to middle-of-nowhere Sweden for a creepy nine-day festival — which is where the story begins to take its twisted, riveting turns.
Aster once again collaborates with AFI classmate Pawel Pogorzelski, whose cinematography brings a chilling formal precision to this film. Opening July 3, MIDSOMMAR is a can't-miss experience for fans of HEREDITARY, or Aster's controversial thesis-film-gone-viral THE STRANGE THING ABOUT THE JOHNSONS. With all of his films, you feel like you're seeing something you're not supposed to be watching. But you might just never forget.
We caught up with Aster about the film in our Q&A below.
AFI: You have been open about talking about your personal life when approaching this movie. Can you talk about that process in terms of writing the screenplay?
AA: It was a cathartic process. When you're going through a breakup, you're going through the ruins of the broken relationship, whether you're writing or not, so if anything it feels less masochistic to be producing anything in the process. I'm not sure if it was a productive or destructive thing.
AFI: How did you stumble upon this idea of the "Midsommar" festival and what research did you draw upon?
AA: I was approached by a Swedish production company that wanted me to write a direct a horror movie set in Sweden, specifically a folk horror movie, and they had read HEREDITARY, which I had not yet made. I had never done anything on commission before; usually I just write on spec on my way, but I had been looking at a way into a breakup movie and I saw of marrying that structure to the structure of a folk horror movie, and it gave me a way in. I became excited by the idea and realized, I guess I have to take this job, because now I want to write that movie. Luckily, they gave me a lot of freedom and I was able to write something very personal and do my own thing.
AFI: Have you thought of Lars von Trier as an influence? He's another director who uses female characters to express his own pain.
AA: I love Lars von Trier, and I am a big fan of his films, especially DOGVILLE and BREAKING THE WAVES, although maybe even my favorite film of his was THE KINGDOM, which he made for TV. I find him, even when he's not firing on all cylinders, I find him to be someone who's always fascinating.
AFI: It's unusual to see a horror movie based in light. What were the specific challenges of shooting this way?
AA: Logistically it's very, very hard to shoot outside, firstly because you're relying on the sun and the sun never stays in one place, it's always moving. Shadows are always moving. You're beholden to the weather. Conditions are uncomfortable. It's hot. There are bugs everywhere. You're chasing continuity in a way that takes the control out of your hand. We never had enough time in a given day, because we weren't shooting in Sweden, where we would've had much more daylight. But they have labor laws that prevent you from shooting longer than eight hours a day, which would have been way more expensive. This is a relatively low-budget film, so we had to stretch the dollar as far as we could.
AFI: Both of your feature films have amazing lead performances, from Toni Collette and now Florence Pugh. Why was she your choice?
AA: I saw LADY MACBETH and was already impressed with her work. In that film, she played a very calculating, poised, manipulative woman and here she plays this raw wound, and she's extremely vulnerable and always apologizing for herself, so I could see her executing the arc really beautifully, where she begins and where she ends. I liked that the part stood in such stark contrast to what she'd done before. She's not classically trained, she's almost untrained, in fact. She's a total natural. I'm convinced that she can do anything.
AFI: The production design is quite beautiful. How did you envision these ornate tableaux on display everywhere?
AA: While I was writing, I went to northern Sweden with my production designer to do research. We looked at different, centuries-old farms and saw a lot of these houses, after which the houses in our film are modeled. We'd find different rooms covered from floor to ceiling in murals, which inspired the paintings designed. We built that whole village from scratch, and certainly a lot of it was drawn from research and taking liberties, and trying to invent a world that feels somehow authentic to the idea but also its own thing.
AFI: You say you don't want to direct another horror film. You are obviously interested in dysfunctional human behavior, so what's next?
AA: I'm sure I will come back to horror eventually. I consider myself a genre filmmaker, and I like working with set frameworks and structures, and seeing how I can play around with them. I try to always come at everything from a place of character, even if those characters are archetypes. I intend to keep working in genre spaces and finding ways to tell personal stories in ways that I can expand into something larger. To combine personal stories and world-building excites me.