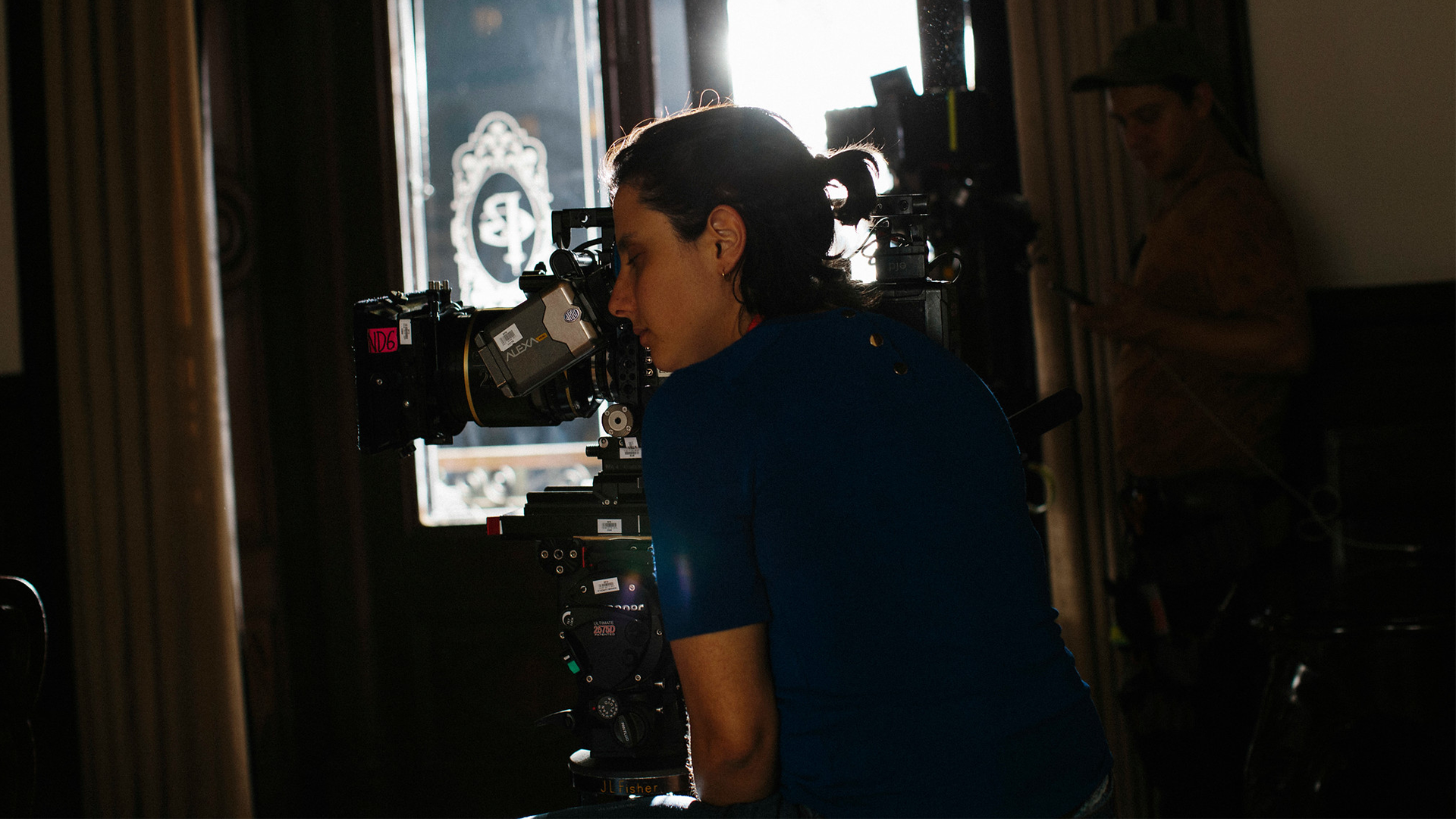 Cinematographer and AFI Alum Carolina Costa on WANDER DARKLY and her Time Studying at AFI
Award-winning cinematographer Carolina Costa has made a name for herself traveling the world shooting critically acclaimed feature films, documentaries and shorts. With an early interest in photojournalism growing up in Brazil, Costa ignited her love of cinematography studying at the University of the Arts, London, where she was mentored by Sue Gibson, the first female president of the British Society of Cinematographers.
Her first feature THE CHOSEN ONES debuted at Cannes before winning five Ariel Awards, including Best Cinematography, at the Mexican Academy of Film Arts and Sciences. Costa was also in charge of second-unit cinematography and B-camera for Luca Guadagnino's supernatural remake of SUSPIRIA, starring Tilda Swinton and Dakota Johnson. Recently, she shot the coming-of-age drama HALA, directed by Minhal Baig, which screened at the 2019 AFI FEST presented by Audi. Her new film, WANDER DARKLY, starring Sienna Miller and Diego Luna, premiered at the 2020 Sundance Film Festival and will play at the online edition of AFI FEST 2020 this month.
AFI spoke with Costa about her visual influences as a cinematographer, her new film WANDER DARKLY and what she learned at AFI.
AFI: Growing up in Brazil, how did you first fall in love with photography and filmmaking and, how do you think it's informed your career so far?
Carolina Costa: When I was 14, I started working for a photojournalist. I think my connection to cinematography probably started there. Telling stories – I wrote constantly growing up – was always a passion of mine and then photography crossed my path.
I started studying photojournalism at the University of Brazil, but was disappointed in the lack of reach. It was an extremely violent time in Rio, and I wasn't seeing in the media what I was seeing in my daily life. It changed my reality and made me think about what we're portraying as reality. I felt a disconnect. It occurred to me that movies might be a more interesting way of changing the reality around me. I think I've always been fascinated by cinema and this potential to open the door to these rooms that you never imagined you could walk into.
I found a short course in London with basic training and filmmaking when I was 20, and I decided I was going to go to England, which I saw as the most openminded place at the time. You could just be whoever you wanted to be. When I got to London, I met people from all over and realized my passion for making movies and shooting all over the world, which helped me expand as a human being. I started working as a camera assistant two months after I arrived, and then I just stayed. I ended up doing my BA in London and worked as a camera assistant for many years, before I started DPing and then I moved to LA for AFI.
AFI: As a DP, which films are touchstones for you in terms of their cinematography that inspires you?
Carolina Costa: One of them is a French film called BETTY BLUE. I remember talking to my mom and just being so impressed. It's the story about a man who is in love with this woman who is beginning to spiral more and more into depression. The more depressed and crazy she starts to go, the more elements of blue in the frame start appearing. At the beginning, she's wearing red and the lighting is red and warm, but at the end you don't see her wearing red anymore. I remember realizing that this is the power of color and storytelling. I'm sure I didn't intellectualize it like that, but I remember being impressed with it and understanding what it meant emotionally.
Another film that influenced me is BEFORE THE RAIN, which is about the war in the Balkans. I was struck by the power of the text and the rhythm of it. I remember watching it for the first time, and it gave me the same sensation of writing poetry. It felt special and it was talking about something so relevant. One of the main characters is actually a photojournalist and he talks about how his responsibility is in "the clicks" in the moments of war.
AFI: What attracted you to the project of WANDER DARKLY and how did you first connect with the director Tara Miele?
Carolina Costa: I had interviewed for another movie with one of the producers of WANDER DARKLY. I didn't get the job at the time, but I think she was impressed by how prepared and thoughtful I was. She kept me in mind. When Tara was looking for female cinematographers for WANDER DARKLY, my name was added to the list. At first, I was attached to another project, so I wasn't available, but when it fell apart, I asked my agent to reach out again and check if they'd hired a DP. They hadn't, so I had a conversation with Tara, and it was like this instant click. I remember her saying to me, "I think we'll push each other." And I think that's a really important thing in a relationship between DPs and directors.
I remember being in love with the script. Rarely, you get a script that is so visual, and it felt really challenging in many ways. You go on this entire psychological journey and Tara wanted it to happen in the frame as much as possible, so the audience never felt tricked. It felt like it was as close as we could be to the characters – that human experience of going from one memory to another, one emotion to another.
Tara wanted there to be a lot of freedom in the way we shot with actors. Kudos to them because I really had the camera there close up on their faces all the time. We were shooting in a small location, and we sometimes had two cameras going 360 and that really made me rethink how I light, the size of my crew, and a lot of my approaches on set.
AFI: What kind of camera did you use to shoot the film with and what's your preferred method of filming?
Carolina Costa: It was with an ALEXA Mini and the lenses were Super Baltars. It was very instinctive, so we chose lenses that felt like our movie. And we were also shooting so close to the actors and in tight spaces, so the camera needed to be compact but also able to move freely. My preferred format is the ALEXA for sure. I have more experience on it, so I know where I can push the format and I also like how versatile it is.
AFI: Your film HALA played at FEST last year. How does it feel to be back at AFI FEST this year with WANDER DARKLY?
Carolina Costa: Amazing. I think I saw a Fellow from AFI compare it to this feeling of going back home. Even among different generations from AFI, I feel like it's truly a community and a family. And going to the festival is the same way. There's just a sense of community and it always feels incredible to share your work with people you know. There is this sense of how much we've grown with our work and where we're going and the kinds of stories we want to tell.   
AFI: What did you learn during your time in the Cinematography department at AFI that you still think about and carry with you in your career to this day?
Carolina Costa: A lot. I think there's a clear difference between DPs who've gone to AFI in terms of the prep work. You have to be able to articulate both technically and artistically why you're making certain choices, and I think that makes a huge difference that I see with other DPs. It has helped me so much to be able to shoot in other countries because it's a very clear path and a very clear way of communicating, even if I don't speak their language.
I also think you learn how to be the leader of your department, which I think a lot of people are uncomfortable with, especially a lot of women. AFI really pushes you to understand how to work with other different kinds of filmmakers. You have to find ways of being respected and being respectful, so I think finding your way to being a leader and the head of your department is definitely something I took away from AFI as well.
Tickets to WANDER DARKLY at AFI FEST are now available at fest.afi.com.